Although weddings are traditionally a great avenue for venues to explore, the events of the last few months have made things tricky (to say the least). Because of stay-at-home orders, hospitality closures and social distancing requirements, weddings scheduled for the last few months have tended to be postponed or canceled altogether.
But there is a new form of wedding celebration emerging out of this - one that can allow couples to still have the incredible day they've been dreaming of, and venues to find a niche in a market that seems particularly challenging right now. In this blog post, Kacey Bradley is talking all about micro-weddings - with some top tips for how your venue can offer an inspired and COVID-safe event.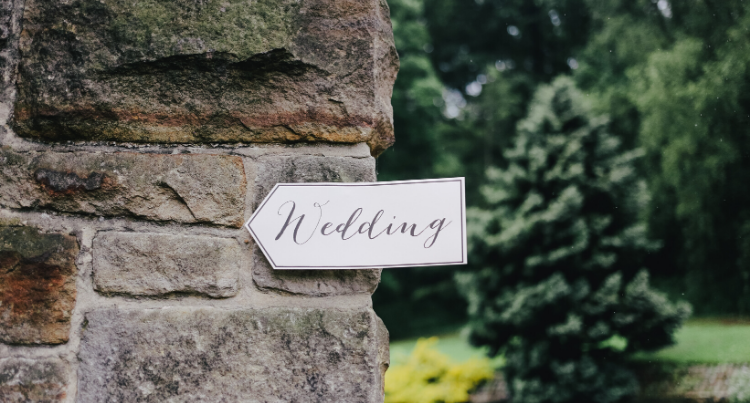 Micro-weddings are a pretty ingenious solution to this gap in the market: all the aesthetic of a traditional wedding, with none of the COVID-related risk. Framed thoughtfully in just the right way, these downsized events can hold a lot of appeal: safe, secure, and a bit easier on the bride and groom's fund.
So what is a micro-wedding? Basically exactly what it sounds like - a wedding designed around the in-person presence of only a handful of people. This means an event that's less stressful to organize, easier to manage, and requires much fewer resources.
Depending on the style and branding of your venue, you might even consider leaning on micro-weddings in your marketing! This is an area that is beginning to grow in popularity, so jump in now before your voice gets lost in the sea. Weddings are ideal as selling points because they're very social media friendly (the "Instagram aesthetic"), have the feel-good factor that makes them popular, and address a real emerging need.
Micro-weddings have been around for a while, even before the coronavirus - so with a few simple adjustments to ensure you're staying COVID-safe, you can easily offer an event that ensures the safety and security of the bride, groom, and their guests.
Here are a few tips to get you started.
---
1. Prepare an action plan
Other than creating a more traditional brochure for what your venue's micro-weddings will include, it's a good idea to create some literature for the wedding party on how your venue is addressing safety and hygiene concerns. This information might include:
Credible resources with the most up-to-date information and guidelines from your relevant government
A clear plan for how your venue stays COVID-safe in general - for example, temperature testing staff, or details of how social distancing is being observed and enforced
For accommodation venues, information about local health care facilities
Being upfront and proactive with prospective guests will make them feel at ease, and reassure them of your dedication to their safety on the big day.
---
2. Provide sanitizer stations and offer masks
Hand sanitizer is a powerful tool against COVID-19. Although leading health experts recommend people wash their hands for 20 seconds throughout the day, hand sanitizer will kill germs and viruses on the go.
Place sanitization stations around areas like the dance floor, bathrooms and any food to minimize the spread of the virus. You can even decorate the stations to make them part of the décor. Use creative baskets and signs that match your color scheme so even large hand sanitizer pump bottles fit right in with your venue.
Similarly, you can get creative by making masks available that have been "beautified" in some way - offer a variety of colors and designs to match the wedding aesthetic, or provide a decoration station for guests to beautify their own masks.
Experts at the Centers for Disease Control (CDC) and the World Health Organization (WHO) have stated that people should wear face masks when they go out in public. The simple act of wearing a covering reduces COVID-19 spread by 85%, which makes even indoor weddings much safer for everyone.
---

Creating and maintaining a COVID-safe venue can be very challenging - particularly if you have to communicate important policy changes to a large number of staff (many of whom may be more scattered than usual).
Make this transformation easy by learning online with Typsy.
Access over 1000+ lessons covering topics like COVID-19 responsibility and service, health and wellbeing, data security, and much more.
---
3. Set up videoconferencing - or spread the wedding out over several rooms
This is an option that might help win over couples who imagined a larger wedding. For those with family and friends far and wide, videoconferencing is a great option that keeps the event small but allows them to share every moment.
On your venue's end, there are a lot of ways to approach this, depending on your venue's capabilities and budget. You might host a call and provide the wedding party the link to give out to whomever they'd like, meaning guests can drop in and out as it suits, or stay on board for the entire event. Get creative, and present a few outside-the-box options to prospective guests.
In the same vein, but more in line with a traditional wedding, if your venue has a large enough capacity, you may be able to hold a wedding reception across multiple rooms. The exact legality of this will, of course, depend on your local government's capacity restrictions and guidelines, but in many cases something like this will be feasible.
Offer rooms with different themes, or reimagine traditional wedding table groupings as groups in separate rooms! Again, this is a great place to get creative.
This solution has the obvious added benefit that the wedding party may still be able to have a larger group of people in person on the premises.
---
4. Serve a plated meal
A recent Japanese video called attention to buffets and showed how they spread COVID-19 at parties and other celebrations. The virus can linger on things like serving spoon handles and even settle on uncovered food.
Plated meals, rather than buffets, ensure guests get their dinners correctly and have the confidence of knowing their food and plates have only been handled by well-trained professionals, ensuring every dish is free from contamination.
---
5. Consider an outdoor ceremony
When people gather in indoor spaces, the air fills with droplets from their breath. These can linger and spread COVID-19 because indoor rooms aren't typically well ventilated. Instead, consider hosting an outdoor ceremony. Health experts have said that outdoor wind and ventilation minimizes the transmission of COVID, especially since guests will have extra room to stay six feet apart.
Outdoor ceremonies still require furniture, but the weather presents an extra challenge. Rain and dew increase the chance that bacteria and mold will grow on your seats and tables if you set up the venue early. Make sure everything's clean and safe for guests to use by using effective cleaning materials that will leave your chairs and tables sparkling. Wipe everything down before your guests arrive so every surface has time to dry before the wedding begins.
---
Micro-weddings are a great example of how being COVID-safe doesn't have to entirely prohibit your venue from offering a meaningful and unforgettable experience. This time is all about being creative and finding something unique and beautiful to offer - no matter how small.
---
| | |
| --- | --- |
| | Kacey Bradley is the blogger behind The Drifter Collective, an eclectic lifestyle blog that expresses various forms of style through the influence of culture and the world around us. Along with writing for her blog, she has written for sites like U.S. News, Hotel Online, SevenRooms, Point 2 Home and more! Follow Kacey on Twitter and subscribe to her blog to keep up with her travels and inspiring posts! |
---
You might also like