Being a barista is an incredibly rewarding job, but is also very challenging - and can be a highly coveted role in a café. Because it can be a competitive field, and there's quite a steep learning curve for beginners, it can seem a little intimidating when you're just starting out. You can learn coffee skills in this online course here.
But never fear! Typsy is here to help you rise to the challenge with our guide to everything you need to know about becoming a barista.
Baristas have one of the trickiest jobs in the restaurant industry. A barista is a hybrid between the front of house and back of house that requires mastery of both customer service and coffee making skills.
Whether you're looking to make a career out of serving a mean cup of coffee or are working as a barista to get yourself through school, you'll need a grasp on barista basics to excel at your job and earn some hefty tips along the way.
Of course, the first thing you'll need to get your career off to a flying start is a great resume that lands you the job you've always wanted! Using a barista-specific template ensures your resume says exactly what you need it to without wasting any time or space - something the hiring manager will really appreciate!
We're spilling the beans on how to be a barista. Follow our seven essential tips to rock this coffee making role.
---
1. Become a coffee expert
Being an expert on what you sell will get you brownie points with your boss and tips from your customers. Follow these tips for becoming a coffee connoisseur:
Is there anything more frustrating than going to a restaurant, asking your server for a recommendation, and not getting one because the server hasn't eaten anything off of the menu? Don't leave your customers in this position. Try every item your venue makes so that you can give customers recommendations and expand your coffee palette.


Beyond sampling every item on your menu, brush up on your coffee lingo to help out customers who don't know the difference between a mocha and a macchiato. When you can educate your customers about the products you're selling, you're offering them more than just a cup of coffee. Hello big tips!


Slow shift? Experiment with new recipes and flavor combinations. When you make a creation that you think customers will love, pitch it to your boss. Pretty soon, you could be the boss or the creator of the next big coffee trend - charcoal latte anyone?


Use online learning to build essential knowledge and make sure you're going in to every shift 100% prepared for anything that comes your way. Your managers and coworkers will be singing your praises in no time.
---
Moving ahead into a post-COVID job landscape, high-skilled hospitality roles like baristas and bartenders are going to become more and more competitive.
When you learn with Typsy, you unlock the skills you need to stand out from the crowd.
Learning with Typsy is practical, effective, and fun! And best of all, you can access Typsy's 1000+ lessons as and when it suits you. Learn your way - starting today.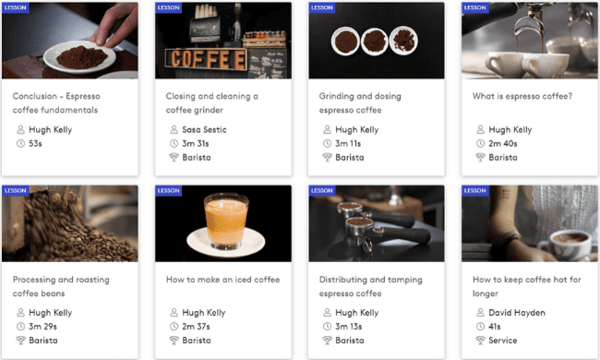 ---
2. Smile
Do you want to know how to be a better barista? Smile!
You can brighten a customer's day just by smiling and interacting with them in a friendly way. Smiling makes a great impression on customers, which makes them want to come back to your coffee shop. Returning customers keep your employer in business, which keeps you employed!
A study by Cornell's School of Hotel Administration also found that smiling leads to bigger tips. In this study, servers who greeted customers with large grins received 140% more in tips than servers who greeted customers with small, closed-mouth smiles. Smile big, baristas!
---
3. Build rapport with customers
Beyond grinning at customers, it's important for you to build rapport with your regulars. Remembering their names and orders will make them feel special, resulting in more tips for you and a more pleasant day for them.
Bad with names? Create a note card for each of your regular customers where you can jot down their name and some defining features so that you can put a face to the name. Go above and beyond by jotting down tidbits that you learn about your customers from your daily interactions - like exciting career news or upcoming vacations - to bring up the next time you see them.
---
4. Listen up!
A barista's job would be so much easier if every customer just ordered a latte. Alas, that's unrealistic and would make the job boring! When customers place complicated orders or make special requests, pay close attention.
Repeat orders back to customers to ensure accuracy. While it may seem repetitive and time-consuming, verifying orders will save you from wasting resources if you take the order down incorrectly, and will ultimately save your customers time and frustration.
Mistakes affect the bottom line, which can impact your job so listen closely to your customers and get their orders right the first time around.


---
5. Upsell without being salesy
Baristas are salespeople as well as coffee artisans. Your manager will expect you to play the role of salesperson by pitching new products, upselling, and getting customers to sign up for promotions.
Nail this facet of the job by using the rapport you built with your customers to sell without seeming like a sleazy car salesman. You will seem genuine instead of pushy if you upsell by saying something like, "Hey, we have a new drink this week and I thought you'd love it because you usually order X. Do you wanna try it alongside/instead of your usual today?"
That sounds so much better than, "for the low price of $3.99 you can add our special of the week to your order!" Don't believe us? Try out both scripts and let us know which one is more successful.
---
6. Keep your cool
Mornings, lunchtime, and the after work rush are crazy busy times for popular cafes and restaurants. Ensure that you can stay cool under pressure while providing great service by mastering your venue's recipes and POS so that you can get customers through the line quickly.
Brush up on your drink-making and tech skills during slower times, at home, or on friends.
---
7. Add a special touch
Now that you've mastered barista basics, it's time to learn how to be a better barista with this bonus tip. Go above and beyond by making customers feel special throughout their entire interaction with you and your team. Here are some easy ways to do that:
Give your regulars a freebie every once in a while. If your coffee shop makes pastries, give your favorite customers a croissant that wasn't pretty enough to be put out for sale. Upgrade a customer's order size on the house. Make sure to ask your manager for permission and guidelines before giving anything away!


Perfect your latte art skills to wow customers. If you see customers taking photos, ask them to post them on social media and tag your venue.


Write a note or symbol (like a smiley face) on your customers' cups to make them smile. A study by Cornell found that writing "thank you" on a check increased tips from 15% to 18%, while another experiment uncovered that drawing a smiley face on a check increases tips by 18%. Not a fan of emoticons? You could also take a cue from beauty subscription box Birchbox, which places a flattering adjective before subscribers' names on address labels, like "the Amazing Anna" or "the Glorious Jessica."
Make customers feel special and reap the benefits!
---

Baristas combine their passions for coffee and people into rewarding careers. From small time café to big shot hotel we're sure these tips will help you on your coffee making journey. Happy caffeinating!
Learn essential barista skills from storing coffee beans and splitting milk to pouring the perfect espresso and cappuccino with barista champion and innovator Hugh Kelly.


---
Ana Cvetkovic

is a freelancer and content producer for

7shifts

. She is also the CEO of

BLOOM Digital Marketing

, a Philadelphia-based creative marketing agency that helps the hospitality and tourism industries reach new audiences online.
---

You might also like: