It can be a perfectly ordinary day in your hotel when an emergency situation strikes. There could be a fire, a guest with a medical situation, or an active shooter within the premises. These things do not happen every week in a hotel, however, you need to have a plan in place for how to handle them. Nothing makes these incidents worse than having no idea what you or your staff need to do.
Fear not, below are tips for what to have in place and practice prior to emergency situations and five different events that could occur in your hotel. Yes, these are situations you never want to happen, but it's better to be prepared when facing them.
In this blog post, guest blogger Sara Carter shares with you some tips on how to plan for Plan B.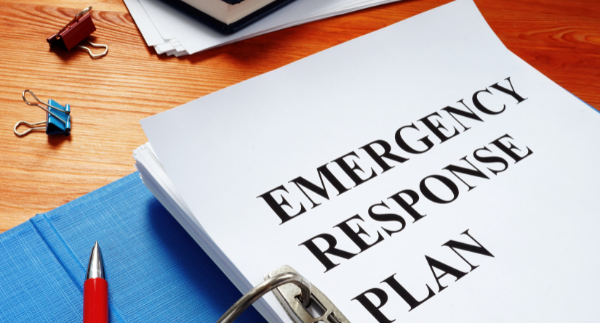 What to Have in Place for Your Hotel
What Emergencies Can Happen & How to Declare One
First, you need to consider what types of situations could occur within your hotel. There is no "one size fits all" approach to emergency management in hotels. That's mainly because not every hotel is the same. While one hotel might be a single level with a pool, another might be ten stories plus tall with a rooftop venue. Managers need to think about what specific problems they could face, and then build plans around them.
Next, you need to consider what will be declared an emergency and how guests will be notified. While some instances like a fire will require everyone to evacuate, a person passing out in your restaurant venue will not require the entire hotel to vacate, but instead maybe just the guests within that area. Remember, each incident is unique so while you may be able to call guests in their rooms in one situation, another may require an announcement to be made.
Make a Plan for Staff
Within your team, designate individuals who will be in charge of emergencies as they occur. That way, your staff will know who to direct questions to or where to report when situations arise. Aside from a leader, be sure to give the other individuals responsibilities as well so one person is not overwhelmed with jobs.
Review these roles regularly with employees too, when instance A happens this person is in charge, and employees 1 through 5 report here while staff member 6 handles this. While reviewing procedures also ensures everyone knows how they will communicate with one another. Yes, your hotel may rely on a few different ways to talk with one another on a day-to-day basis, but in an emergency, you need to cut down on chatter and get a clear line of communication with people.
One good place to store all this information is in your emergency procedure manuals. There is a lot of information this booklet will store that staff can refer to or review. This manual holds all the relevant answers from how to declare an emergency to who to contact. It's also something that needs to be reviewed regularly with staff members. When you do that, also check emergency equipment. Fire extinguishers, hoses, first aid kits, and other materials should be checked to make sure they'll actually work in a situation.
Run Drills for Emergencies
After you have all this information in place, you and your team need to practice responding to an emergency. You can have all the plans in place, but until you actually do it, you won't know how effective it is. Also, dress rehearsals will make sure staff execute situations in a calm and effective manner. Run regular drills once a month and switch them up so employees are caught unaware as they might be in the situation itself.
After running the drills, set aside time to review what went right and wrong with staff. That way they know what needs to be done next time, and everyone knows how to respond when the actual situation occurs.
Now that you have everything in place, it's time to review some emergencies that might happen in your hotel. Remember, not all of these instances might happen to you, but they're something to consider.
---

---
Types of hotel emergencies

Fire
Whether it's a guest who starts a fire in their room or a kitchen staff member starts one, fire can happen anywhere within your hotel. And once one starts, it's important to respond immediately. While your staff will be tasked with effectively evacuating guests and keeping them away from the area on fire, you also need to consider how it will be put out.
Ignoring it will not stop a fire from causing serious damage, so training staff to use fire extinguishers is extremely important. However, for bigger situations, they'll need to know how to hold back the fire until the fire department arrives. Speaking of the fire department, they are a good resource for you when it comes to emergency situations. They can help you train staff about fire safety and have insights on how to handle different situations. Their main priority is to keep people safe and can help you do so, too.
Active shooter
You never know when a guest, staff member, or outside person will enter your hotel with a gun and open fire. In today's world, it's happened countless times in a variety of places. And there's not a singular correct way to handle this situation. Sometimes the shooter will stay in one location while in another instance they may wander the whole hotel.
Training your staff in active shooter preparedness is one of the best ways to equip them for this situation. Working with the local police department is another tool to use as well. While fire departments can aid in fire situations, the police will help your staff know what to do in this instance. One of the main aspects of this emergency response is to remain calm and ensure your guests stay in one location until directed by staff or first responders to move.
Natural disaster
Depending on the location of your hotel, you can face anything from an earthquake to flooding. Mother Nature does not care if you have the best procedures in place, weather events strike whenever they want to. Although regularly watching weather reports can give you time to prepare, you can never be certain how your hotel will be affected.
For these types of emergencies, it really depends on the season. So if you know your area is vulnerable to flooding in the spring, get your sandbags ready. Or if you're near a wildfire zone, train staff on how to quickly evacuate the hotel.
Remember your hotel might also become a safe zone for evacuated individuals, so be ready to handle an influx of people when disasters strike. This is also a chance to do some goodwill within your community if you're hit with natural disasters each year. Coordinate with your local Red Cross to see if you can offer your services. Just remember that in these events it can be hard for staff to make it in, so have a plan in place for that.
Lost child
Children wander away from their families all the time or can be kidnapped within your hotel. This is a situation where security staff needs to be ready with a quick response. Work on drills where they have to talk with distressed individuals and delegate staff members that will help with a search of the hotel.
This is a situation where your hotel's technology will come into play, especially security cameras and the ability to lock down your hotel. Once again, work with police on how to handle this situation effectively and what staff can do to help.
Medical emergency
Guests or staff can have a heart attack or other medical problems at any given moment, and time is of the essence for these types of situations. Getting medical help quickly to distressed people will be key in this emergency. Keeping other guests away from the area will be another part of it, too.
Just like a fire, train employees or require first aid certifications when hiring, to make sure they can handle situations like choking or a cardiac event. If your hotel has a pool, run drills on how to respond to drowning. Review with employees where to find first aid kits, and make sure they're located around your hotel so staff can get them quickly in an emergency.
Emergencies will occur in your hotel, and you never know when they might happen. However, following the tips mentioned in this article will help you and your team respond quickly and effectively to them. Although you never want them to occur, emergencies are just another part of hotel management.
---
Sara Carter is a c

o-founder of Enlightened Digital, entrepreneur, and Bostonian. She enjoys writing code and spending time with her kids.
---
Have a question? We're always ready to talk.
You might also like