The hospitality industry, by its very nature, is an industry that is highly dependent upon delegation. Delegation is at the heart of good leadership, and it guides leaders and supervisors in deciding which duties are best handled by themselves and which can be handled by the team members.
When delegation does not go as planned, it can lead to mistakes, dropping profits, and unhappy customers. So how do you master this art?
Here are some tips on mastering the art of delegation by our guest blogger Sophie Miller.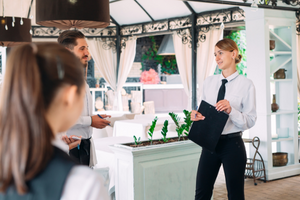 Tip 1. Consider delegation a part of your staff development plan.
As a team leader or supervisor, you may think that you should only delegate tasks that are not making you use your time and skills to the fullest. However, it is a better practice to make delegation a natural part of your staff development plan. You want to delegate tasks not just to lighten your workload but to help your team members grow and improve workplace wellbeing.
Tip 2. Hold training sessions regularly.
Holding training sessions regularly helps employees learn new things and master their existing skills. When they master skills, it makes them ready to take on new challenges if you delegate tasks. In addition, this will motivate your employees to get their work done well, which will lead to high-quality work results.
Tip 3. Analyze employees' skill sets and delegate based on those skills.
Determine employees' strengths and weaknesses. You will then see that some employees excel at specific tasks. For instance, one employee has a gift for giving guests incredible customer service and world-class concierge services. In contrast, another employee has an excellent eye for detail, causing the employee to be good at keeping rooms neat and orderly.
Delegate tasks based on the employees' skill set so they can continue to excel in their area of expertise. It makes no sense to waste employees' talents by making them do work that doesn't utilize their skillsets. When you delegate based on an employees' natural abilities, they will be challenged and continue to shine.
Tip 4. Set expectations.
When you delegate, don't leave your employees guessing about what you expect them to do. While this may seem like a straightforward tip, it's surprising how many managers fail to set expectations.
Ensuring workers have clear boundaries and expectations will prevent problems, including stress levels, from getting out of hand. Furthermore, setting specific standards helps keep your company productive while keeping morale high even during stressful occasions.
---
Unbeatable service starts with happy, confident staff.
Access Typsy's 1000+ hospitality lessons, courses, quizzes and certificates.

---
Tip 5. Delegate authority along with responsibility.
Whether it's a guest who starts a fire in their room or a kitchen staff member starts one, fire can happen anywhere within your hotel. And once one starts, it's important to respond immediately. While your staff will be tasked with effectively evacuating guests and keeping them away from the area on fire, you also need to consider how it will be put out.
Tip 6. Monitor employees' work without being overbearing.
Once you delegate tasks, it is crucial not to micromanage. Micromanaging is another mistake that managers frequently make. When employees are constantly monitored and checked in on every step of the way, this can breed resentment and negatively impact morale. While it's undoubtedly a good idea to monitor progress, do not overdo it. You don't want your watchful eye looming over every employee all day long.
Tip 7. Reward and acknowledge a job well done.
It's important to let your employees know that you notice and appreciate the hard work they do. Your thanks can go a long way. Also, don't forget about public recognition. Acknowledge someone in front of the team for going above and beyond!
Tip 8. Handle mistakes well.
While it is important not to micromanage your subordinates, it's equally crucial not to be dismissive of mistakes. The essential element here is the reaction you have when you notice these errors. When you acknowledge mistakes and correct them, it sends a strong message to your employees that you're dedicated to helping them develop as workers and individuals.
Also, keep in mind that when you delegate, there are instances when the employee can fall short of your expectation. Understand that learning is a process. Instead of taking back the delegated responsibility from the person, find out what went wrong and what you and the employee can do to improve. You need to exercise your patience.
Conclusion
As you can see, mastering the art of delegation isn't that hard. Perhaps the most important thing to remember is that delegating tasks to your employees is all about trust. Without it, you'll find yourself stuck in the same situation month after month, year after year.
When you delegate to your employees, these tips will help you create an environment where everyone can contribute their best work. With the right attitude and approach, delegation can be one of the most rewarding tasks you can do to help your team members.
---
Sara Carter is a c

o-founder of Enlightened Digital, entrepreneur, and Bostonian. She enjoys writing code and spending time with her kids.
---
Have a question? We're always ready to talk.
You might also like