This year will mark the 184th year of Oktoberfest, one of the largest and longest standing festivals in the world.
With the traditional festivities held in Munich and spin-off celebrations held in many other countries, it's one of the most celebrated dates worldwide – and it's all about the beer. Over 6 million people flocked to Munich in 2016, and those numbers are set to increase this year. Between them all, they drank over 7 million liters of beer. That's a whole lotta pints!
So, why do we celebrate Oktoberfest –- and how did it all start? Was beer always the most important part? And why on earth do we put on lederhosen to drink from huge pint glasses? We've got the fun facts about Oktoberfest right here.
---
Humble beginnings

Believe it or not, Oktoberfest dates all the way back to 1810; long before craft beer took over the world and we donned costumes to celebrate.
The yearly celebration began in Munich, when, on October 12 1810, King Ludwig I married Princess Therese and the entire city was invited to celebrate. The wedding was held on land that is now known as Theresa's Meadow, and a few days later horse races were held in the couple's honor.


---
But, what about the beer?

Right. So, from 1810, the city of Munich celebrated the anniversary of the wedding every year, and the festivities became more and more elaborate. An agricultural show was added, and in the mid 1800s the celebration added carnival rides and entertainment. It became a celebration of Bavarian culture, with folk music, parades and a chance for local growers and producers to show off their wares.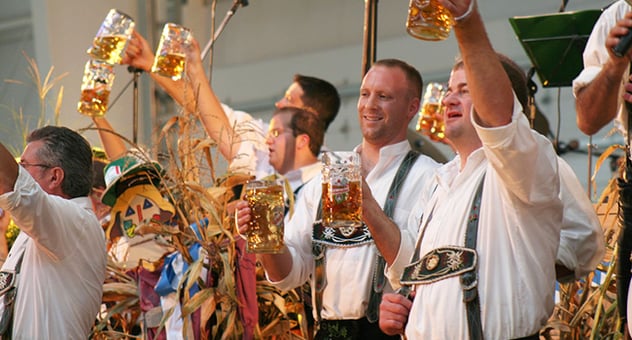 Then, by the 1890s, beer was a huge part of the festival and it became known as Oktoberfest. Local breweries cropped up and the celebrations spanned a week, rather than one day. By 1960, the horse races and agricultural element had ended, and beer and food became the festival's trademark. To this day, there are still parades, folk music, and nods to traditional Bavarian culture.


---
Wait, why is it in September?

Oktoberfest celebrations are held all around the world, but the traditional festival in Germany is usually held over about 16 days, and it starts in September.
Why, you may ask? Well, the answer is pretty simple. The weather is far more palatable in September, and the colder it gets, the less likely punters are to venture out and drink liters upon liters of beer. In Germany, celebrations usually finish up in the first weekend of October.


---
Not just any beer

Millions upon millions of liters of beer are consumed at Oktoberfest each year – and that's just at the Munich celebrations! But not just any beer can be sold at Munich's Oktoberfest.
First of all, the beer sold can only be brewed within the strict confines of the Munich city borders, and organizers check this diligently each year. Perhaps even more importantly, the beers sold must conform to Reinheitsgebot, which is known as the German Beer Purity Law. The law dictates that breweries must adhere to a series of regulations – in particular, that their beer can only be made from barley, hops and water – to have their beer sold and produced in Germany.


---
Interesting. Tell me more about the beer?

We thought you might say that. So, there are only six breweries that are allowed to sell beer at Oktoberfest, and it has been that way for over 100 years. The lucky breweries are: Spaten, Löwenbräu, Augustiner-Bräu, Hofbräu-München, Paulaner and Hacker-Pschorr, and they are all situated within Munich.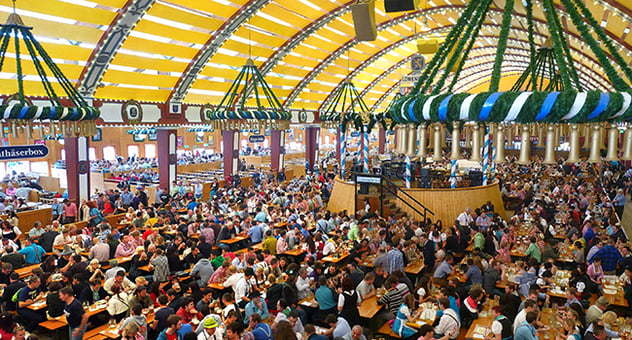 When beers were first served at Oktoberfest, they were dark lagers; but from the late 1800s onwards an amber-red lager became the favorite. Fast forward to the 1990s, and paler ales became the order of the day.


---
What about the outfits?

Oktoberfest – both the massive Munich festival, and the one-day festivities in international cities – is often characterizsed by its costumes. Traditional Bavarian outfits are sought out, and people don dirndls, aprons, lederhosen and suspenders.
The costumes were originally a nod to the country's Bavarian ancestors, and those who wore them participated in a costume parade. These days, it's more like a theme; punters from countries around the world get dressed up in the traditional outfits (often with a few changes!) to drink beer together.
So, now that you know the Oktoberfest basics, you can wow your mates – or your customers – this October with a few facts about how it all came to be.


---
---
You might also like