We caught up with Sam Hambour, co-owner and brewer at Melbourne's Hop Nation Brewing Co., to talk about what life is like surrounded by hops, yeast and grains – and what tips he has for aspiring brewers looking to dive into the craft beer industry!

Welcome to Hop Nation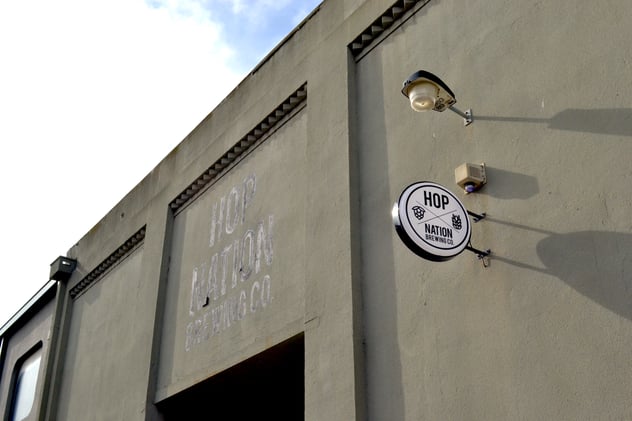 It is early on a Monday when I visit Hop Nation for the first time. The brewery sits in an industrial patch of Footscray, just west of Melbourne's city centre. I can hear the whir of the equipment and as a friendly Weimaraner approaches me for a pat, I scan the area looking for the brewers - Sam Hambour and Duncan Gibson.
To my right is a small bar with a blackboard announcing what's on tap, alongside bright walls painted by Putos Paint to look like stained glass windows. Wooden barrels occupy the area to my left and behind the bar, the brewing equipment is already in full swing at nine in the morning. Three merch t-shirts are pegged up to the wall; one reads "Footscray Strong." This is my old neighborhood but it has changed a lot in the years since I've moved. New businesses like this are revitalizing the area.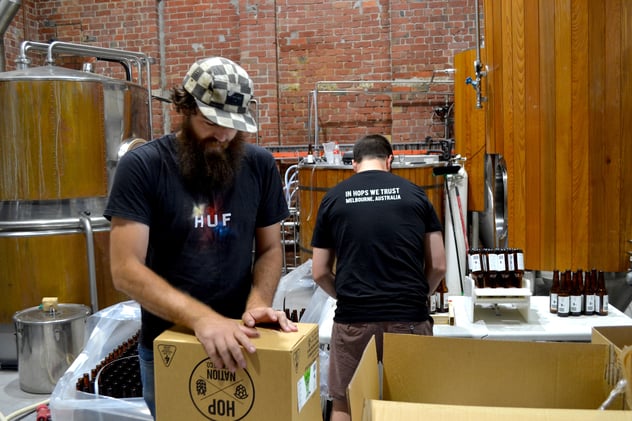 Hop Nation opened at the start of 2016 in a warehouse built in the 1800s, once used as a whale fat candle and wax factory. Sam and Duncan, both winemakers in a past life, run this place on their own. Sam says: "We have some help and we have a couple of behind the scenes people. But day to day, it's just Duncan and myself." Behind the scenes, Steph Mosley takes care of design and marketing all the way from Canada, and Monique McGrath, an artist from New Zealand, looks after the label art.
The punchy, simple designs of the Hop Nation labels are purposefully minimalist to preserve ink. At every step of the process, from mashing grains to shipping bottles off to bars across the country, Hop Nation gives a nod to sustainability – preferring recycled where possible, using as few materials as needed. They use single origin ingredients sourced from carefully chosen companies, their equipment ensures water conservation and energy saving, and grain waste is shipped to farmers!



"Beer is so diverse in flavor that you can really match it with food quite creatively."
– Sam Hambour [Click to Tweet]


Duncan is busy bottling the latest brews as I chat to Sam, who has to jump up a few times to help out. It's hard to believe that just two people make all of this happen, and that until very recently, both had held other jobs on the side, slowly transitioning to full time brewing in the last few months.
The Beer Range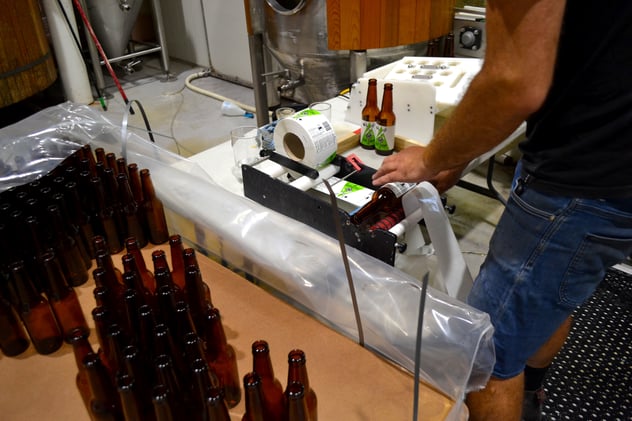 The first beer brewed by Hop Nation was The Fiend, an IPA made with all Australian grown hops. The Fiend is now a part of the brewery's core beers selection, alongside: The Buzz, an American red IPA made with all American hops; The Damned, an Eastern European style pilsner made with New Zealand hops; and The Chop, an American style IPA. Alongside its core beers, Hop Nation brews a selection of limited releases.
When I ask Sam how the beer range is decided, he tells me: "It's a combination of what we like to drink, what the market wants, and we look to cover a range of tastes. When people come in and try the beers, some like full flavored IPAs, hoppy beers, and some people just want a nice, easy drinking pilsner.
"We do darker beers through winter and a couple of more summery beers in the warmer months to suit the climate. We always have two or three specialities, one off batches, and collaborations to keep it interesting."
The Wine Connection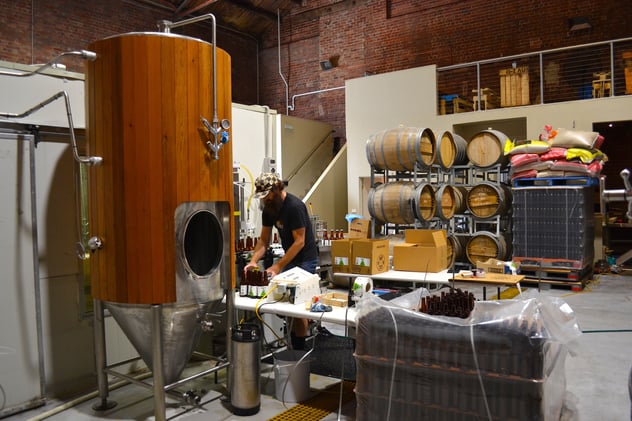 One of these limited releases, The Sturm, was a collaboration with Jamsheed Wines, using wild fermenting riesling juice for inoculation on a small batch of pilsner wort. With Sam and Duncan's background in the wine industry, this comes as no surprise. Sam studied oenology while Duncan studied oenology and viticulture. Both have extensive experience working in wineries and have made wines across the world.
It was while working in the wine industry that the team started experimenting with home brewing. Sam says: "We'd have friends we'd brew with, get together, have competitions, and have a bit of fun with it. We always brewed a little bit on the side and over time it got a little more serious, and then we thought of a few recipes and a few ideas. When we moved over here the idea formed that we'd start a commercial release. We were gypsy brewing for nearly two years!"
While brewing is quite different from winemaking, Sam says there were some crossovers that helped – "Just the process of creating a primary product, packaging and selling it is a similar process, and there are a lot of similarities in equipment and fermentation as well."
Setting up the Brewery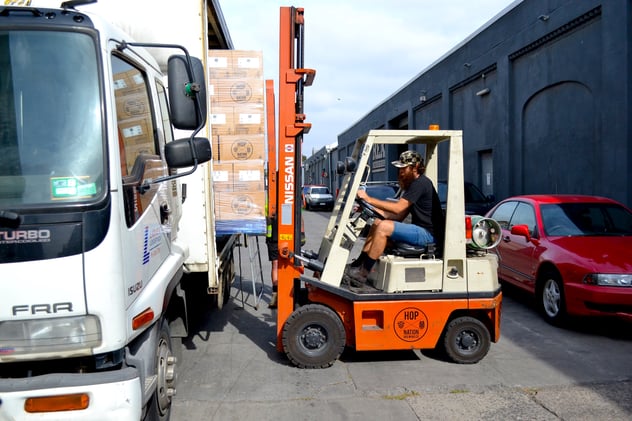 With help from Hawkers and Cavalier breweries, Hop Nation got a start before securing a lease on the Footscray warehouse. The equipment was purchased from Sawmill Brewery in New Zealand – "The release of The Fiend in 2015 went pretty well so we scrounged some money together, started growing the business a bit, then we went over to New Zealand and deconstructed the equipment and shipped it over!"
The new set-up gave Sam and Duncan the chance to "experiment a lot more." I ask Sam if they chose Footscray for a reason (it's quite an appealing area for new businesses, close to the city, and relatively untapped) and he says: "To be a brewery you need industrial zoning and we also wanted to pick a council that was kind of progressive and had their mind open to letting new businesses start that are working with alcohol. It gets a bit touchy with how many liquor licenses can be in an area. There also wasn't a brewery around here!"


A Year Later...



Currently, Hop Nation have started a barrel sour program, where flavors develop with time in barrels that can be blended to create different "old style" beers. With plans to secure another space in the future to keep barrels with better temperature control, easier access and more floor space, Hop Nation will be able to grow its range.
For the time being, Sam says: "We've got some more core beers we'd like to add but that will take time. We got to where we are and we want to settle down and develop everything, start fine tuning things rather than winging them!" At the moment, they're focused on their first overseas export to Singapore.
It took nearly nine months to get everything going in the brewery including council paperwork, planning permits and liquor licenses. About five months ago the bar hit the ground running, and a kitchen is expected to open later in the year. The bar is open to the public on weekends, with help from a few extra casual staff – the brewing takes a break during this time (with three days of brewing and two to three days of bottling happening throughout the week).
Planning Ahead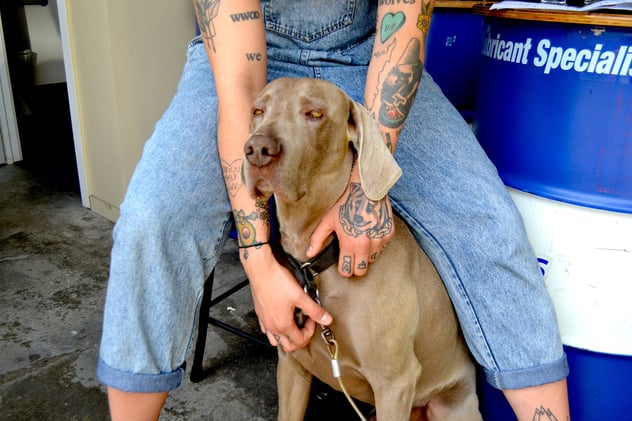 Food trucks set up outside during bar hours and they've found that sharing plates do best. When the kitchen kicks off, it'll be casual food to snack on while enjoying the star of the show – the beer.
With experience in preparing wine menus to complement food, as well as events at restaurants where food is paired with beer, there is no doubt the food selection will be a great accompaniment to the brews. Sam adds: "Beer is so diverse in flavor that you can really match it with food quite creatively."
Behind the bar, Hop Nation creations sit alongside two or three other rotating taps – "Whether it's international or other breweries that we swap kegs with or just things that we like to drink and aspire to, and always to fit in the range with what we don't have at the time." Sam notes: "We're a small bar but it's good. A lot of people come in and want to taste a few beers, have a chat and learn a bit about the beers."
Tips for Aspiring Brewers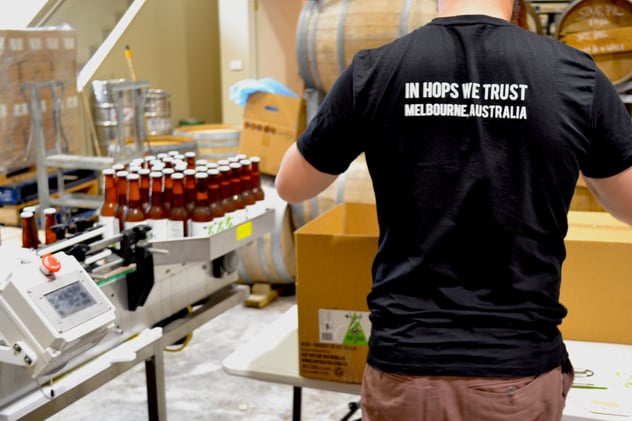 Now a year in, Hop Nation have made a name for themselves locally and across the country. When I ask if there is anything he wishes he'd known at the start that would have made life easier, Sam says: "How to set up a business, all the paperwork and the legal side of things. But brewing wise, you're always learning. It would be awesome to start with complete knowledge but that's not how it works!
"We've made a lot of mistakes, we've recalled products we weren't happy with, we've had issues with labels and boxes and ingredients. But we've slowly found good suppliers and developed good relationships which are really important. You get advice from people in the industry, and there is a lot of trial and error."



"When you're producing something that you really believe in and like, then I think it shows."
– Sam Hambour [Click to Tweet]


When it comes to advice for aspiring brewers, Sam recommends diving right into it – and being passionate: "Just go for it! Be ready for some long days and a lot of stress, but a lot of fun as well. Getting the right people on the team is really important. And I mean, to put in the work that you do, you've got to enjoy it. When you're producing something that you really believe in and like, then I think it shows."
He laughs and adds: "You wouldn't be setting up a small brewery to make a quick buck, that's for sure!"
If you find yourself in Melbourne, pop on down to Hop Nation. Sam recommends trying his favorite, their latest release The Chop: "It's really juicy and fruity and approachable for an IPA, but still refreshing."
I was lucky enough to try a few beers straight off the bottling line and let me tell you, you can't go wrong with whatever you choose – Sam and Duncan definitely know what they're doing, and the Melbourne craft beer scene is all the better for it!
Photography by Paul McNally.
You Might Also Like
---
| | |
| --- | --- |
| | Ivana Rnjak is a Production Researcher and Content Writer at Typsy. A waitress and bartender in a previous life, Ivana is an aspiring academic with an unwavering love of brunch – no matter what Anthony Bourdain says! |
---