2020 has been a heck of a year. Luckily, the December holiday season is a time for good cheer, joy, and festivity - no matter how you're celebrating.
Help your guests see out the year in style with these fun promotions for your venue.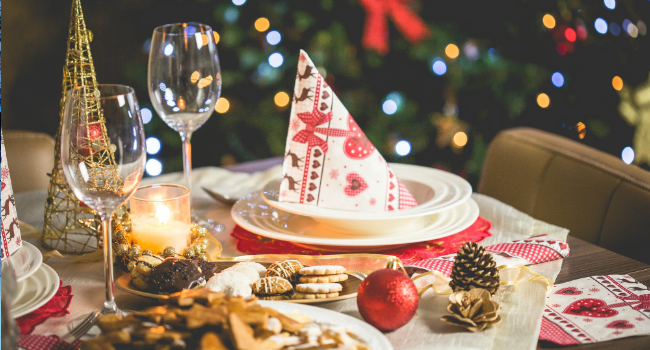 Create a seasonal product
Christmas and hot drinks pretty much go hand in hand (at least if you're in the Northern Hemisphere). Starbucks has fully capitalized on this with their Pumpkin Spice Lattes and other hyped holiday drinks. The Pumpkin Spice Latte even had its own Twitter account which, at its peak, had 120,000 followers. Yep...
Can someone hand me a napkin? I didn't think this one through. pic.twitter.com/7BXd1ZWuzH

— Pumpkin Spice Latte (@TheRealPSL)
Creating a special hot beverage to enhance those fuzzy feelings on dark, cold days works a treat. Popular ingredients for Christmas drinks are cinnamon, ginger, caramel, orange, fudge or toffee, and of course, heaps and heaps of sugar.
Put something delicious and indulgent on the menu! Experimenting with baked goods could also be a winner during the holiday season. How about replacing your regular fruit toast with fresh German Christmas stollen? Or replacing your banana bread with pumpkin bread?
---
Reward loyal customers
The holidays are spent with those we cherish and appreciate. As a coffee shop owner, that includes your most loyal customers.
Now's a good time to show your customers you value them. Give them an extra incentive to keep coming back and tell their friends about your cafe. You could do this with something as simple as a digital Christmas card you send to your customer database.
You could offer your devoted Instagram followers a special coupon. What would delight you as a loyal customer? Maybe it's a free gingerbread cookie you give customers coming in on Christmas Eve.
A small gesture can still make a big difference, especially when people share their positive experiences on social media.
---

A fully realised, optimized hospitality venue goes hand in hand with a highly skilled team. Luckily, Typsy can help you take care of both.
Typsy's 1000+ hospitality lessons are practical, effective, and fun! You and your staff can develop a more well-rounded understanding of what it takes to deliver an incredible hospitality experience to every customer, every day.
Best of all, you can access Typsy as and when it suits you.
Learn your way - starting today.
---
Create a 12 Days of Christmas special menu
Businesses often use the '12 Days of Christmas' as an opportunity to run a quick campaign. For a lot of shops this could be a sale where a different item is discounted each day.
If you want to go all out with this idea, you could create a 12 Days Of Christmas lunch special - a Christmas-inspired lunch item that changes daily.
Day one could be a virgin eggnog smoothie, day two could be a roast turkey slider, day three could be sliced ham and carrot fritters, and so on.
Create your delicious menu in advance and advertise it. The awesome thing about this campaign is that it will inspire people to come in for those meals that appeal to them and try something new.
At the same time, having something for a limited time only seriously appeals to people's FOMO, which further increases the chance this will work.


---
Run a seasonal competition
Another Christmas promotion idea is to run a competition for your cafe. This will also allow you to grow your social media following at the same time.
It's not so much about the prize as it is about a way to engage people in your local area. But of course, your prize should be compelling. Make the prize something relevant that will actually get your winners into the venue, like a high-tea for two.
You can run your competition on one of your social media channels, promote it through email and inside your coffee shop. Inform your staff so they can share it with customers: "Hey, I saw you're taking a picture of your delish lunch there. We're running a competition right now, so if you post it on Instagram with the hashtag #lexcoffeexmas you can win some awesome treats!"
---
Sell Christmas gifts
Everyone has that one friend or family member for whom it's impossible to come up with a good gift. You've already done the bottle of wine and book vouchers the previous years, so now it's time for something more original. Enter your cafe: because you sell some cool gifts!
Some gift ideas you could offer in your cafe include:
Mason jars with homemade cookie/brownie/cake mix
DIY (hot) drink ingredients and a recipe (with a cool mug)
Christmas-y chocolate gift boxes
A rich luxurious coffee scrub
Christmas pastries, cookies, loafs, etc
Cool totes and merchandise with coffee slogans (like this cool tea towel)


---
Team up with a charity
People are more generous around Christmas. In fact, 34% of people who've previously donated to a charity say they're more likely to donate during the holiday season. Let's avoid going into a cynical dad-rant about selective benevolence here, because being charitable is an awesome thing.
Doing a special charity promotion can put your cafe in a good light too. Giving away a percentage of all coffee sales is a very simple idea you can run with. Or you can have a huge Christmas baked goods sale to raise money and awareness for your charity.
Be sure to make your partnership visible. Put it on your outdoor sign. Tell your social media followers why your chosen charity deserves help. At the end of the campaign, let people know how much money you raised, so they can feel good about contributing while your venue gets some positive exposure.
---
Whatever you choose to run with, be creative! Themed campaigns are always a lot of fun and an easy way to get a little inspired with marketing. I hope these tips will help you get started. Happy holidays!
You might also like: