The holiday season can be one of the busiest times of the year for both providing service to your customers and training your staff. On top of that, the global pandemic and changing service rules have made extra training all the more essential for your teams. That is why Typsy has designed and uploaded seven different playlist templates for you to copy to your account and send out to your members!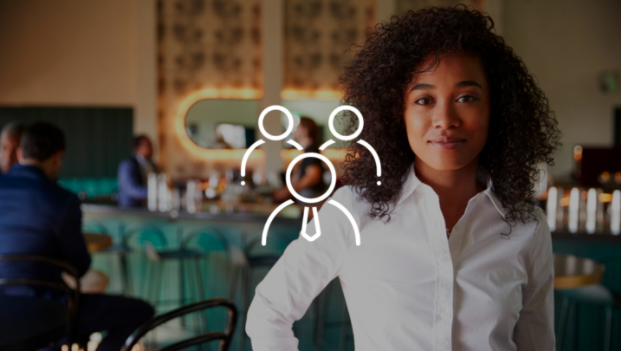 These short playlists have been designed to save you time in selecting training and focus on six key departments in hospitality- plus an additional "Cross-departmental" selection. We have created playlists for: servers, BOH/culinary, front desk, rooms division, bar staff, leadership, as well as Covid-19 key lessons. These pre-built playlists will only be available for the holiday season - however, all of the lessons and content included in them are still available year-round.
All seven of our playlists are available to our Typsy Premium subscribers and can be assigned out and viewed by your members on an unlimited basis. Our Typsy Free subscribers can enjoy unlimited access to our "Cross-Departmental Covid-19 training for the 2020 Holiday Season". Typsy Free users can assign out our Premium playlists, but keep in mind your members will not be able to watch Premium lessons within them.
Although these playlists have been designed by our team to save you time, they are completely customizable! If some lessons apply to your team and some don't, you can add and remove lessons as you see fit. Simply go to your manager account, select Playlists (under Discover) and open the section "Typsy recommends playlists", to use our templates. Once you choose the playlist you would like to use, select "Copy to my playlists" at the top of the page - as seen in the below image: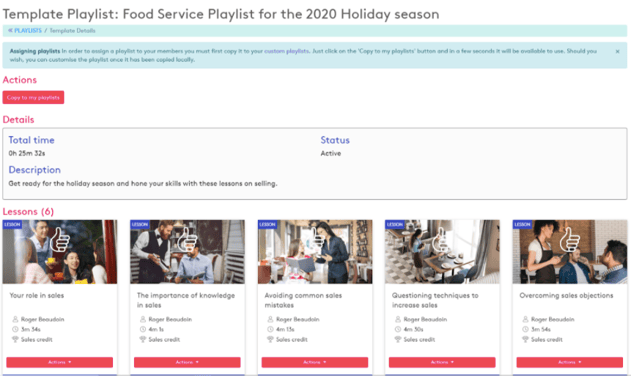 ---
1. Food Service Playlist for the 2020 Holiday Season |

25 min
Turn your servers and waiters into sales superstars with this playlist!
Lessons include: The importance of knowledge in sales, Overcoming sales objections, Questioning techniques to increase sales, and more.
2.

Sanitizing for Culinary Teams during the 2020 Holiday Season

| 16

min
Provide your kitchen staff with essential food safety and hygiene tips and tricks.
Lessons include: Contamination of food, Kitchen cleaning for food safety, Washing and sanitizing your hands, and more.
3. Front Desk Upselling for the 2020 Holiday Season
| 19

min
Your hotel front desk is the first thing you're guests interact with, so let's make it a great experience!
Lessons include: Preparing for a guest's arrival, Discovering the guest's needs, Product knowledge for upselling, and more.
4. Rooms Division Sanitation Playlist for the 2020 Holiday Season
| 22

min
It's more important than ever that your rooms division know how to properly and safely clean areas of your venue.
Lessons include: Entering a guest room, Where infectious viruses live, Breaking the chain of infection, and more.
5. Bar Staff Upselling for the 2020 Season
| 23

min
Your bar staff know how to shake up fantastic drinks, but do they know how to sell them properly?
Lessons include: The importance of knowledge in sales, Overcoming sales objections, Avoiding common sales mistakes, and more.
6. Leadership in the Holiday 2020 Season
| 24

min
Your business might be ready for the Festive rush, but are you?
Lessons include: Preparing to lead your business restart, Building and maintaining team culture, Evaluating team effectiveness, and more.
7. Cross-departmental COVID-19 training for the 2020 Holiday Season
| 20

min
Working in the hospitality industry during and post-pandemic has and will continue to be unusual.
Lessons include: Making a difference during COVID-19, Techniques for managing and reducing stress, Managing guest expectations during COVID-19, and more.

---
The Typsy Holiday Season playlists have been curated to save you time this busy season. Use them to train your staff in the days and weeks leading up to large events or new menus. These expert-led lessons will go a long way in ensuring that you and your team make the most of this busy season.
Happy Learning!
---

You might also like: