Did you know that Valentine's Day is one of the most celebrated days of the year for retail shops and restaurants? In fact, almost US$4 billion is spent on gifts, flowers or going out for dinners on Valentine's Day each year. Yes, love is in the air! And it's time for you to understand what your guests are after on this special day and up your love game.
In this blog post, we share with you five ways to turn your restaurant into THE perfect venue for Valentine's Day.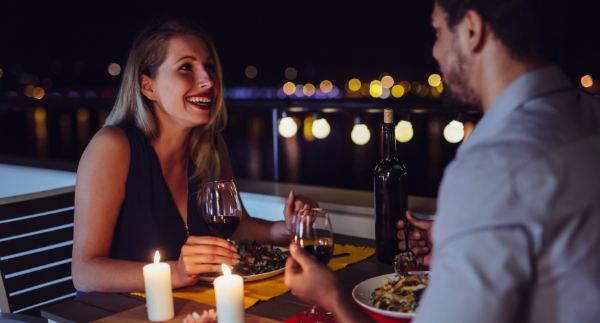 Planning and implementing creative ideas to drive traffic to your restaurant on the day of love is a must if you want to increase revenue. But, what can you do to make your restaurant stand out on Valentine's Day? From creating a set menu to targeting singles, here are five ways to make your guests fall in love with your venue.
1. Create a set menu
It's a special day for lovers (and singles!), so why not create a special menu for your guests? Whether it's a fixed-priced or a multiple-course menu, there are many different ways to make this culinary experience unique for your customers. From appetizers and entrees to mains and desserts, you can craft a super-creative menu and include items considered to be aphrodisiacs, offer a list of shared desserts or why not, pair your menu items with wine?
2. Offer free treats
Everyone likes a free gift, especially on Valentine's Day. Offering a free glass of sparkling wine on arrival, a small chocolate for dessert or a special discount is the best way for your guests to splurge on their celebrations. You can also be more creative and design a menu with a blank space for guests to add a romantic message to each other and take home. By making this dining-out experience memorable, your customers are likely to remember and hopefully, come back to your restaurant.
3. Leverage your gift card program
More personal than chocolates, gift cards are also the way to go on Valentine's Day, especially for restaurant owners. Promoting your gift vouchers is a smart way to reach those who can't or don't want to go out on Valentine's Day. It gives you the opportunity to generate revenue for your restaurant even after the 14th of February.
4. Target the singles and anti-Valentine's Day-goers
It's not because people don't have a date that they can't celebrate the day of love, right? Indeed, 9.8% of people organize get-togethers with friends or family. It's important to include singles and those who just don't want to celebrate this day of love, in your Valentine's Day advertising campaign and design a 'special no-fuss' menu to make sure that no-one is missing out.
5. Promote love early!
Whether you have oysters and champagne on special, have a fancy and delicious menu for singles and those anti-Valentine's Day, or a themed night for the festival of love, the easiest way to bring in customers is to promote it in advance. Create social media posts with quirky and catchy copywriting and imagery as well as promoting ads online and in your venue to ensure your Valentine's Day celebrations go off with a bang.

No matter what you decide to do, ensure that you plan ahead to maximize your profit and offer a memorable dining experience for couples and singles too! That's a win-win, right?
---
Have a question? We're always ready to talk.
You might also like: