In 2015, Paige Aubort won "Bartender of the Year" at the Australian Liquor Industry Awards, alongside a "Bar Team of the Year" win for her workplace, The Lobo Plantation.
Paige is currently the group operations manager for The Lobo Plantation and its younger sibling, Kittyhawk. She is also the mastermind behind not-for-profit organization Coleman's Academy and The Real Hanky Panky blog, working towards the advancement of women in bartending through mentoring, networking and sharing stories.
The Lobo Plantation & Kittyhawk
"Procedures, staffing, management – everything like that really appealed to me."
The Lobo Plantation and Kittyhawk are two acclaimed cocktail bars in Sydney, run by the same award-winning team.
Lobo is a rum bar with a handpicked selection of over 250 local and international rums, including some of the rarest and oldest variations available! The expertise and passion for this spirit by the team at Lobo is undeniable and they've even published a rum journal that can be viewed in-house and is available for purchase.
For its second venture, the team chose to focus on rye and opened Kittyhawk – a cocktail bar inspired by the liberation of Paris at the end of the Second World War. The bar offers Parisian street food and an extensive list of other spirits (rum features heavily, of course) as well as beer and wine.

Working at The Lobo Plantation & Kittyhawk

"I started at The Lobo Plantation as a bartender and in about a year I was trained to manage. The team was led by Jared Merlino (general manager and co-owner of the two venues) and I worked alongside Andres Walters. As time progressed I became a senior manager and balanced out really well with Dre – he was very much bar-focused and I was more attracted to the operations side of things – procedures, staffing, management – everything like that really appealed to me.

Then Kittyhawk opened. It was a really interesting and amazing experience to watch it from the build. With Lobo, I came in four months after they opened so I missed all of that. Kittyhawk has a 175 capacity (compared to 120 at Lobo) so it's big but it's really rewarding – you face every challenge that you do as a small bar, but then you've got other things to take into account that I've never really dealt with before.

I've kind of taken the lead at Kittyhawk which has been really nice, and a huge learning curve for me. My role now focuses on the operations side – staffing (as in management and rosters), dealing with back of house pay, stuff like that.

Customer service is really integral to all managers who work for this company. It's not like you just step out of service – you are expected to still spend a majority of your time behind the bar or on the floor."
Coleman's Academy
"I am passionate about women in the industry and I'm really passionate about hospitality so I looked at the industry for areas that need improvement."
Coleman's Academy is a mentoring program for female bartending professionals. By connecting women in the industry, the program aims to support, nurture, educate, empower and inspire female bartenders in a largely male-dominated industry.
The collaborative environment aims to strengthen female participation in bartending and help women pursue their goals and career objectives, while working collectively towards the advancement of female bartenders.
The Creation of Coleman's Academy

"When you look at entry level pub work and stuff like that, I believe you have an even kilter of men and women in the industry.

But as you move forward into the higher echelons of cocktail bartending and then management and ownership and the more corporate side of things (like brand reps), you're going to see a male dominated industry, definitely.

So Coleman's Academy started about a year ago. I was working so much and I just needed to be able to focus my energy elsewhere. I was starting to take work very, very personally and kind of getting my head up my own ass a little bit. I thought about the things that I love and want to do and am passionate about and what my strengths are. I knew that I didn't want to make a profit from it. I knew that I wanted it to help other people. I am passionate about women in the industry and I'm really passionate about hospitality so I looked at the industry for areas that need improvement.

Because the industry is male dominated you have this very masculine approach to how we should nurture people, and we need women to provide the other perspective."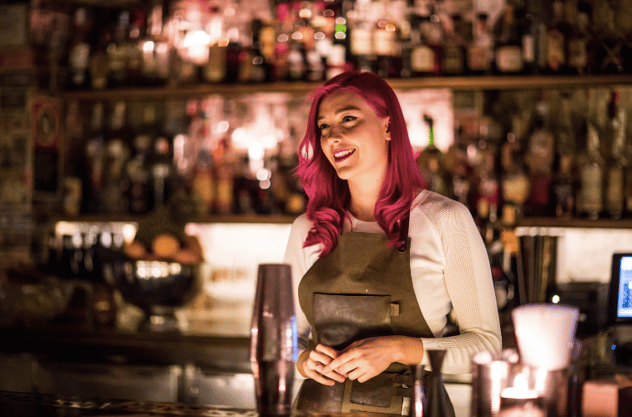 Image by Daryl Kong
"Everyone is busy and if you don't know what you want, no one else can be expected to lead your hand through this whole thing..."

Tips For Pursuing Your Passion & Staying Rad

"In the wise words of my mother, I would probably say: if you don't know what you want, no one can give it to you. In this industry in particular, people are so willing to help you and provide you with support, whether it's just to talk or whether it's a mentorship or guidance. We have this pool of incredibly intelligent and compassionate and really generous people. Everyone is busy and if you don't know what you want, no one else can be expected to lead your hand through this whole thing, you know?

Just do things that keep you humble. Go home, see your family, catch up with friends that know you way too well. If you're not humble, no one wants to talk to you or have a bar of you! Go to places where you're forced to introduce yourself and meet new people. You only ever grow from experiences."
You Might Also Like