The Diageo World Class Bartender competition is a prestigious competition. Even being a finalist adds a serious boost to your resume. So imagine winning the thing… and imagine winning it twice.
Charlie Ainsbury, the owner of This Must Be The Place in Sydney, knows how it feels. He was crowned Australia's best bartender for the second time this year, after taking home his first win in 2014.
Charlie has worked for a range of iconic Sydney bars, including the Bayswater Brasserie and Eau-de-View. Last year he opened up This Must Be The Place in Bondi with Luke Ashton, which has been a whirlwind.
We caught up with Charlie over the phone a little while ago and talked about his life as a bar owner, dealing with nerves in competitions, and his favorite way to win over bar guests.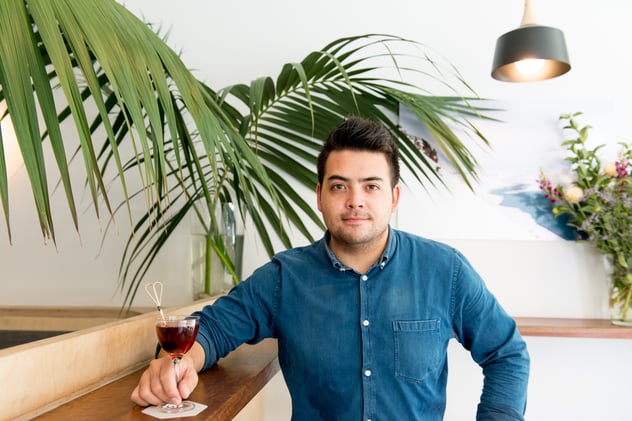 This Must Be The Place has been open for over a year now. What's it been like owning your own place?
It's been challenging, it's been tough. It's a whole different ballgame. You can be a bartender, head bartender, manager, but it doesn't compare to being an actual owner. Even being a bar manager doesn't come close to being an owner, because everything's on the line for you. Luckily I've got a business partner, so the two of us can kind of take the bunches.
There are so many surprises. You're dealing with the liquor board and licensing, there's a lot of paperwork and you're dealing with the city council quite a bit. Just having the doors open to your venue takes a whole lot. And usually a bar manager wouldn't see half of that.


"Bartending is really just a long study on human behavior."


It's things like that that make me we want to tell people who are aspiring to open their own venue; don't forget that there's a lot that goes on to run the whole thing. But on the other side, it's been really fun. You know, it's your own venue, it's your home. It still feels like people are walking into your home. I always joke that I actually sleep in Bondi and live in the bar, because I'm there eighty or ninety hours a week.
---

Let's talk about your competitions. I read somewhere that you still get nervous during competitions. What's something you do to deal with those nerves?
There is really nothing you can do about it, you're always going to sort of shake your hands, you're going to get the butterflies and you will be nervous. I've done a lot of competitions and been successful in a few and the nerves still don't go away.
One thing I tell people to do in competitions though is to do as much as you can to feel comfortable in that bar. Because usually in a competition, you're in a foreign bar. So the best thing you can do is, if you have your shakers to the left in your own bar and your jiggers to the right and your spoons there, then put all that stuff in the same place before. Because that's muscle memory to you.
That's one thing you can do. It won't so much calm the nerves, but at least you'll be comfortable because if at least everything's in the right place, hopefully your muscle memory will kick in. If you don't, then that bar is going to be even more foreign to you and therefore you might stumble and get even more nervous.


That's great advice. So what would you say is your favorite drink to make?
I don't really have a favourite drink to make. I do enjoy making a martini or very simple drinks, but it's really about the guest. It is really important to understand what the guest wants.
A lot of the time, we have people coming in and they don't know what they want, and they ask you to make a drink for them. That becomes my favorite drink to make, because you have to win this small battle with them. You get a lot of people who don't drink cocktails or don't want to explore. That's the really fun part about making drinks, because it's about getting them on your side. Those are the drinks I really like making.


---
If someone comes into your bar and says 'make me what you think I want', how do you go about that? Do you ask them questions in response?
Absolutely, you have to gauge where they're at in the night. Are they pre-dinner or post-dinner? Did they have a bad day or a good day? You try to work out what they usually drink, that usually steers you in the right direction. You can ask them if there's anything they really dislike, and that's even more of a challenge you can take on if you're daring enough.
If someone says they hate tequila or gin, unless it's an allergy, I usually try to make a drink that has those ingredients. A lof of people are afraid of gin because they had a bad time with it when they were fifteen. Well, everyone's going to have a bad time on gin when they're fifteen, you know? There are a lot of cocktails out there that can kind of turn people a bit on your side, so that's what you usually try to go for. But the one thing we always say at the bar is: if you don't like the drink, then we'll drink it. Or you can have another one. It's really just about getting the customer on your side.
---

When it comes to developing yourself, are there any resources you go to to stay on top of things?
There's a great book that I recommend to our staff and other people who want to get into the industry, and it's called Setting the Table by Danny Meyer. He is the CEO of Union Square Hospitality Group in New York. It's an incredible book about hospitality in general. It's the story of how he grew his business and has a lot of smaller stories on the way.


"The thing we always say is: if you don't like the
drink, then we'll drink it. It's really about getting the customer on your side."


There's other stuff too. I'm preparing for the competition right now, and I'm looking at other things for inspiration and I'm getting into TED talks. There's a lot of study on body language and how to speak in public when you're on a stage. Because being a bartender, you're on a stage. Bartending is really just a long study on human behavior, so anything related to that really helps with your bartending.
There's recipe books for days, but you don't need a recipe book. If you have a good manager or bartender, they can teach you the recipes. But they can't teach you personality, but it's important to understand that, because people are always looking at you, so you might as well get really good at being looked at.

Follow Charlie Ainsbury's bar This Must Be The Place on Instagram: @_thismustbetheplace_