It's no secret – starting a restaurant is not a cheap endeavour. There are a variety of cost factors to consider when developing a restaurant concept and it is imperative that an aspiring restaurateur measures the cost difference between purchasing an existing restaurant, taking over a vacant restaurant space, starting a restaurant from scratch, or buying into a franchise model.
The riskiest scenario, which will require additional planning and, in all likelihood, additional funding, involves starting a restaurant from scratch.
Using this start-up model as an example, we can break down the different cost categories that many will overlook.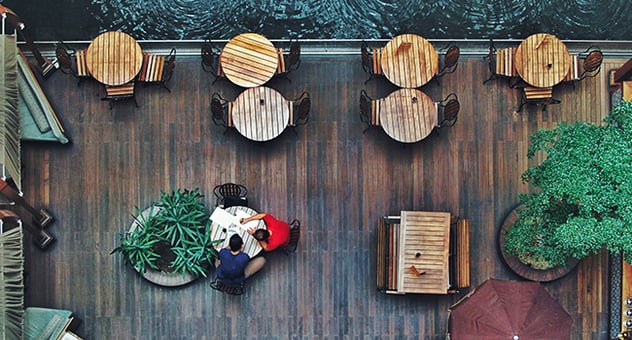 The average start-up restaurant, in US dollars, can range from $295,000 to $660,000+ depending on a variety of factors, including of course size of establishment. In terms of square feet, the total project can range from $115 to $150+ USD per square foot, depending on the scale of design and chosen materials.
The largest cost factor is going to be the construction and renovation period, which can range from 35 to 65% of the total start-up costs. These are key budget scenarios to consider when one is trying to decide on a location and size of an establishment. A restaurateur will want to keep 24 to 28% of the space for kitchen production and allow for approximately 20 to 30 square feet, per seat.
This again all depends on choice of concept. Let's look at other areas to consider for start-up budgets.


---
Leasehold assets

Construction and design
In addition to the above notes, a restaurateur will want to keep in mind engineering costs, interior designer costs, millwork costs, artist renderings, and permit costs.
Restaurant furniture
Consider the style of tables, table stands, and chairs that one would need for the restaurant, based on concept and size. This can range from $300 to $700+ per set of table and chairs.
Kitchen equipment and supplies
When developing a concept, it's important to understand the menu that will be developed to assist in estimating kitchen size constraints and the type of equipment needed. Kitchen and bar equipment can range from $50,000 to $125,000+ USD depending on the size of the kitchen. Consider in this budget shelving, storage, and kitchen small wares in addition to an exhaust hood system (if needed).
Plates, glassware, and takeout containers
Based on the size of the restaurant and project sales and turnover, how many plates, drinking glasses, and takeout containers will one need to get started? Consider each type of glass (wine, beer, juice, martini etc.) in addition to soup bowls, salad bowls, desserts and so on.
Food and beverage supply
The cost of purchasing food and beverage for opening is often overlooked. Though some suppliers will offer payment terms, it is best to budget for the first shipment(s).


---
Rent and operating costs

Security deposit
As a new entrepreneur without any kind of track record, a property manager will likely require a security deposit that will be returned after the first twelve months of business. This can range from $5,000 to $10,000 USD.
Lease payments
During renovations, a property manager will often settle on a negotiation for 'free rent' during that period. However, it is ideal to budget 1 to 2 months of lease payments in the case of any unexpected delays.
Utility payments
It is wise to budget for 3 to 6 months of utility costs and keep in mind that many utility companies (water, energy, and gas), will want a deposit from new customers.
Capital cash flow
Many restaurants open with no money left in the bank. This can become a critical situation. It is best practice to budget at least one month worth of wages and one month worth of lease payments to be on the safe side, and to have money in the bank for emergency and cash-flow purposes.


---
Marketing and advertising costs

Web design and social media
Unless one plans to do in-house, a professional marketing agency may be hired to design a website, set-up social media channels, and get the restaurant listed on all of the crucial review sites.
Logo design
This could be provided by the same agency as above. It is always suggested to have a professional design the logo and branding package. In this category, also consider the cost of trademarks.
Outdoor and indoor signage
This cost can vary greatly, depending on the style of sign needed for the property and the layout of the logo. One must not forget about interior signage and branding as well.
Menu printing
There must be a budget for menu covers and printing. Again, this cost can vary, depending on number of seats, style of menus, and if there are printed takeout menus to be distributed.
Other mediums
Set aside a budget for any video production, radio commercials, print advertising, and other partnerships that may be needed to generate opening day buzz!


---
Grand opening costs

Staff uniforms
Once a restaurateur has an idea of the staff plan, a uniform budget can be allocated for chefs, cooks, bartenders, servers, and managers. To save some costs, it's ideal to have employees provide their own pants.
Staff training
A start-up restaurant will want to set aside two to three weeks of training and orientation. It is best practice to set up a mock training schedule during the planning stage to develop this budget.
Soft opening
Often you will have a one week practice period so your staff can run through real-life scenarios with a select group of guests. A budget should be set aside for food and beverage costs, as a soft opening is often offered for free to guests.
Grand opening
Consider a budget for a grand opening event that will attract the attention of local dignitaries, media, food bloggers, and the immediate community.


---

Administrative costs

Business licenses
Though minimal and needed, research your local and regional licenses and their associated costs, including traditional business/corporation licenses, liquor/beer licenses, and music licenses.
Ordering and payment solutions
A point of sale (POS) system is vital for customer service, inventory, communication, and other reports. Set aside a budget for a program and set of hardware that is suitable for the style of concept.
Insurance/legal fees
Construction insurance and operating insurance should be purchased prior to opening, for the renovation and training period. You should also allocate part of your budget to a business lawyer who can read through lease agreements.
Accountant
It is ideal to have an accountant during the start-up phase, to track and organize expenses and to guide a restaurateur in the right direction, financially. This individual will also assist in setting up payroll and HR files for all start-up employees.
Hidden costs
As with any type of project, there are always hidden costs that are not accounted for. It is best practice to set aside a budget, similar to that of the operating capital, to ensure there are some funds available in case of emergency.
All of this may become very overwhelming for a start-up venture. With a proper feasibility study, concept development plan, and business plan – in addition to a restaurateur surrounding themselves with the right team of consultants, engineers, designers, and contractors – a start-up project can stay within budget.
Looking for more information about starting a restaurant?
Sign up for our newsletter.
---
| | |
| --- | --- |
| | As the Founder & President of KRG Hospitality Inc. in addition to being the author of the book 'Bar Hacks', Doug Radkey's impressive career spans more than two decades and includes all aspects of food, beverage, and hospitality development. This storied brand has proven success since 2009, throughout a variety of markets found within Canada, The United States, and abroad by being a creative agency with a focus on planning, development, and support for independent restaurants, bars, hotels, and other hospitality related properties. |
---
You might also like