The founders of Patient Wolf Gin, Matt Argus and Dave Irwin, this year celebrate two years since the launch of their successful Melbourne-brewed gin and distillery.
Recently they expanded their distribution to include premium Dan Murphy stores across Australia, and the team are working on the launch of their second gin. They have come such a long way from their early days of brewing gin on the stove top!
Co-founder of Patient Wolf Gin, Matt Argus, chatted to us about how it all started, the industry people who backed them, and how consumers are becoming more curious about the craft behind the product. Here's his story.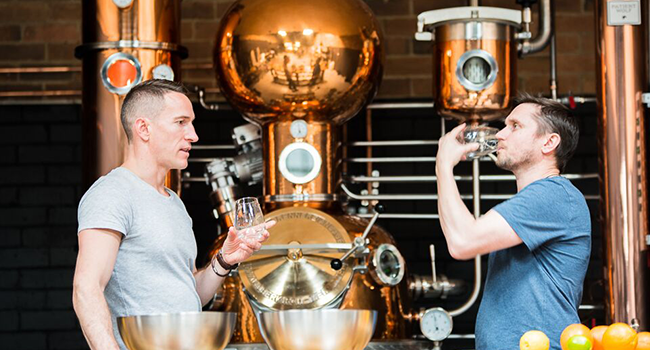 It's pretty awesome that yourself and your business partner, Dave Irwin, created Patient Wolf Gin from scratch! What were you doing before, and what inspired the transition?
M.A: "We both worked in our professional careers in Australia, NZ and UK. Dave had an early stint in engineering before moving in marketing and more recently a digital channel analyst role. My career started in advertising firms before moving to corporate marketing in financial services.
During this time the idea of starting our own distillery was born. Sipsmith Distillery had kicked off in London and a few small craft distilleries were popping up in the UK, Germany, the Nordics and Spain. These 'new world' gins really changed our perception of what a gin could be.
Plus, we've always been big supporters of all things craft and local, whether that be beer, food or wine—actually, anything that's bespoke and created with a level of quality and craftmanship.
Back home in Australia the craft beer scene was also in full swing, so it was a natural progression that we would then look to crafting our own spirits. Creating something with our own hands and seeing it grow also seems to be in our DNA, and inspired us —my dad's a farmer and Dave's parents owned an olive grove.
"The prospect and excitement of building something from scratch and something
with our own hands was too great to ignore."
So in 2013 we bought a still that was far too big for our needs early on. We dialled it right back to a 2L alembic pot still that we'd get going on the stove top at home, or on a gas cooker in the garage. And that kicked off the exploration and experimentation of crafting our own spirits."
---
For someone who's not familiar with Patient Wolf Gin, describe its flavor and what you think makes it unique.
M.A: "The vision for our gin was to achieve a happy medium between a classic London Dry and New World. We didn't want to lose the essence of gin, but we also wanted to create something unique - that was our focus, we didn't want just another London Dry.
We also wanted to create a gin that would stand tall and not get lost in a cocktail, and be as rounded and smooth as possible. So, that was the challenge we set ourselves. We spent years refining our recipe to create what we have today.
In terms of flavor and taste, Trish Brew, from the Gin Palace in Melbourne encapsulates everything about our gin in her tasting notes. It's also written far better than I'd be able to describe it!
"We didn't want to lose the essence of gin, but we also wanted to create something unique - that was our focus, we didn't want just another London Dry."
Trish Brew's tasting notes:

Nose: Bright citrus quickly dissipates to make way for a boldly earthy and floral bouquet. Lavender and violet aromas dominate the length, eventuating into pithy grapefruit with hints of green pine needles and concluding with resinous juniper.
Palate: A palate encapsulating textural marvel. Orris commands whilst coriander seed tingles warmly and finally finishes with hints of peppercorn spice and fresh Juniper."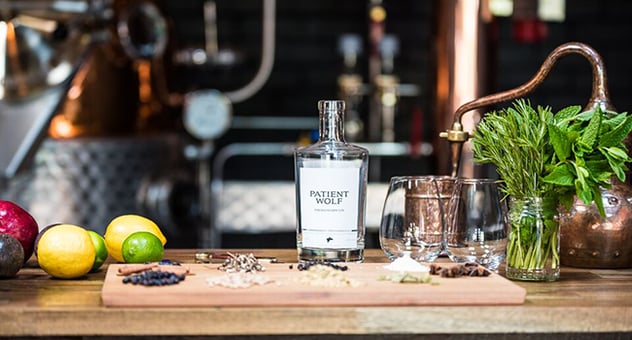 Who have been your greatest supporter(s) you've turned to for industry advice?
M.A: "We've had plenty of help along the way and we wouldn't be here today without them. We travelled the world to learn the craft directly from experts in the field, meeting still makers, gin experts, craft producers, and even farmers who we source our native botanicals from. A few to call out though:
Ander Bilgram: "Master Distiller and Founder of Nordisk Branderi Distillery in Denmark. Sebastian Muller, from Muller in Germany, the makers of our still, put us in touch as a reference for their stills. So, the conversation kicked off with Anders over a phone call, chatting about the Aromat column and his Muller still.
He raved about it which gave us great confidence. Especially coming from such a highly esteemed distiller. We asked if he could help us develop our recipe and provide feedback. So we'd send samples across the other side of the world and pick up the phone two weeks later for a call. It was a lengthy process which we went through quite a few times but the learnings we got were huge for us."
Trish Brew: Manager of the Gin Palace and Seb Costello, owner of Bad Frankie in Melbourne we're great in providing direct and honest feedback on our early samples. They helped create what we have today.
Georgina Wright: Founder of Artisan Handcrafted. She actually said we that we were mad when we first approached her with our plans for starting our own distillery in Brunswick! But luckily we persisted. Now we're business partners and we work closely together on growing our presence across the country.
Cam McKenzie: Head distiller of Four Pillars Gin. Cam has been great in being open to providing us with advice and assistance along the way. He's a great guy and what he's achieved is an inspiration to us."
---
Where do you currently distribute your gin, and where else do you want to take it?
M.A: "We recently partnered with Artisan Handcrafted as our national distributor which was a key priority by the end of our first year of trading. I think they're the best boutique distributor in Australia. We wanted to be part of a small portfolio of products where bars and retailers appreciated a more curated and thought through list of products.
So we're now available in all states and territories in Australia through 100 proof, ALM and independent wholesalers. We'll also available at all 70 premium Dan Murphy locations in early 2018, so watch this space!
Recently we also started exporting to Japan and we have other international markets in our sites. We're building a global brand so hopefully one day we'll be available all over the world."
---
Where's the most unusual place that you've heard your gin be served?
M.A: "We have random bottles that pop up around the globe in bars in the US and Europe. The most recent I heard of was having a bottle on the back bar at Whitechapel Gin Bar in San Francisco. Who knows how it got there!"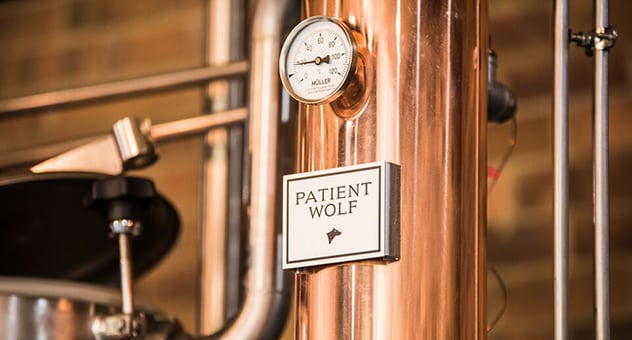 What's the most important lesson you learned throughout the whole gin distilling process, considering yours is all crafted from scratch?
M.A: "The creative process of making a gin takes time and can't be rushed. Inspiration can be found anywhere, you just need to be open to it. Also, to make a world class spirit you need to invest in the right still, that's why we have one of the best in the world in a Muller still."
---
Favourite cocktail drink and why?
M.A: "I'm a purist so a dry gin (Patient Wolf of course) martini. Also a Negroni, a harmony of bitter sweet. I also tried a cocktail recently called The High Société from Magic Mountain Saloon in Melbourne.
It's their twist on a Bloody Mary, with Patient Wolf gin, pomme verte apple liquor, lime juice, a dash of celery shrub and black walnut bitters, topped with apple juice and garnished with apple and honey walnut. It looks absolutely stunning and it's delicious!"
---
Your favorite bar and why?
M.A: "Close the distillery, I'd have to go Howler Bar. It's our local and an institution for all things that north Melbourne represents with it's creative edge and love of live music and good times."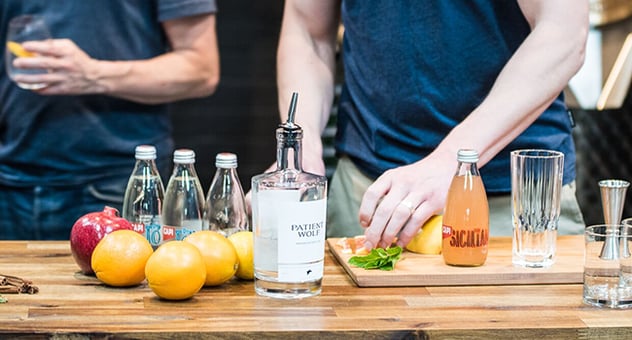 Best combo with Patient Wolf Gin?
M.A:
Gin and tonic:
Our gin is big and bold – it won't get lost in your G&T and will always stand tall.
30mL Patient Wolf Premium Dry Gin
90mL CAPI Dry Tonic
Ruby grapefruit or lemon and rosemary garnish
Martini:
Play around with the ratios. We recommend 6:1. Or leave out the vermouth all together!
60mL Patient Wolf Premium Dry Gin
10mL dry vermouth
Ruby grapefruit or lemon twist
Negroni:
Our lead citrus is fresh ruby grapefruit, which we buy from Lamana Organics on Sydney Road, Brunswick. It's loads more complex than other citrus. It has bitter and sweet (sound like the world's greatest cocktail?) and a touch of sour going on.
30mL Patient Wolf Premium Dry Gin
30mL Campari
30mL Red Vermouth
orange slice garnish


---
Lately there's been a shift in consumers' interests in craft and boutique brews, (e.g. coffee, beers and spirits), why do you think this is? And do you think there's been a resurgence with gin?
M.A: "More broadly, there's a shift in consumer behavior from mass market brands back to local, handcrafted brands. Consumer appetite for understanding what their consuming is insatiable.
We're totally transparent and open with how we make our gin and what goes in it and that's being very well received. There's no short cuts in making a world class gin.
The gin boom has been phenomenal, with more drinkers turning to the juniper spirit than ever before. It's led by a few fronts:
Rise of the cocktail culture and speak easies;
Boom in craft and local producers;
The new flavours and distinct products coming out as a result;
It's better than vodka!"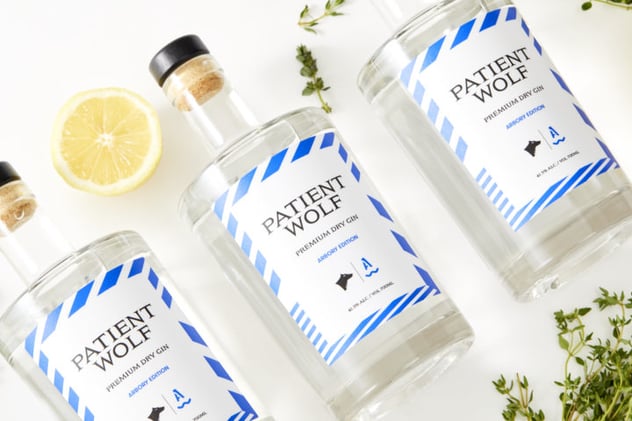 We saw you did a collaboration with Arbory Bar in Melbourne. What inspired this collaboration? And do you have any further ones in the pipeline?
M.A: "The Arbory Bar is one of Melbourne's best bars, and when we heard they were bringing down a massive pontoon from Sydney to sit alongside the main bar over the water, we were pretty excited.
It was great to work with the Arbory team to create an exclusive gin for Melbourne's hottest bar this summer. We wanted to create something pretty unique, it had to be refreshing, summery and inspired by the flavours of the Mediterranean."
---
What's the next step for Patient Wolf Gin?
M.A: "We're one year in so 2018 will be a big year for us. We'll be having a belated first birthday party coming up soon. We're currently working on gin number two. Watch this space!
With a national distribution agreement now signed with Artisan Handcrafted, and rolling out to major retailers including Dan Murphy's our focus is to build the brand right across Australia."


---
What advice do you have for anyone looking to get into the craft spirits industry?
M.A: "To take their time. Go about things the right way and don't take short cuts. As we grow the category of Australian produced spirits we need to ensure quality and value is being added to the industry, not detracted from it.
Also it's important to being something new to the table. Have a point of difference and have something with substance and purpose behind it."
Learn more about cocktails with our Bartending for Beginners course from world class bartender, Charlie Ainsbury. Start now!
You might also like: