We've all done it before: googled a restaurant, a hotel, or a café to find out more about a venue in our local neighborhood (whether you're on holiday or not!). When searching for a hotel, many people will type "hotel in [location]" on Google. But, how do venues rank in the top monthly searches?

In this blog post, guest contributor Oli Graham shares with you some hospitality tips to maximize your hotel's visibility for location-based searches in Google.

Let's start with some data. Here are the average monthly search volumes for "hotel in [location]" for the six most popular holiday destinations in Europe:
Hotel in

Paris

: 8,700 monthly searches

Hotel in

London

: 7,000 monthly searches

Hotel in

Barcelona

: 2,300 monthly searches

Hotel in

Prague

: 1,100 monthly searches

Hotel in

Florence

: 450 monthly searches
Looking at these numbers, it's safe to say that having your hotel appear in the top Google searches is one of the most reliable ways to bring in a consistent stream of new customers and build a strong online presence.
---
How does Google handle location-based searches for hotels?
Before you create a game plan to maximize your hotel visibility in organic search, you need to understand exactly how Google optimizes searches for hotels.
For example, if we type in "hotel in London", here is the result that Google displays: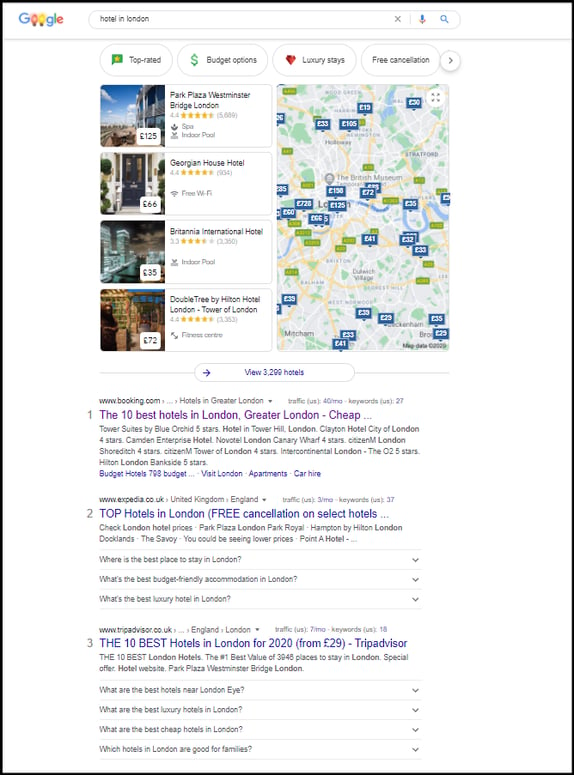 Results:
Users will see an interactive Google Map embedded with hotel locations and a listing of hotels. All these elements are clickable.

The search results below the map are not hotels, but booking sites such as TripAdvisor and Booking.com. For the term "hotel in London", the first hotel listed is on the second page of your Google search.
The advantage of Google location-based searches is that you have the best chance of competing in organic search by focussing your efforts on being as prominent as possible on Google search maps.
Although the map gets most of the clicks for these types of searches, the list located on the left side of the map allows your hotel to be shown directly to potential customers.
---

Learning with Typsy helps you and your team develop the kind of high-level hospitality skills
you need to solve problems and deliver incredible guest experiences.
Typsy lessons are practical, effective, and fun! Best of all, you can access 1000+ topics as and when it suits you.
Earn your hospitality certificates today.
---
How does Google determine which hotels to show on its map?
To understand how Google determines hotels shown on its map, you need to understand two key factors.
Google search maps and listings are populated by

Google My Business

(GMB) profiles often created by hotel brands.

Google gets a commission for every booking made through its map listings.
Your hotel needs a GMB profile to appear on the map at all. Setting up a GMB profile will encourage clicks and will help Google give you more exposure. You can make small tweaks to your GMB profile to optimize your listing and receive more clicks.
Three ways that you can make your GMB profile more likely to be clicked are:
Set up your GMB profile and fill in every section

Have your hotel listed on popular booking sites, and make sure that your key details are consistent across these listings

Have as many positive Google reviews as possible
Ultimately, when Google notices your hotel listing clicks are increasing, you will be rewarded by being ranked higher on the location-map listing. It will then create a snowball effect as you will receive more clicks, and get ranked higher every time.
Let's look at each of these three ways to understand why they are crucial when setting up your GMB.
The importance of having a GMB profile
The information about your hotel Google displays in its map listing is collected from your GMB profile.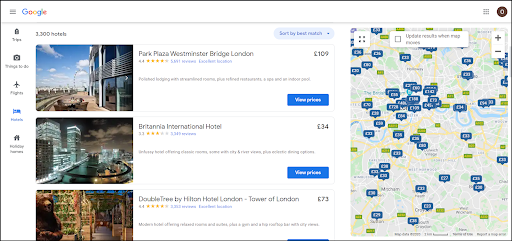 When a user clicks on your listing, they will reach your hotel's GMB profile where they will be able to access more information about your hotel.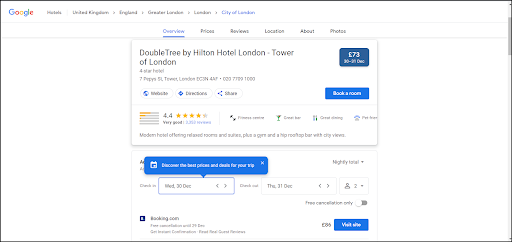 It's important to know that when a user clicks on 'Book a room' and makes a booking that Google gets a commission.
While on your hotel's GMB listing, a user has the ability to:
Browse photos of your hotel

Check through your specific amenities

Check prices
However, users will only be able to access the public information you've shared on your GMB listing.
When you create your hotel GMB listing, you have the option to add photos, tags for your amenities, and a price list. It's important to fill out your listing as thoroughly as possible to help your venue receive more clicks.
How booking sites can improve your hotel prominence on the map
Google does not want its map to be populated with hotels in incorrect locations.

While the search engine mainly determines your hotel's location by the information it pulls from your GMB listing (giving your location is a requirement to have a listing), it also looks at the relevant information in major booking sites to verify your hotel's location.

A strong presence on popular booking sites will ensure that your hotel is where it claims to be on your GMB profile. Google will then be more confident to display your hotel in the map listings.

A crucial point to consider is that Google does not understand address abbreviations. For example, if your hotel's address is listed as '141 Bond Street' on one booking website, and '141 Bond St' on another, the search engine will see this as conflicting information. You should make sure that your address is consistent on all booking platforms and other directories. It's well worth auditing your various profiles and editing existing inconsistencies in your listed address.
The importance of Google reviews for your map listing
Google displays reviews your hotel has received as well as its average rating in its listing to the left of the map. Having a high number of positive Google reviews will make your listing more appealing to people and will help your click-through rate increase.
Google also allows its users to filter hotels by average rating. In many instances, a hotel that is poorly reviewed in Google will not even appear in many filtered map searches.
While your Google reviews do not directly influence your map ranking, your listing's click-through rate does. Having a high number of positive reviews increases your click-through rate. You can find out more about how to increase the number of positive reviews your hotel gets here.
---
Setting up a GMB as well as working on your click-through rate will help you get the most traffic from the level of prominence your hotel currently has and rank your venue in the top 'near me' or local search results.
---
Oli Graham is the Marketing Manager for a digital content agency RightlyWritten. With six years of experience providing copywriting services for over 300 business websites, he knows exactly what it takes to create web pages that both customers and search engines love. Learn more by visiting:

https://www.rightlywritten.com
---
You might also like: