When you search for a place to stay on business or vacation, you have seemingly endless options to sift through. There are thousands of hotels worldwide, which means owners and managers need to up their game to stand out amongst competitors. That's why both chains and boutiques alike have invested in a few extravagant perks, including luxury cars.
In this blog post, guest contributor Cora Gold explores why hotels are turning towards offering luxury vehicles and how this unique offering is enticing guests.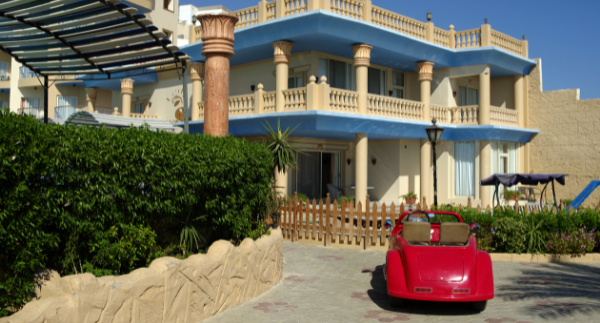 Why this amenity makes sense
It's always been possible to use chauffeur services at certain hotels. Now, patrons have an opportunity to ride around in an even more sophisticated way, as hotels upgrade their town cars to the newest luxury models. There are even ways for guests to take the wheel of a Rolls-Royce or Bentley themselves.
Those who visit top-rated resorts are already familiar with lavish conveniences, ranging from five-star meals to all-inclusive spas and everything in between. When you stay at such an establishment, you want to have a comfortable, seamless experience. This perk just seems like the next step in what patrons will come to expect at high-end hotels.
There are a few reasons why hotels have pursued luxury vehicles as amenities for guests.


---
Stay up-to-date with hospitality trends and learn online with

typsy.com

Learn your way - starting today.
---

How hotels, guests, and automakers benefit
This trick helps hotels differentiate themselves from other businesses in the area, which drives profits in a competitive space. Plus, hotels won't lose business to car rental companies because guests are more likely to put the money they'd pay for a vehicle toward their stay. Like other standard perks, luxury vehicles can be majorly profitable for hotels.
As a guest, luxury cars aren't only a status symbol. While you can explore the city in style, you'll also be able to enjoy your stay more. There's no need to even think about a rental vehicle, whether you're at the hotel for business or vacation. Instead, you can simply use the luxury car services when you need them. It simplifies a step in what can be a stressful process for some patrons.
These collaborations between luxury brands are valuable. It's a trend that tends to happen in the fashion industry — but the same advantages apply to luxury resorts and luxury automakers. Through partnerships, they can acquire new customers while they develop successful deals. It can specifically be an effective way for luxury automakers can increase their exposure, which means better chances to pique consumer interest.


---
What hotels currently offer luxury vehicles?
Numerous hotels around the world provide guests with luxury vehicles. These resorts are often located near stunning locations, so guests can use the cars to navigate beautiful landmarks and scenery during their stay. Several luxury car services come with additional perks, too.
Places from the St. Regis to the Grand Hotel Tremezzo provide access to luxury cars like Bentleys and Porsches. These luxury vehicles usually come with a dedicated driver, which means you can take a jaunt around the area without the need for public transportation or rideshare apps. However, some hotels will let guests drive as long as they have car insurance.
If you want to ride in style during your stay, you should inquire about what the hotel offers.


---
There's nothing more convenient and exciting than being able to use a chauffeured Mercedes Benz at a moment's notice. It seems like high-end hotels everywhere have embraced the trend, which benefits them, guests, and automakers. This collaboration makes perfect sense for everyone involved.


---
| | |
| --- | --- |
| | Cora's passion is to inspire others to live a happy, healthful, and mindful life through her words on Revivalist – wholeheartedly convincing them that everyday moments are worth celebrating. Cora has spent 5+ years writing for numerous lifestyle sites - hence her sincere love for both life and the beauty of style in all things. Keep up with Cora on Twitter, Pinterest and Facebook. |
---


You might also like