With millions of users and a tendency to grow even further, Instagram has earned the reputation of the most coveted social media network for brands to spend their time on, and rightfully so. Consider the fact that 80% of its users follow at least one business on the platform, and that it has a 2.2% engagement rate (which is massive compared to its other social siblings), and you'll immediately understand its value. Now take into account the simple fact that travel has become somewhat of hype in the past several years.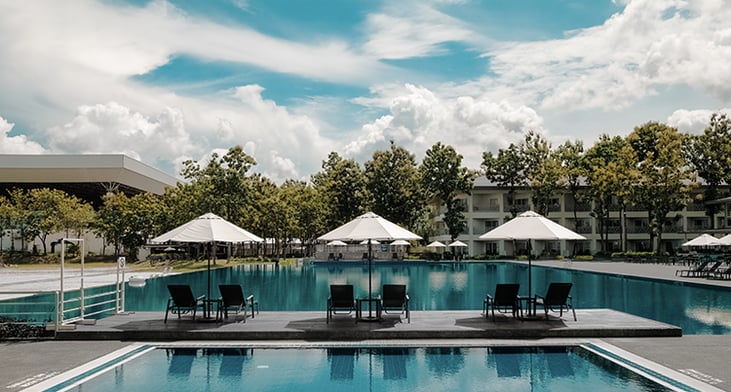 We have digital nomads in search of reliable Wi-Fi to post their Instagram experiences, then there are eager adventure enthusiasts who save up for months to book a thrilling escape and the rising number of globetrotters who simply want to see the world one brave step at a time. Travel has become our favorite mode of being, and we love using Instagram to share our perspective with the world. Now, how does your hotel fit the bill? In so many versatile, colorful ways that no single blog post can count them all!


However, here are a few of the most significant strategies for marketing your hotel on Instagram successfully, with a few examples to learn from those who have mastered this art, and you'll quickly turn your brand into a truly special entity in the Insta stardom!
Let your brand stand out
Now that you know that engagement stats are in your favor, and trends are bringing hotels into the spotlight, it's up to you to give your brand that something special to stand out. To do that on Instagram, you need to build a comprehensive brand strategy that will help you define your hotel's voice, your audience and its preferences, and your strongest qualities in your industry.
You cannot expect to create an isolated, little Instagram posting schedule and expect miracles to happen. You need a strategic, calculated approach, from choosing content that is tailor-made to suit your ideal guests, all the way to your posting schedule to make sure you get the right exposure.


---
Guest perspectives matter
What do people relate to the best? To other people and their experiences. Since the online world is the modern-day version of the traditional word of mouth, we now rely on others to decide whether or not to give a business a chance – hotels included. It helps you target specific groups, such as future brides as a wedding destination or a bachelorette party escape, fitness enthusiasts with your amenities, and foodies for your use of the local specialties in your menu.
As a perfect example, The Four Seasons in NYC uses stories on Instagram to attract more people for their special Easter brunch – but none of the content is forced and it doesn't feel promotional, because they're sharing customer-made content and adding their own hashtag.


---
Highlight your finest offers
Not all hotels are created equal, but you need an edge to appeal to your guests. If you're a boutique hotel with limited space, you can draw on that local charm and the intimacy of your rooms and the service. If you're a hotel chain, you can focus on your efforts to diversify your entertainment options. Then again, one of the most recent trends points to sustainability, so if you're running with that hotel crow, proudly show your finest offers.
A glance at how Campi ya Kanzi in Kenya handles their Instagram feed, and you'll get the idea: stunning photos of the surrounding nature paired with relevant ecotourism hashtags, videos and imagery that celebrates the local people and wildlife, and a few photos later you forget it's a page dealing with accommodation. You're already there.


---
Location, location, location
Just like your marketing gurus have advised you to put more emphasis on localizing your SEO efforts, the same applies to your Instagram efforts. You need to make the most of the geotags and hashtags that consist of locations where your hotels exist. This narrows down your audience to those who might be in the vicinity or looking into accommodation in your region.
Additionally, engagement rates skyrocket for hotels that add location tags and geotags to their stories and posts, since they get more focused exposure. Of course, try not to use your brand name with every hashtag you add, otherwise, you risk shifting the focus to your brand only and not the location, and you want both in the spotlight as a perfect unity. Check out how Jumeirah Mina A'Salam, the most instagrammed hotel in the world, uses geotags to increase their brand awareness.


---
Show off your surrounding beauty
While we're on the subject of not being overly promotional on Instagram, your very presence there is promotional in nature. You use Instagram to attract visitors and guests, to inspire existing customers to post their own unique stories and to stand out in that travel crowd. So, make sure that the content you choose isn't strictly limited to your hotel, whether it's the interior design, architecture, amenities, or food.
Be generous enough to promote and celebrate the sights and events happening in the city or village where your hotel is. That way, you'll give potential guests an extra reason to visit without imposing yourself too much – you're just pointing out the convenience of staying in your hotel during a festival, for instance. Have you seen how Brannan Cottage Inn celebrates their local festivities such as the 4thof July, or activities such as balloon flights? They're gorgeous and inspiring without being promotional.
---

Running an Instagram feed for your hotel and making sure it's in line with your overall strategy is no easy feat. Use these tips to simplify your social journey and to engage with your guests with greater ease to inspire more people to visit your beautiful accommodation.
Learn how to become a hospitality marketing superstar with Typsy's business courses covering topics including Instagram, content writing and more. Sign up today and get the first 10 day's FREE!
---
| | |
| --- | --- |
| | Jacob Wilson is a business consultant, and an organizational psychologist, based in Brisbane. Passionate about marketing, social networks, and business in general. In his spare time, he writes a lot about new business strategies and digital marketing for Bizzmarkblog.com. |
---
You might also like: