In case you didn't hear, Typsy Live Sydney is just a day away, and it looks like it's going to be a sell out! If you work in the hospitality industry, make sure you don't miss out on tickets, which are available for only $49.
The aim of Typsy Live is pretty simple: for two and a half hours, we want to immerse you in inspiration, TEDx-style – talking hospitality and nothing but hospitality.
However, we're also doing something a little bit special at the end of the night.
After our experts have finished their talks, we're closing the event with a panel Q&A. Four people who represent different areas of the industry will be joining us to answer your most burning questions.
And because we've had more than a few messages from people overseas who wish they could come along, we're going to broadcast this part live on Facebook!
______________________________________________________________________________
It doesn't matter if you're in California or Cape Town. If you'd like to ask our panelists a question, just comment on this post or on our Facebook page. Then tune into Facebook Live on Wednesday October 5th at 8:16pm AEDT, to watch the panelists answer live on stage. You can use the World Clock Converter to convert that to your local time.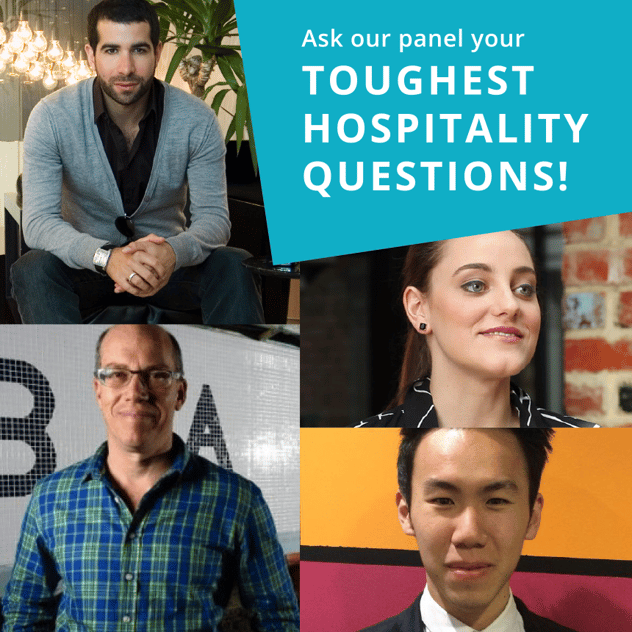 Our panelists are:
Paul Fischmann, the Founder and CEO of 8Hotels. Paul has developed some of the most innovative boutique hotels in Australia, including 1888 Hotel (the world's first Instagram hotel).
Paul will be able to answer questions on topics like developing and managing a successful hotel, and establishing a unique brand identity.
Damian Griffiths, the Founder and CEO of Doughnut Time. In addition to launching Australia's trendiest and most rapidly growing doughnut chain, Damian is also responsible for transforming the Brisbane dining scene with venues like Alfred & Constance and Mister Fitz.
Damian will be able to answer questions on topics like staying ahead of the competition, coming up with innovative venue ideas, and developing a successful franchise.
Brooke Adey, the 2015 Electrolux Appetite for Excellence Young Waiter of the Year winner, and the restaurant manager at Yellow in Potts Point.
Brooke will be able to answer questions on topics like skills shortages in the industry, and front of house management.
Kernard Dranrek, a recent graduate from the Blue Mountains International Hotel Management School, and a Guest Service Agent at Four Points by Sheraton Sydney.
Kernard will be able to answer questions on topics like studying hospitality, working in customer service, and working for a large-scale hospitality business.
______________________________________________________________________________
If you miss the broadcast, don't worry, it's going to be permanently available on our Facebook page!
But we recommend keep an eye on our Facebook page throughout the day on Wednesday. There might be a few other surprises in store…
Want to come along? We have a few tickets left if you book in now! Typsy Live Sydney will be held at the Roslyn Packer Theatre in Walsh Bay from 6:00pm until 9:00pm on Wednesday October 5th.
It wouldn't be a hospitality event without a bit of food, drink and chatter, so there will be networking opportunties with our speakers in the venue bar before and after the main event.
Read more about our speakers and book your tickets on the event page.
You can also view the event trailer below:
You Might Also Like