If you live on the East Coast of Australia, you've probably heard of Doughnut Time. No matter where it is, the trendy store always has a whole line of doughnut lovers outside its window.
Doughnut Time is just one of the many hospitality venues Damian Griffiths has established over the years. And there's no doubt he's attracted a serious following in the food community because of it.
Damian will be appearing on a panel at our hospitality event in Sydney, which means you'll have the unique chance to ask him questions about his creativity and success as a business owner.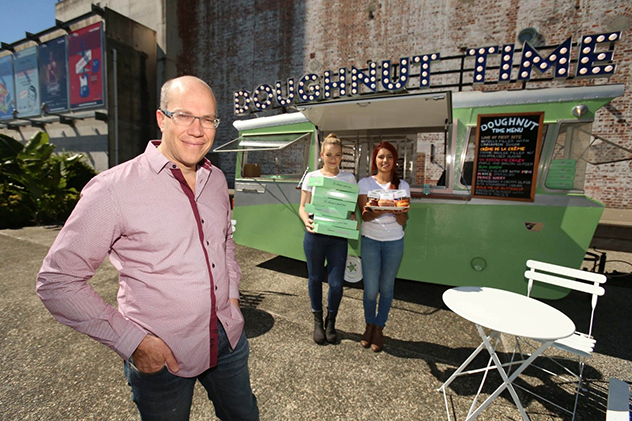 From Lawyer to Entrepreneur
Before falling into the hospitality industry and discovering his passion for it, Damian Griffiths was an immigration lawyer. But after teaming up with a friend on an investment, he found himself renovating and opening Limes Hotel, which is Brisbane's first rooftop bar hotel.
From there, his empire has quickly expanded across Fortitude Valley. There's Alfred & Constance, a Queenslander-style restaurant, beer garden, Tiki bar and nightclub in one. Alfredo's, a pizzeria, and Kwan Bros, which is an ode to Asian Street food. Dessert venues ­– like the beloved Mister Fitz – are famous for their totally inventive approach to old favorites (I have five words for you: make your own ice-cream sandwiches). All of these venues are concentrated in and around an area that was once known as the worst street in the Fortitude Valley, before Damian moved in and hipsterfied the neighborhood.
But this impressive portfolio was only a prelude to Damian's crowning achievement as a hospitality entrepreneur. I'm talking, of course, about Doughnut Time.


Doughnut Time: From Brisbane Kiosk to Australian Sensation

Damian was inspired to start Doughnut Time after he visited Chicago and saw how crazy people were over a simple hole-in-the-wall doughnut shop. When he came back to Australia and spoke to the pastry chef at one of his venues, he realized customers were just as coo-coo about doughnuts over here.
And so Doughnut Time was born.
What separates Doughnut Time is its small business feel, which it's managed to retain despite the fact that it's rapidly turned into a national chain. This is an intentional choice. All of the doughnuts (thousands of them) are handmade every day, and the kiosk-style window remains a feature in every store. While Damian can't keep in personal contact with every employee, he makes it a point to keep the store's culture the same as it was when the business began.
Part of Doughnut Time's success can definitely be attributed to Instagram. The franchise has over 160,000 likes, and photos of its colorful, quirky treats are flaunted by customers on a daily basis.
You could argue that it's a case of jumping on the right trend at the right time, but then that would be ignoring the ingenuity behind Doughnut Time's hip, retro branding, which is just Instagram gold.


So Where Next for the Growing Empire?
Doughnut Time currently employs about 120 people and turns over $20 million. It's mind boggling to think that the first store only opened last year.
After putting his first venues, including Limes Hotel, on the market this year in order to fund an expansion, Damian plans to open new stores across the country, including in Perth. There are also talks to head overseas to Tokyo. The brand already handed out doughnuts at ultra-trendy Coachella earlier this year, so we think they'll do just fine in Japan.


On the Panel
At Typsy Live, Damian will be part of our special Q&A panel. Not only will our moderator guide the panelists, all from different areas of the industry, through a conversation about innovation and creativity in hospitality, but members of the audience will also have the chance to ask their own questions.
Want to kill it on Instagram? Hipsterfy your branding? Or maybe you have ambitions to build your own foodie empire? Whatever your question, Damian is definitely the person to ask. Don't miss your chance.
Come see Damian's Q&A at Typsy Live in Sydney on October 5th, from 6:00pm to 9:00pm. Book your tickets now.