There are many industries that no longer turn to SEO for the majority of their traffic. Luckily, the restaurant biz isn't one of them. Because they're able to optimize for local search, restaurants have a fantastic opportunity to still capitalize on all the benefits of great search engine optimization in 2021 and beyond.
In this blog post, guest contributor Justin Weigner shares with you seven tips to help you maximize your SEO and boost your website traffic.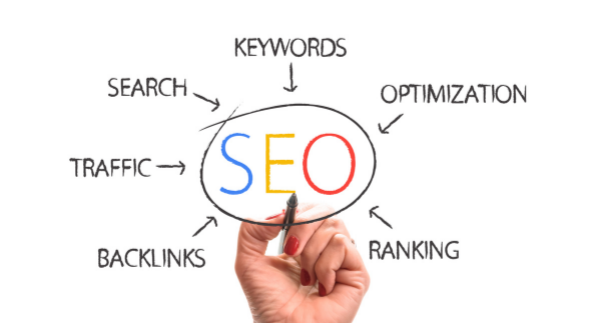 Search engine optimization (SEO) refers to the process of improving your website to increase its visibility when people search for your products or services via Google, Bing, and other search engines. The better visibility your pages have in search results, the more likely you are to attract prospective and existing customers to your business.
For restaurants, SEO has its quirks and nuances just like any other industry. If you're ready to boost traffic, start converting new customers and make your website feel relevant again, here's what to do.

1. Go mobile or go home
The majority of website users will look up a restaurant on their phone, especially if they're already out and contemplating where to grab dinner. For the majority of your visitors, your mobile site design will be their first experience with your establishment. You want them to immediately feel wowed and drawn in, which comes from good design as well as a fast response time and mobile-friendly navigation tools.
Is there a clear 'call us now' button that they can immediately press to dial? How many pages do they have to click through to view your full menu? Have you added filters that let them easily browse and find exactly what they're looking for, e.g., vegan options or lunch specials? If you haven't already, make sure that you hire a designer to make your site fully responsive. This means that it will scale to fit the screen of the person accessing it. Google rewards sites with responsive designs, and so will your customers.


---
2. Choose keywords that match your location and cuisine
It's unlikely that you're going to hit the top 10 results for "good Mexican food" or "Chinese stir fry", so shift your focus toward something more specific. Start by looking at Google Trends, which helps you identify keywords that are trending in your area. You can also see what keywords are used when describing your restaurant in reviews.
As you structure your keyword strategy, keep your audience's interests in mind. Are they looking for Los Angeles Korean BBQ or New York-style pizza? Play with different keywords and copywriting to craft the perfect on-page ambiance. If you're finding it hard to make any leeway with keyword research, you could also ask a professional to conduct an SEO audit and give personalized suggestions on how to improve your site. You can review a guide on what an SEO consultant does and why hiring one might be the right next step for your business strategy.


---

Typsy's 1000+ hospitality lessons are practical, effective, and fun! You can learn more about everything from finance to service and leadership skills.

Best of all, you can access Typsy as and when it suits you.
Learn your way - starting today.
---
3. Don't forget to check your code
Your website's HTML also affects its search engine ranking, so you'll want to address it now if you're hoping to optimize your pages for the long haul. In addition to good title tags and meta descriptions, you'll also want to make sure you have up-to-date schema markup text. Schema is a type of data you can copy and paste into your site's code to tell search engines exactly what it's all about. The leading search engines, including Google, Yahoo, and Bing!, collaborated to create Schema.org. Adding it to your site's HTML can improve its readability, making it easier for browsers to crawl, categorize, and rank your pages.


---
4. Register on Google My Business
A Google Business page can improve your off-page SEO, help people find your restaurant more easily and allow customers to leave reviews that act as free publicity. Although you may think that your site, menu, and establishment are the determinant factors in conversion, people still take reviews very seriously, especially when it comes to restaurants.
Many consumers take reviews into consideration before trying a new restaurant, and it seems that most Gen Z and Millennials can be more likely to trust an online review than their parents or grandparents. To rank well for local SEO, Google suggests restaurants focus on three factors:
Relevance (to a search query)

Distance from searcher

Prominence
Your review count and score play a part in how well you rank, so you'll want to start encouraging customers to leave positive reviews ASAP. This can be a simple CTA on social media or even a direct link somewhere on your site.


---
5. Keep your pages specific
Your website needs to have clearly designed pages that serve a designated function. You should have one page for contact information, one for reservations, and one for viewing the menu. It's not ideal to keep everything cloistered on one page or simply tell people to call. Location-based restaurant SEO pays more attention to details like contact information, business hours, menu details, online ordering and delivery, and take-out options.


---
6. Make your menu text-based
Skip the fancy embedded graphic and opt for a text-based menu instead. This will increase your page response times and ensure that your menu is easy to read and always accessible. You don't need to add too many images or excessive detail. Just make sure that your menu is categorized well and features keyword-friendly descriptions and accurate pricing. You can also drive more traffic to your menu page by setting up a linktree account and placing it in your Instagram profile. Whenever you feature a dish or want to drive traffic to the page, you can tell viewers to check out the full menu by clicking the link in your bio.


---
7. Make your content as readable as possible
Readability matters, not just for your audience but your ranking as well. Content that's poorly written, unedited, or grammatically incorrect sets a negative tone and can harm your budding impression with viewers. Poor readability can also obscure keywords and prevents you from ranking higher.
Focus on creating content centered around two features: telling your story and answering your customers' top questions. Your website is, after all, a tool. It's designed to provide readers with the information they need to know in order to connect with you and your awesome food. Put their questions first, structuring your content around what they're most likely to look for. This will ensure that your content is search-optimized and user-specific.


---
SEO may sound like a scary concept, but it has a variety of benefits. From higher rankings on search engines to boosting visitor readability, by following the above steps you'll be seeing an increase in traffic to your website in no time.
---
Justin Weinger is a married father of 3, with over 15 years of corporate finance experience in various industries. He is an avid personal finance enthusiast, blogger, and chaser of passive income streams.
---


You might also like