We have to keep thinking outside the box for how we can offer guests interesting and exciting accommodation options, no matter the reason for their stay.
Whether you're strategizing key selling points to market your serviced apartments, looking to expand your business, or you're thinking about where to stay on your next trip, today's blog post has the run down you need on why serviced apartments are becoming so popular.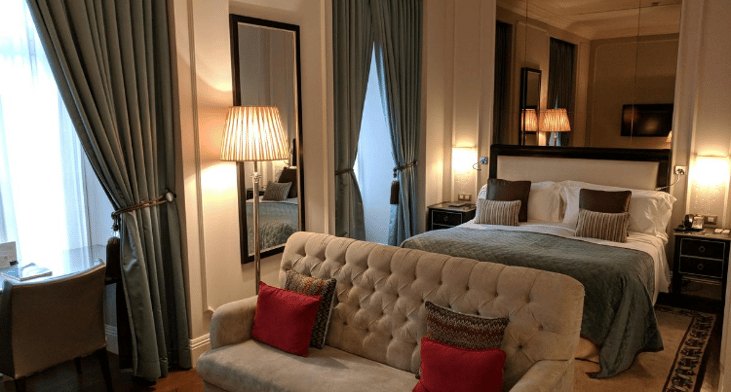 Serviced apartments have been rapidly growing in popularity recently, and that's largely down to the numerous benefits that these spaces provide. Not only are serviced apartments a good option for those looking for a private, secure place to stay, they're also incredibly cost-effective - particularly when you consider how spacious the accommodation usually is.
In the current climate, serviced apartments offer numerous other benefits too. The apartments will usually have their own access, which avoids unnecessary contact between guests, and separate cooking facilities.
And with hotel occupancy for work and leisure expected to continue to decline over the next year, it might be just the right time to have something fresh and unexpected in the offering... especially as local tourism and staycations become the go-to for those on vacation.
For anyone looking forward to a short break in a new city, or guests on the hunt for somewhere to stay for work or training, then serviced apartments may well be just the thing. Take a look at some of the key benefits of this emerging trend in hospitality and learn more about the advantages of serviced apartments.
---
Apartments offer COVID-secure accommodation
As the world reels from the effects of COVID-19, many of us in the industry are keeping an eye out for new ways to offer short breaks away from home. Serviced apartments offer plenty of advantages over more traditional accommodation such as hotels and B&Bs, as they provide unparalleled levels of privacy for the duration of a guest's stay.
Self-contained apartments come complete with everything guests need to enjoy their break, from cooking facilities to comfy lounges to relax in.
This means that guests won't need to venture out as much as they might if they were staying in a simple hotel room, and they don't have to mix with other guests if they'd prefer not to.
---
Learn about maximising stays at your accommodation venue in an online hotel course on Typsy.


Up-skilling with Typsy is practical, effective, and fun! And best of all, you can access Typsy's 1000+ lessons as and when it suits you. Learn your way - starting today.
---
Stay in the heart of the action
Location is of course a hugely important consideration when choosing accommodation, and serviced apartments tend to excel here too. Apartment complexes can be found all over the world, in almost any city you can think of. And with people across the world looking for holiday options close to home, city stays are becoming more popular than ever.
These apartments tend to be centrally located, and are usually within easy reach of key transport links. They're a convenient place to stay, giving visitors plenty of space in the heart of the action.
---
Unbeatable space and privacy
Of course one of the most obvious benefits of a serviced apartment when compared to a hotel room is the amount of space provided. Apartments will usually include several different rooms, and larger apartments come with several bedrooms to accommodate groups in a more homely setup.
Unlike hotel rooms, apartments tend to include fully equipped kitchens, which is perfect if you don't feel like heading out to nearby restaurants or ordering room service every evening. Not only is this a huge bonus in terms of saving money, it's also ideal for those looking to keep COVID-related risks as low as possible.
---
Perfect for families and groups
Larger families and groups of friends can all stay together in a serviced apartment, something that's often far more difficult to achieve in a hotel. Apartments are available in all sizes, with options ranging from compact one bedroom flats right up to four or even five bedroom apartments in some of the world's most beautiful cities.
If guests are travelling with young children and want everyone to have their own space, or part of a large group hoping to get some quality time together, an apartment is a must.
---
Access to additional luxuries and facilities as and when required
When most of us think of serviced apartments, we immediately think self-catering. But that doesn't mean that guests have to do everything themselves. These days, top serviced apartment complexes offer a huge array of additional facilities and services, such as laundry services and smart-concierge (in-apartment tablet) services, designed to make guests' lives as easy as possible.
Remember that cleaning serviced apartments - especially to COVID-safe standards - comes with its own challenges. This is a great opportunity to ensure all servicing staff have comprehensive and up-to-date training to ensure you can deliver the best, and safest, experience possible.
Additionally, some apartments may offer gyms, pools, bars, restaurants, and even spas - in other words, all the luxuries of a hotel with none of the limitations. As an added benefit, you can use the data you acquire as guests use these features to get a better idea of what your guests are really looking for - and how to better serve them in future.
In a serviced apartment, guests are free to cook up a storm in their own kitchen, or call the concierge to organize a room service or take-out delivery. They can use the washing machine provided, or send their clothes off to the in-house laundry to be cleaned, pressed and returned to them the following day.
In essence, serviced apartments provide choice. And it's that flexibility that's making them such a popular option amongst today's travelers.
---
Cost-effective for short breaks and longer stays
Not only do serviced apartments usually offer far more space than alternative accommodation options, they also tend to be more affordable too. If budget is a priority and you want to get the most for your money, a serviced apartment will help you to do just that.
And if you want to get the very best deals, make sure you keep an eye on last minute deals and low season packages - there are some real bargains to be had.
---
Great flexibility for work or leisure
If guests are traveling for work, they may well need a little more space than a hotel room can usually provide. Travelers may be on the look out for serviced apartments offering large lounges, and even office spaces, to make the most of their work trip.
Business travelers can also host small meetings and workshops from their apartment, which is great when time is stretched and the pressure is on.
Those traveling for leisure can also make good use of the flexibility of serviced apartments. Guests are free to come and go whenever they please, entertain guests in the lounge or dining room, and really make the most of their space for the duration of their stay.
---
Serviced apartments offer a real home from home, and they now can be found all over the world. Leading apartment complexes have sprung up in all of the world's most visited cities, providing travelers with a flexible and easily accessible take on traditional accommodation.
In terms of privacy, serviced apartments are hard to beat. Guests can stay in discreet, individual apartments, and mix with their fellow travelers as much or as little as they'd like to. And in the wake of a global pandemic that's made us all far more conscious of the risks of travel, serviced apartments offer a safe and secure way to enjoy holidays and business trips.
---
| | |
| --- | --- |
| | Paris D'Alessandro, General Manager at Quest Liverpool City Centre, has worked in the hospitality industry for 18 years, 15 of them in Liverpool. His experience spans handling property openings for leading brands including Premier Inn, Jurys Inn, Days Inn, and latterly, Epic Apart Hotels where he spent four years as group GM. |
---
Have a question about hospitality training for hotels and restaurants? We're always ready to talk.
You might also like: