What are the costs associated with running a hospitality business? Wages and food - together known as "prime costs" - are the most obvious expenses, but what about things like software licenses or professional development opportunities for employees?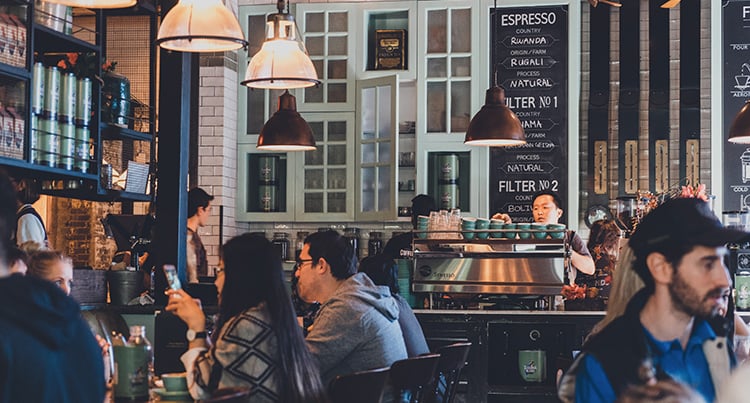 New owners and managers might be surprised to learn exactly what goes into operating a hospitality business. There are many expenses beyond the obvious ones that need to be accounted for including setting revenue goals, calculating how many employees they can afford to hire, and keeping the business in the black.
Our hospitality business costs breakdown includes three categories: labor, F&B, and utilities. Read on to find out what expenses you can expect in these categories to create appropriate budgets and keep your venue financially healthy.
---
Interested in how software can help you kick your restaurant into gear? Check out the 2021 Restaurant Software Guide from Storekit.
---
1. Labor costs
Payroll is just the tip of the iceberg when it comes to labor costs. Here are several other labor-associated expenses to account for while planning your business's operational budget.
Wages - Whether you call them wages, salary, or payroll, this expense will make up the majority of your labor expenses. Plan to spend around 30% of your monthly revenue on paying your people (staff, part-time workers, contractors, etc.) for their work. Don't forget to factor in the cost of a payroll provider to help you with tax withholding and compliance.
Overtime - You'll also need to factor overtime costs into your labor budget. Used in conjunction with a payroll tool or on its own, employee scheduling software can help you keep up with local labor laws to track your staff's hours, enforce breaks, and minimize your overtime spend.
Training - Did you know that it can cost $3,000+ to replace just one employee? The hospitality industry's 73% annual turnover rate means that the expense of replacing unhappy staff can snowball. Combat turnover and the costs associated with it by investing in your staff through training and professional development opportunities. Consider more than just staff wages when budgeting for training. Will you need to hire an expert to give your front-of-house team a lesson in hospitality principles? Will you need a subscription to a learning management system? Factor these expenses into your training budget.
Benefits - Employee benefits aren't cheap, but they're worth the investment to keep your staff happy, healthy, and working for you for a long time. What kind of benefits might you pay for? Start with health insurance, paid to time off, and sick leave and add in perks like gym memberships and professional development tools when your bottom line can handle it.
Uniforms - If you provide staff with uniforms, factor the cost of buying and laundering them into your labor costs.
Tech tools - Don't forget to budget for the tools that will make managing your staff easy. Make room in the budget for payroll software, employee scheduling tool, and a team communication tool. You'll likely pay for software licenses on a monthly basis, but you can typically receive a discount for paying ahead for the entire year.


---

Typsy's 1000+ hospitality lessons are practical, effective, and fun! You can learn more about everything from finance to service and leadership skills.
Best of all, you can access Typsy as and when it suits you.
Learn your way - starting today.
---



2. F&B costs
Food and beverage are the heart of any hospitality venue. Managing a well-functioning and profitable business requires keeping the fridge filled, investing in the right tools and equipment, and maintaining those investments with regular upkeep.
Food - Hospitality venues spend an average of 25-40% of their monthly revenue on food inventory. This figure includes producing, meats, pantry items, and beverages - basically anything that you'd serve to a paying customer on a plate, in a bowl, or in a glass. Because food costs are usually the most expensive spending category for restaurants, they determine menu prices. Use your food costs to calculate how much you should be charging for dishes to make a profit.


Equipment - Your

venue

may be stocked with all of the tools and appliances you may need for now, but as the business grows, you'll eventually need to add new types of equipment or multiple appliances of the same kind to your venue to keep up with food trends and customer demand. Budget for large purchases like these so that you can afford them when needs arise.

Maintenance - Don't forget about the cost of maintaining equipment and appliances to ensure that your

business

functions smoothly. Carefully read warranty policies before making major back-of-house purchases to keep maintenance costs low.
---



3. Utility costs
On average, businesses spend 5-10% of their monthly revenue on rent and utilities. Here's a hospitality business costs breakdown of what that expense category typically includes.
Rent - Pay for your space or lose it! Whether you lease your space or have a mortgage, you'll have to make regular payments to use your

businesses

space.
Energy - Hospitality

businesses

use 2.5 times more energy than any other kind of commercial space. Depending on your area, you may get a combined electric and gas bill, or you may have separate providers. Pay both to keep the lights on. Want to lower your energy bill? Teach your staff habits that conserve energy and switch to energy-efficient light bulbs and appliances. A 20% reduction in

energy

spend can lead to a 1% increase in profits for your venue.
Water - The average venue uses 5,800 gallons of water each day on food preparation, dishwashing, lavatories, and landscaping. Reduce your water bill and increase profits by installing water-efficient dishwashers and low-flush toilets.
Phone, internet, and cable - While consumers may be cutting the cord with landlines, it's crucial for your venue to be accessible by phone. You'll also need a powerful internet connection to ensure that your tech works properly. You may also offer your guests wifi and TV entertainment. Look for an internet, cable, and phone bundle to save money on your utilities.
Running a hospitality business isn't cheap, but it sure is rewarding. Get a handle on your finances so that you can have more time to focus on the fun parts of running a hospitality business.


---
If you're worried about the amount of expenses you'll have to think about while running your business, check out this guide for growing a restaurant on a tight budget. Equipping your venue with smart technology - like a cloud-based POS system, labor management tool, and training resources - can also help you manage costs. You got this!
Need some help taking control of your venues finances? Watch Typsy's Profit and Loss course led by Wilcuma co-founder and CEO Nicolas Simon and become a finance pro!


---
Ana Cvetkovic

is a freelancer and content producer for

7shifts

. She is also the CEO of

BLOOM Digital Marketing

, a Philadelphia-based creative marketing agency that helps the hospitality and tourism industries reach new audiences online.
---

You might also like: