When I was a kid, virtual reality was about as sci-fi as it could get. It was Neo swallowing the red pill and going into the Matrix. It wasn't something that actually existed in real life.
In 2016, virtual reality isn't just a fantasy anymore. It isn't even very expensive to experience. The Oculus Rift might retail for $599, but you can also order Google Cardboard for about $25 on Amazon, and then hook it up to your smartphone like a VR headset.
Because dining out is such a sensory experience, it makes sense that people would start to experiment with how virtual reality can be used in a restaurant setting.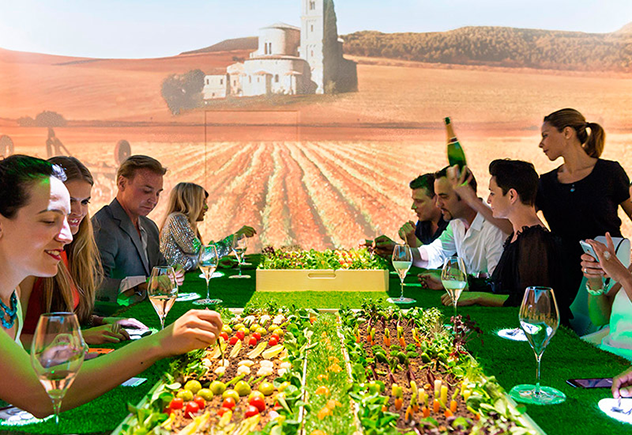 Photo: Sublimotion
Here are just a few of the ideas that have been tossed into the ring so far.
---
Dinner under the sea, anyone?

Late last year, Samsung released a blog about how its VR headset could "revolutionize the restaurant experience."
In the article, the company suggests dining out while wearing the headset, so you can transport yourself to a completely different location, like a beautiful garden in Tuscany. When a new course arrives, you can even switch to a different setting, like an underwater scene where fish swim around your head.
While the idea of pretending you're in an exotic location is quite cool (as long as it doesn't involve any simulated drowning), it's worth noting that you can't actually see the table while you're eating with a VR headset on. That poses a few problems. I mean, I have enough trouble with pasta as it is.


---
The ultimate pre-dinner entertainment

If virtual reality does become popular in restaurants, I would much prefer to see something like this. An animation company in Belgium called Skullmapping uses VR technology to create really fun pre-dinner entertainment.

As you can see in the video below, a projection of a mini chef 'prepares' the dish on the table in front of you while you're waiting to be served.



SubliMotion in Ibiza also uses projection mapping to immerse diners in an absolutely insane fantasy world during their meal, though they charge $2,000 for the experience. It's been called "Disneyland on acid".
Take a look:
The future of food blogging

Myo Studios, a small startup based in Boston, is in the process of developing the world's first VR food blog. If you have a VR headset on when you go to the site, you'll be able to 'visit' hugely popular restaurants from within your own home. You'll also be able to learn how to cook from a first person point of view, as if the food is right in front of you.
Matheus DePaula-Santos, the project's creator, told VICE he will take photographs of food and then generate 3D models to create the experience that you're actually looking at real food.
It's an ambitious project that has the potential to change how we blog and learn about cooking online, but it's still a ways off from completion.
---
A simulated eating experience

Chefs will be horrified by this one, but an outfit called Project Nourished is using virtual reality to 'simulate' the eating experience.
Basically you strap on a virtual reality headset and sit in a room full of enticing food aromas, which makes you think you're eating something decadent like a steak. In reality, you're eating a low-calorie food substitute with a jelly-like consistency.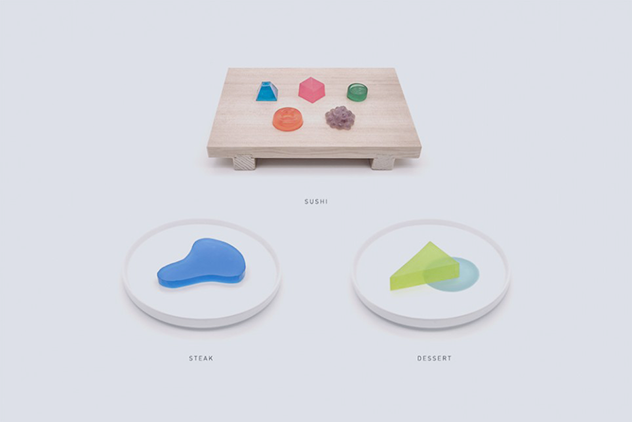 Photo: Project Nourished

It's being pitched as an experience that could be enjoyed by people with food allergies or health issues, because it allows them to 'sample' foods they wouldn't normally be able to touch. It's also been suggested as the perfect space food for astronauts, because they can pretend they're back on Earth eating regular meals.
As for the rest of us, well… if food someday disappears because we've descended into post-apocalyptic anarchy, it's good to know we have this option.


---
Should restaurants go the VR-route?

The jury's still out on whether virtual reality is here to stay, or if it's just another fad, like 3D movies, that never really takes off with the average person. Considering humans have been obsessed with it since the 1950s, it seems likely we'll find a way to make it more popular soon.
At the moment, producing anything VR-related for your restaurant is quite expensive because it involves special equipment, but from a marketing point of view there are some fun opportunities. For example, you could film a 360-degree video tour of your restaurant, which allows people to immerse themselves in a setting if they have a VR headset, or to explore in more depth if they don't.
Here's an awesome example where a 360-degree view enhances the experience for the viewer.
Obviously we don't want you to go jumping off any cliffs, but you get the idea! It works because they're taking us on an adventure with them.
The important thing is that you don't create these videos for the sake of being gimmicky. If you can find a real creative way to incorporate this into your marketing strategy, you could definitely stand out from other restaurants in your area.
Check out this article on Premium Beat for more advice about shooting, editing and uploading 360-degree videos.
Get Typsy updates straight in your inbox! Sign up to our newsletter now.
You might also like