In recent years, a trend to be more kind to the environment has emerged big time in the hospitality industry, and that's pretty awesome.
Sustainable eating isn't just for hippies and herbivores either. In fact, in a 2010 survey, more than half of consumers said they'd visit a sustainable restaurant more often than other restaurants and bars.
Some restaurants are finding super cool and tasty ways to implement sustainability. Some implementations are small, like using recycled take-away containers, where others invest in big installations to encourage sustainable cooking. We've listed some ways restaurant owners around the world have implemented sustainable methods in their eating establishments.
Unsure of some of the sustainability terminology? Check out Nisbets eco-friendly glossary here.
---
Farm-to-table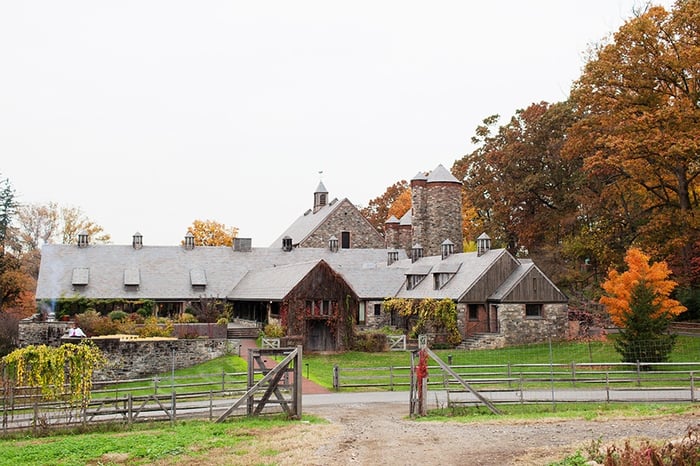 Photo: Jonathan Young Weddings
The farm-to-table movement has exploded in the past few years, with advocates like Dan Barber from Blue Hill Farm in New York bringing it to the masses.
Farm-to-table (sometimes referred to as 'farm to fork' or 'paddock to plate') basically means that the restaurant sources its produce straight from the farm, cutting out the middle-man. In its purest form, the table is actually located on the farm. Blue Hill at Stone Barns is such a place. There is no menu, just menu tastings labelled Grazing, Pecking and Rooting consisting of dishes that make the farm's produce shine.
At Trellis in Washington, chef Brian Scheehser hand-grows and picks his ingredients on his own 18-acre farm. He's even put a 'Two Hour Salad' on the menu; a salad which leaves' have been picked no longer than two hours before it arrives on the table. Now that's fresh.
---
Zero waste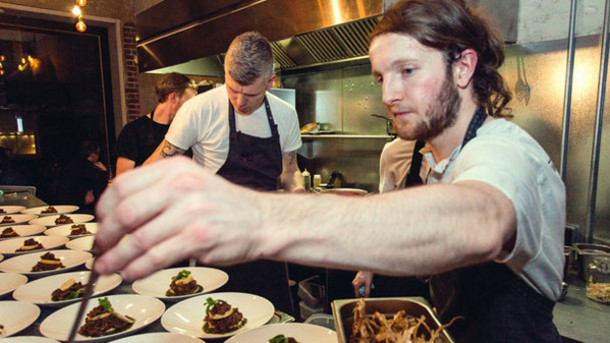 Photo: Big Hospitality
A lot of people would be shocked to see how much food is wasted in restaurant kitchens. The tops of capsicums are discarded for quicker de-seeding, a third of fish fillets is chopped off to get even portions, and mistakes are simply binned.
Restaurants have started making a stand against food waste, some of which going to the extreme of adopting a zero waste policy. Joost Bakker's Brothl recycled food scraps from some of Melbourne's high-end restaurants. At Brothl, food scraps from these other restaurants were turned into soup, with the remaining waste being composted behind the café.
At Silo, the UK's first zero waste restaurant, simplicity is key in keeping waste down. They offer only six main dishes each night. Chef Douglas McMaster is convinced elaborate menus contribute to waste problems restaurants face. "Choice is something which is wrong with the food industry. The places with more choice create more waste and have lower standards, that's an absolute fact."


---
Sustainable furniture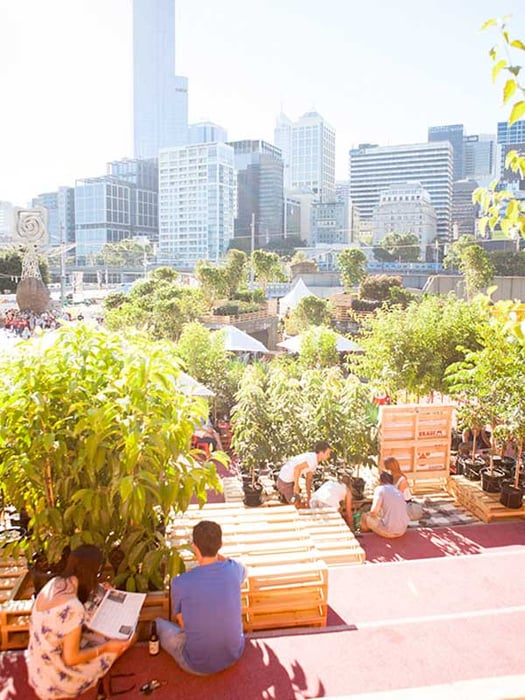 Photo: State of Green
Sustainability in restaurants isn't just in the food. What you sit on and eat off can also be given a green touch. At Slowpoke Espresso in Melbourne, designer Anne-Sophie Poirier put the entire interior of the café together from thrift store finds and recycled goods. Adding sustainability and a vintage hipster edge? Win/win.
And the Urban Coffee Bar & Brew Bar won the Sustainability Advancement Award in the Australian Interior Design Awards in 2014 for its clever use of recycled pallets mixed with seedling trees. In a cool spot in the middle of the city, coffee was served from a shipping container at this pop-up café, and the mix of green and industrial gave guests a wonderful of nature-meets-urban feel.


---
Sustainable proteins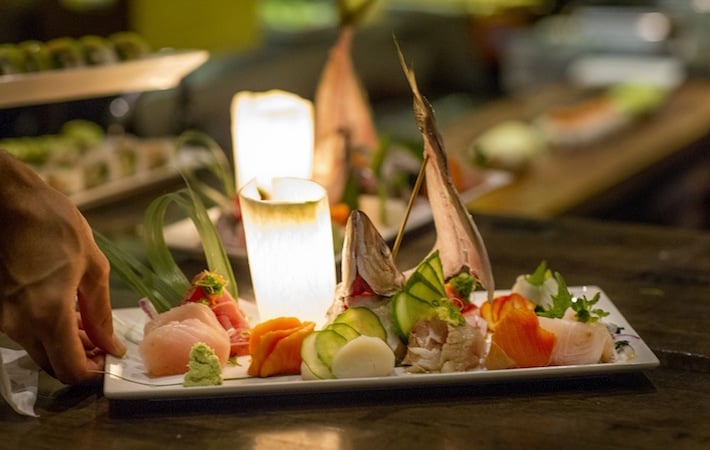 Photo: Infinite Legroom
Choosing a vegetarian feed is an obvious choice for a lot of the environmentally-conscious, but not all sustainable food is necessarily plant-based. Some restaurants have started serving conscious meats and other sustainable proteins.
A sushi bar might seem like an unlikely sustainable option, but Bamboo Sushi in Portland is a definite exception to the rule. All the fish they serve are from "populations that are plentiful and in good health" and their meats are local, free range, grass-fed and hormone-free, making your sushi-trip pretty much guilt-free. Even their chopsticks are reusable and made from sustainably harvested teak wood.


---
Sustainable energy and appliances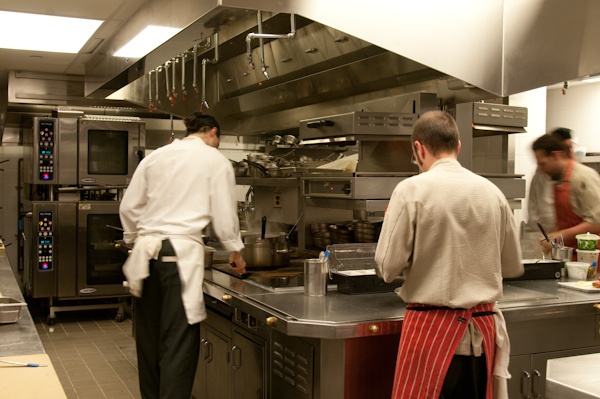 Photo: Star Chefs
Ever think about how much energy the hospitality industry is consuming each year? One study estimated that in the UK alone, about 6,500 million kWh is consumed by commercial kitchens every year. That's enough to power 590,000 houses for a year.
So to reduce energy use, some restaurants are opting for more energy-efficient appliances. Rouge Tomate in New York and Brussels uses efficient ovens, refrigerators and lighting systems. They also use flow-reducing taps to keep their water use in check.
Oh, and before mentioned Bamboo Sushi? They source 100% of their power from renewable energy sources. Nice one.


---
Growing their own produce – on the roof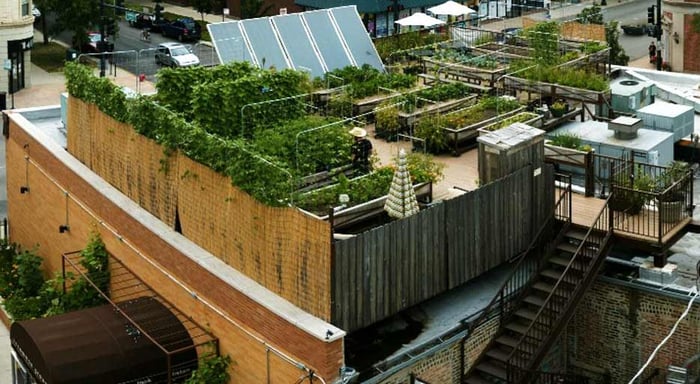 Photo: Zaran Orlic
Going one up from farm-to-table, some restaurant owners take matters into their own hands and grow their own produce on site.
Uncommon Ground in Chicago have an organic roof top farm on top of their restaurant, where they grow everything from eggplants and beets to okra and fennel. They've also put a couple of beehives up there to help repopulate the bee community.
Bell, Book & Candle in New York had the same idea. They put their crops on the roof of the six-story building that houses the restaurant, where it isn't actually visible to the public, and you'll have to climb 6 flights of stairs to get to it. They use an old-school pulley system to get the crops down.


---
Bike powered restaurants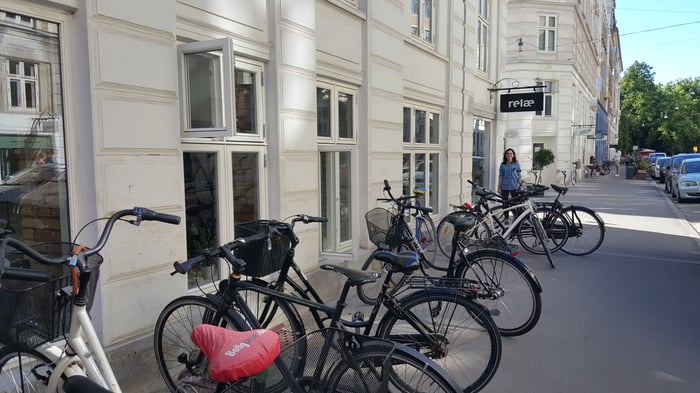 Photo: Know Where Your Food Comes From
You gotta love this sustainable restaurant idea. At Standing Stone Brewing Company in Oregon, employees who have worked for the establishment for more than 1,000 hours are given free bikes if they promise to ride it to work. The owner told Entrepreneur.com the approach has "helped retain people and has attracted a more energetic type of person" to the restaurant too.
And at Relae in Copenhagen, the world's most sustainable restaurant in 2015, local deliveries are collected by bike. And that's on top of all the other sustainable methods the venues have incorporated.
What's next? Bike-powered grills?