In the past, large hotels had a much easier time using management and data collection tools than smaller hotels. But this type of software is incredibly helpful for venues with a smaller staff. Luckily, as technology advances, there are more and more options for small hotels who don't necessarily have the infrastructure to put massive software systems into place.
In today's blog post, guest blogger James Dorian gives us his top 11 list of hotel management apps to help your small venue get big results.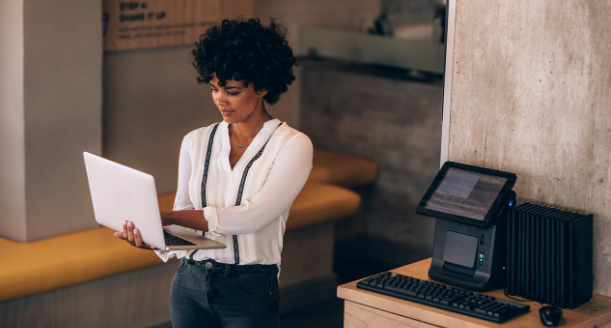 In a small hotel, the limited staff has to handle versatile tasks. The manager covers back- and front-office tasks, but they are often responsible for online and real-time booking as well. They must ensure the perfect experience for each guest.
Huge hotel chains use advanced software to keep everything on track. But small hotels shouldn't be deprived of tools that enable easy inventory managing, reservations, and additional tasks. There are options, which all managers should consider.
---
1. WebRezPro
WebRezPro is advertised as a fully-featured cloud-based system, which allows the manager to access data anytime. Some of the essential features include:
Rate management
Two modern booking engines
Easy POS purchases, folio splitting, paperless check-in, and email confirmations as front-desk features
Performance reports
Accounting software
Housekeeping (occupancy and room status)
The monthly price is $5 per room. WebRezPro works for hotels of any size. If it's a boutique hotel with 50 rooms, you'll come to a price of $250 per month. For high-quality software with so much capacity, that's a reasonable price to pay.
---
2. Setapp
Setapp is an affordable service that offers curated applications for Mac and iOS. Instead of paying for each premium app, you get access to all of them for a low monthly membership. All data is cloud-based.
Out of the selection, these are the apps that work for hotel and restaurant managers:
Paste (clipboards for your workflow)
2Do (a premium planning app)
Pagico (for managing projects and tasks)
BusyContacts (for managing contacts)
UctoX (for editing and managing invoices)
The monthly price for Setapp is $9.99 (or $8.99 if you subscribe for annual membership).
---
3. Oracle Hotel Property Management System
Oracle's system offers several solutions, which enable you to design the perfect hotel managing system.
Hotel food and beverage
Hotel distribution
Central systems (room reservations, central sales, and more)
Opera 5 On Premise and Hosted (property handling, sales and catering, central reservation system, analytics, and several other features)
Cloud (cloud property managing, reporting and analytics, event handling, and sales)
The price isn't transparent, and it depends on the package you want to tailor for your needs. You can contact Oracle for more details.
---

Great software can help you achieve great results, but that's only half the story. Exceptional service comes from well-trained, enthusiastic, passionate people who work hard to uphold your brand standards every day.
Typsy helps you achieve just that. Learning with Typsy is practical, effective, and fun! And best of all, you and your team can access Typsy's 1000+ lessons as and when it suits you.
Learn your way - starting today.
---
4.

Frontdesk Anywhere
A small hotel's manager is often responsible for front-desk tasks, but can't be at the desk all the time. The system includes several features, which are customizable to your needs:
Channel management (you can connect with 350+ distribution channels)
Hotel booking software
Property handling system
Frontdesk Anywhere offers three plans: Starter, Standard, and Pro. The price will depend on the number of rooms your hotel has. As an example, the plans cost $80, $120, and $200 per month for 20 rooms.
---
5. Maestro PMS
This is a specialized cloud solution for small properties. Maestro PMS works as club management, sales, front-desk, and hotel reservation software. These are only a few of the available features:
Retail POS
Analytics data mining
Mobile and contact free operations
Booking engine
Sales and catering
Multiple property management
You can create a personalized solution, and the price will depend on your choice.
---
6.

Mister Booking
Mister Booking is popular in European hotels. It's great for managers looking for an all-rounded solution. It offers everything they need:
Payment automation
Online pre-check in for guests
Booking engine
Integrated channel manager
It's available for chains, individual hotels, and bed & breakfast amenities. You'll have to contact the support to get the price for your desired package.
---
7. Hotelogix
Over 10,000 small to midsize properties use Hotelogix on a global level. The low cost is its biggest appeal. But you won't be disappointed with the features:
Available in 9 languages
Front-office task automation
Intuitive reservation chart
Point Of Sale system with unlimited outlets
Housekeeping software
The price for an independent property is from $4 per month (the rate changes according to the exchange rates, since the official pricing is offered in Euro).
---
8. eZee Absolute
eZee Absolute is special because of its loyalty program, but most users choose it because of its mobile app. It's great for restaurant management, but it has other features, too:
Centralized credit card center
Cashiering center
Email and SMS marketing
Guest database and preferences
Mobile guest self-service portal
Meal plans
Hotel housekeeping, and more
The prices for a single property start range from $50 to $118 per month. You get a discount if you subscribe for yearly membership.
---
9.

CloudBeds
CloudBeds will integrate your property to the most popular booking channels. You can enable your guests to book a room via Facebook. These are its features:
Finance management
Integration with third-party services and apps
Revenue management
Booking engine
You can choose from four plans: essentials, Plus, Premier, and Enterprise. The price will be calculated in accordance with the number of rooms you manage.
---
10. Guestline
Guestline offers solutions for independent hotels and hotel groups. The efficient support team will help you to get the best value out of the tool. These are some of the features you can expect:
Omnichannel payment for your guests
Point of sale solution
Conference and banqueting manager
Direct booking manager
Websuite
Channel manager
Cloud-based property management system
You'll pay a one-time fee to set up the system, and then you'll switch to a monthly fee. You can contact the Guestline support to get the details.


---
11. BNBForms
BNBForms is the ultimate solution for hoteliers, vacation rental owners, and bed and breakfast hosts who are looking for a mobile-friendly booking widget. Simple and beautifully designed, this widget allows you to accept direct bookings, with or without payments, on your very own website.
Works for Wix, Squarespace, GoDaddy, WordPress, HTML and more

Customizable form fields and colors

Rates, seasonal pricing, and discount system

Real-time availability calendars

Sync bookings to Airbnb, Booking.com and more

PayPal, Stripe, direct bank transfer, pay on arrival
BNBForms offers an attractive pricing model, with a flat monthly fee of $16 and no commission charged on the number of bookings or properties.
---

Hotel managers must plan for every situation and manage multiple tasks on the go. Management software is essential for the effectiveness of their work. With all those available options, there's no excuse for not making your job easier.
---
| | |
| --- | --- |
| | James Dorian is a technical copywriter who used to work in the hospitality sphere as a hotel manager. He is a tech geek who knows a lot about modern apps that will make your work more productive. James reads tons of online blogs on technology, business, and ways to become a real pro in our modern world of innovations. |
---
You might also like