Picture this: after many long months of hard work, you're finally off for a well-deserved holiday. You've arrived at your destination, and now you're sipping a piña colada on your hotel balcony with a seaside view as the sun sinks below the horizon.
You take a few seconds to really appreciate the moment...
...and then you pull out your phone and post a #sunsetselfie to Instagram.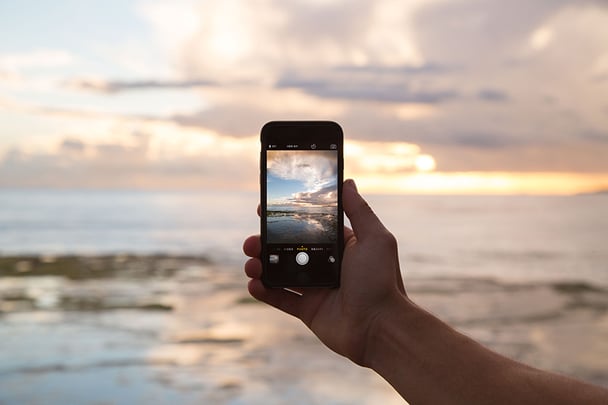 Let's face it - our mobile phones are with us in every aspect of life, whether we like to admit it or not. Even when we want to get away from our regular lives we can't seem to cut the connection completely. In fact, mobile phones are our number 1 item to bring on holiday, according to ETB Travel News.
Google's latest Traveler's Road to Decision report showed that mobile use plays a big part in the trip planning process too, with 67% of leisure travelers and 78% of business travelers using mobile during any phase of the travel process. As a hotelier, you should be making use of these statistics because they directly affect your bookings.
Here are some important things you should know about mobile use amongst travelers:


---
Mobile travelers use their mobiles to book hotels

Let's just start with the most obvious reason hotels should be paying attention to the mobile shift: people are using their phones to book actual hotel rooms.
The Google report found that 38% of travelers who've used mobile in their research process also use it book a room. A report by Phocuswright released this year predicts that $30 billion (!) worth of travel will be booked through mobile devices in the US alone by 2016.
What's even more interesting about traveler's mobile booking behavior is when they're making that booking. Data by Hotels.com showed that 50% of people who book through a mobile device book within a day before their intended stay.
A good way to capture these bookers as a hotelier is by offering last-minute deals. Keep an eye on your OTA listings in that regard, as most of last-minute mobile bookers make their reservation through OTAs. Make sure your OTA price is competitive, but that your website's deal is even better, as not to chase away that 30% that does book directly.


---
Not having a mobile-friendly site can have a seriously negative impact on your hotel brand

Despite the overwhelming evidence that mobile use can no longer be denied, a lot of travel providers still do. 83% of leisure travelers have encountered a travel site that was not mobile optimized or friendly, according to the Google study. Only 23% of those people actually pushed through.
So what do people do when they come across a mobile-unfriendly website? One in five moves on to a competitor. 40% of travelers said a poor mobile experience will cause a negative association with the brand.

Source: Traveler's Road To Decision Report
A mobile-optimized hotel website is an absolute must if you want to turn those mobile users into direct bookers. The best mobile-friendly websites are responsive websites that adjust themselves to fit any screen size.
Not sure if your website meets the mobile requirements? Google's Mobile-Friendly Test will give you an answer in less than a minute. Just paste your URL into the page.


---
Travelers rely heavily on search engines for information

Good news for hoteliers wanting to increase their direct bookings (and who doesn't?) - travelers have shifted their focus from OTAs to search engines when looking for accommodation. The majority of travelers start their travel research on search engines these days, which creates an opportunity for your hotel. If you focus on search engine optimization, that might just give you a few leads.
But mobile-optimization has become hugely important in improving your Google ranking since 'Mobilegeddon' in April 2015 when Google started incorporating mobile-friendliness into its ranking algorithm.
Apart from optimizing your website, hoteliers may also consider content creation for particular mobile searches. What do people search for when they're on their phone? They'll likely look up their destination on Maps, so you need to make sure your property is listed there. You could also think of some creative ways to meet the needs of mobile searchers to increase the likelihood of them finding your website instead of your competitor's.


---
People use their phones for travel inspiration

People pull their phone out when they're bored, and when they're plagued by wanderlust they use those moments to look for travel inspiration. In the Google research, people indicated they used their smartphones for inspiration in 'snack moments', during spare moments such as waiting or commuting, while watching TV and by scrolling through social media.
There's a great opportunity for you as a hotelier to cater to that need. Just put some energy into your social media strategy. Pinterest is particularly suitable as a social platform with a niche focus on inspiration. You can also use some hashtags on Instagram like #travelbug, #wanderlust or just # the name of your city.

Four Seasons use travel destinations and niche inspirational topics for their Pinterest boards, which has gained them over 47,000 followers.


Create some clever inspirational content for social, and be sure to link it back to your own website to lock in that direct booking. If your mobile strategy is on point, you could benefit from a whole new direct booking market.