Navigating the post-pandemic hospitality environment requires adaptability, flexibility, and innovation. This is especially true for elements of the industry that we've long considered to be specifically in-person, such as conferences. So how do we reconcile the draw of these large in-person events with the demands of the new world?
The solution: hybrid events that allow you to combine the best aspects of in-person conferences with the additional safety and security we now require. So if you're ready to take the next step toward recovery and the 'new normal', read on.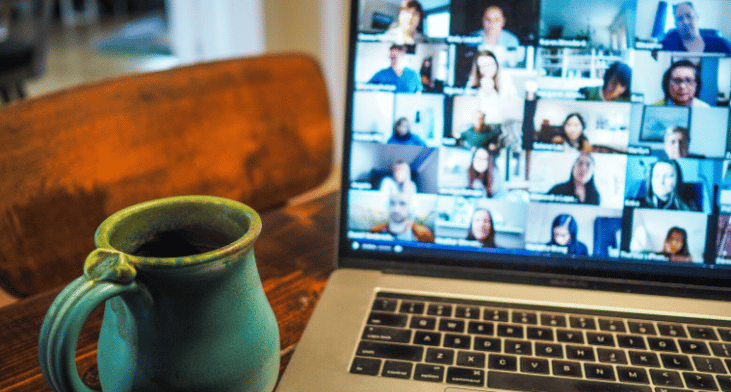 In-person conferences and events can attract large groups to your venue, but social distancing protocols will inevitably bring about change - especially regarding how many people can be admitted into a facility, seating arrangements, onsite registration, networking, etc.
With in-person experiences being a major benefit of onsite events, we expect to see an increase in hybrid events post-pandemic. A hybrid event allows attendees to safely interact in-person and practice social distancing while others can attend the event online from the comfort of their remote location.
Your venue will have to prepare for the anticipated changes as they will affect your planning, pricing, and service delivery. Today we're looking at the following areas where changes can be easily implemented, as well as some other innovative ideas to make conferences safe for attendees:
Social distancing and meeting set-up
Technologies for biosecurity
Event streaming for online participation
Food and beverage handling
Cleaning, and use of PPE


---
Social distancing and meeting set-up
One of the challenges your event team will face is how to put potentially very large numbers of guests together, and still maintain social distancing. It is also a concern for other aspects of the event such as registration and guest processing. Here are some areas of change to consider in your planning:
Meeting set-up
Understand that there will be a significant drop in the capacity of your meeting rooms. Room set up will look different because more spaces will have to be allocated between seats, tables, and congregation areas.
For example, a table which would have previously allowed for a large group of guests might not seat more than six to eight now. And the same applies to a theatre seating arrangement for educational sessions: there will have to be significant spacing along rows and columns.
Considering all these elements, we quickly see that you'll need to recalculate the capacities of your meeting rooms and use these new figures when discussing with planners.
If your property has an outdoor space, consider using it for events to allow for sufficient spacing, especially in warmer weather conditions.
Registration
To implement physical distancing at registration points, place a marker at six-foot distances on the floor to indicate physical distance when people are waiting in line. To get attendees inside quickly and avoid long lines, the meeting planner might adopt the use of RFID badges (radio-frequency identification).
With RFID, attendees can simply wave a wristband or badge over a sensor at the event entrance. This has the obvious benefit of being contactless and therefore a more sanitary option than ticketing or stamping. Attendees can also add payment information before the event and use contactless payment when making purchases at your hotel.
Guest processing and room check-ins
In order to limit physical contact at check-in points, your property can adopt different check-in options. For example, guests can self-check-in at a set of cubicles made of plexiglass or other easily sanitized materials to reduce exposure to infection due to close proximity.
You can also adopt remote check-in or direct-to-room technology, which allows guests to check-in by using their phones to unlock the door.
---

Having a great service and operations plan is important, but it's pretty meaningless if you don't have a well-trained team to back you up. When you communicate new standards and practices, you need to be able to do it quickly, accurately, and consistently.
Learning with Typsy is practical, effective, and fun! And best of all, you can access Typsy's 1000+ lessons as and when it suits you.
Learn your way - starting today.
---
Technologies for biosecurity
Given the events of the last few months, people are now much more aware of health and safety issues - so it's important to be more mindful about the expectations of guests regarding their safety within your property. This is why you might need to deploy additional layers of security when hosting conferences and events.
When attendees see such an arrangement in place, these procedures will help to allay any concerns they may have that might prevent them from engaging fully with your event or venue. The following are some equipment and services you might need:
Thermal scanners
Although thermal scanners do not prevent the spread of contagious diseases, it can spot symptoms such as raised temperature which can be a signal that something is wrong.
UV-C purifiers
Industrial UV-C purifiers use ultraviolet light to purify the air by killing or deactivating the germs, viruses, bacteria, and pathogens that are present in the air. This can reduce the risk of the spread of infection.
Disinfection tunnels and sanitation stations
Install disinfection tunnels for attendees to walk-through as they arrive at the event space. This ensures another safe practice to promote sanitization. Apart from this, there should also be sanitation stations for contactless sanitizing and handwashing.
Geofencing and GPS tracking
To implement social distancing, you can use mobile event apps or hand bracelets to warn attendees who violate the distancing protocol. The phone or bracelet vibrates when it detects a user is in close proximity with another user.
Digital Signage
Digital signage should also be placed at strategic points to remind people about physical distancing. Seeing the signage around gives people more confidence that their health and safety are being given priority.
---
Event streaming for online participation
Post COVID-19, many events will be made accessible for people to participate online. This will require the streaming of live events so attendees can view and participate via a virtual event platform and/or mobile event app.
Something to bear in mind is that this will affect the setup requirement and layout for the meeting rooms and breakout rooms. Your property might also have to install additional audiovisual devices in the rooms in order to create an organic environment for both in-person attendees and online attendees.
People who are joining events online should feel as engaged and present as possible, so you might also consider 360-degree conference cameras, which will allow for a full view of the meeting room while also highlighting the speaker.
---
Hygiene, sanitization, and safety
Food and beverage handling
The needed changes in order to ensure the safe serving of food and beverage during events will require that hotel staff take additional training in food sanitation and handling.
For food serving, self-service and buffet may not be feasible initially - but you can still do seated dining. You can organize boxed meals that can be placed at guest seats before they get seated. You can also consider bagged lunches and bottled water. In warmer conditions, dining can be in an open-air environment (outdoors) to give room for proper spacing.
In the kitchen, restrict the number of people handling food to implement social distancing, and when serving foods, provide adequate utensils for servers. Also, limit the amount of food you place on display. It's better to restock more frequently than open a large amount of food to potential contamination.
Cleaning, and use of PPE
Several rounds of cleaning will be required to keep the environment safe. Cleaning steps that were previously done without anyone noticing will have to be done in a way that is noticeable, but without being a disturbance. When people see that the areas are being cleaned frequently, they have more confidence using the property.
Another trend that will likely come up is the use of antimicrobial materials and surfaces. These materials can be chemically treated or natural materials such as copper that can kill germs, microbes, and viruses on contact. There are also chemically treated fabrics, floor finishes, and wall finishes, that can be adopted for use to guarantee that surfaces are free from viruses.
Wearing personal protective equipment such as face masks, hand gloves, face shields, etc. should be enforced among staff. Events attendees should also be encouraged to wear relevant PPE in order to keep the environment safe from disease spread.
---
Many changes will be needed to host conferences and events in 2020 and beyond. But above all, be sure to develop your own process based on your needs, the needs of your guests, the demands of the event, and what is most applicable to the audiences you host.
---
| | |
| --- | --- |
| | Jordan Schwartz is president and co-founder of Pathable, an event app and website platform for conferences and tradeshows. He left academic psychology for the lure of software building, and spent 10 years at Microsoft leading the development of consumer-facing software. Frustrated with the conferences he attended there, he left Microsoft in 2007 with the goal of delivering more value and better networking opportunities through a next-generation conference app. Jordan moonlights as a digital nomad, returning often to his hometown of Seattle to tend his bee hives. |
---
Have a question? We're always ready to talk.
You might also like