Seagrass Boutique Hospitality Group is a multi-brand hospitality organization covering eight brands, from premium full service to fast casual - with over 35 locations. They
first landed on Australian shores in the year 2000 with the opening of The Meat & Wine Co in Darling Harbour and have expanded to Melbourne, Brisbane, and Perth.
Since July 2018, the group has been using Typsy across their eight brands including
The Meat & Wine Co
,
Ribs & Burgers
,
Italian Street Kitchen
,
Stix and Stones
,
The Observer Hotel
,
Heritage Bakery and Pizzaria
,
Butcher and the Farmer
, and
Hunter & Barrel
. With engagement levels soaring, we thought we'd sit down with Seagrass Learning & Development Specialist, Katie Mattingly, to hear how the group have utilized Typsy so far.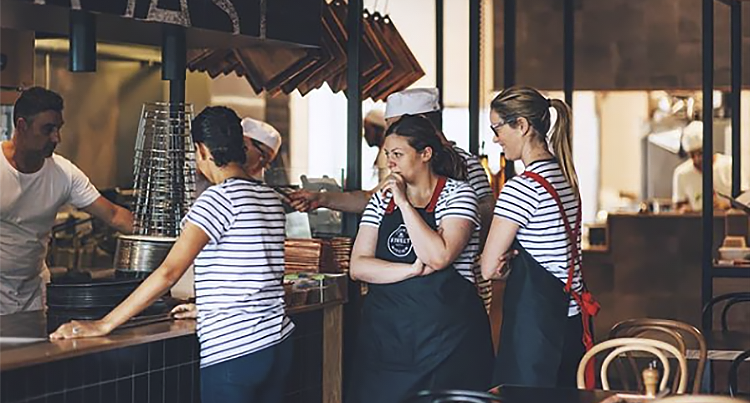 Staff at Italian Street Kitchen


"Typsy has driven a step-change improvement in engagement from day one, with our management teams across our venues being given the first access. They really got involved and were keen to show their teams the videos during the pre-shift briefings."
Katie Mattingly
Training Manager

Creating change with change
Seagrass' core values focus on sustainability, strength and staff training, three aspects that reflect across their need to develop staff while maintaining a strong commitment to delivering a world class experience for our customers. With staff at the forefront, Seagrass found themselves in need of a way to provide consistent and appealing training content across their brands and venues that would allow their staff to learn and grow and continue to provide patrons with excellence.
Finding the appeal of online training
Working in a hospitality business and finding the time to train staff is a constant struggle for business owners. With staff members working various shifts, getting everyone in the same place at the same time can seem impossible. This often results in managers booking multiple, expensive, training sessions for their venue.
Online video training platforms are helping to shake things up by providing training on-the-go that is not only available to every staff member but is also an incredibly economical option, saving you and your company a significant outlay on in-house training. You also know exactly what you are getting - and what your staff are getting - before they begin their training.
"We were determined to find a more relevant solution to providing appealing and informative content, that would appeal to our intended audience. Typsy rose to the top of the list of potential fixes," says Katie.
With the majority of Seagrass' workforce being younger and digitally literate, moving their training to an online medium had its benefits. This was especially key when figures indicate that 92% of millennials own and use smartphones.
"It was important to us to have something easily accessible, and the availability of the Typsy smartphone app has ticked that box. The majority of our workforce are younger and digitally literate, so they engage very naturally with visual material that's easy to digest and to the point. Typsy fits the brief perfectly."
Taking on the challenge
Like every business in the hospitality sector, Seagrass is aware that there is a significant skills gap hitting businesses. But, providing consistent training that is engaging for their staff is helping to break down the barrier.
"As a group, we believe in hiring for attitude and developing skills. As a result, at times we have team members that have not worked in hospitality before. We are able to bridge their industry skills gaps quickly with Typsy videos, which cover all of the hospitality basics," says Katie.
"We have a number of people across our business who are responsible for training and Typsy has proven to be invaluable in ensuring the training delivered is consistent across the board, and not solely reliant on the human factors that can affect training delivery."
As well as providing new staff members with the skills they need to succeed in the workplace, Seagrass has found that the Typsy platform is providing their long-serving employees with content that is helping them reach new heights.
"In addition to that, a significant percentage of employees have been with us for a long time, and we have found it difficult to engage them with training, but Typsy has helped with this process immensely, by having such rich and appealing content."
Making training fun
With a recent study indicating that 64% of people would be motivated to use an eLearning app if leaderboards were used within the workplace, Seagrass are looking towards ways to ensure their staff continue to enjoy and reap the benefits of their online training.
"I've identified three key ways that we get the best from Typsy. We spend time scouring through the videos and material - it's brilliant what you will find and never thought to look for. Secondly, offering competitions and incentives for our team to create their own custom content is an initiative we will be embarking on, which will further drive our team's organic engagement in the future. Lastly, promoting a learning and development culture using Typsy as a way to add value and fulfillment to being part of the team."
"It is incredibly rewarding seeing the engagement reach grow week by week. It's truly a testament to the appeal of the Typsy platform and content."
Creating venue specific content
An added benefit that Typsy has offered Seagrass is the option of creating custom content. By designing and filming training videos catered for each of their venues, Seagrass has been able to provide specific training to each of their eight venues.
"Each of the videos have been a great tool to really drill down into exactly what our standards and specifications are when it came to the prep of each item, and ultimately improving and maintaining consistency - making sure our guests have the same great food & experience every time they dine with us," says Katie.
With statistics showing that 75% of employees are more likely to watch videos than read documents, emails, or web articles, Seagrass jumped at the opportunity to work with the Typsy content team to create high-quality and engaging training videos for their staff.
"We built a script and outlined key points that needed to be presented in our videos beforehand, so when it came to filming it went very smoothly. The Typsy team was on hand throughout filming and were a great source of knowledge and advice on how to create genuinely engaging content."
---

Join the hundreds of businesses already benefiting from the Typsy platform today and get the first 10 days FREE.
---


You might also like: