Ryan Casey is a bartender and bar manager from Charleston, South Carolina who's made quite a name for himself. He's been listed amongst the best mixologists in America in several publications, including Food & Wine. And in 2013, he was crowned Bartender of the Year by Charleston Eater.
He's recently taken on the role of bar manager at The Dewberry Hotel in Charleston. We talked to him a little while ago about how he helped prepare the bar for opening, and he shared some tips for other bartenders who want to follow in his footsteps. He even taught us how to make his favorite cocktail at the end of the interview.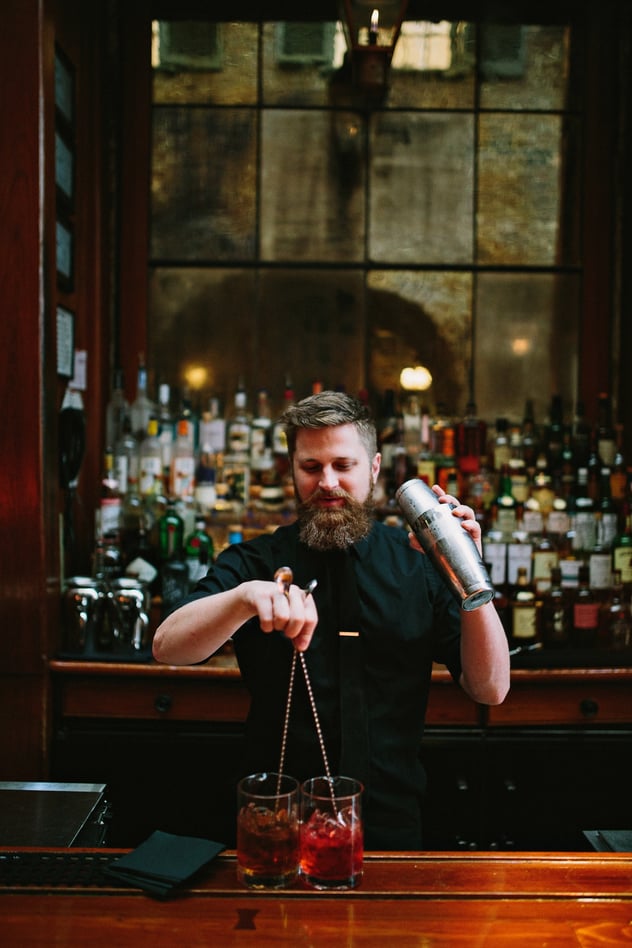 Photo: Andrew Cebulka


Tell us about your bartending history
I started bartending when I was 21. I was in college and always worked in restaurants, starting when I was in high school. I fell in love with bartending instantly. When I finished college I started interviewing for sales jobs, but I just had no interest in doing that ever. So I decided that bartending would be my career, and started putting all my energy into pursuing bartending to the very best of my ability and perfecting my craft. That was 15 years ago.


---
And now you're going to be the new bar manager at The Dewberry in Charleston. Have you been involved in the preparation of opening that bar?
Very much so, it's been an incredible experience. I've been designing the bar, designing where the layout goes, whether we'll use soda guns, all the way through. The entire beverage program ended up being my own. I've done the wine list, beer list, cocktail list for the three different outlets, which is really cool. We've finished up the beverage stuff a month ago and now it's full time staffing, hiring all day.
---
What are some qualities you look for when hiring bartenders?
Great attitude. You've got to love it. It's a weird job, and it's hard work and long hours and if your heart's not in it, you're just not going to be that good at it.
Excited to learn and excited to grow is what we're looking for right now. Any time you're interacting with a guest it needs to shine through that you love it.
---
So what does it take to be a great mixologist?
What it takes is dedication to your craft. It's one of these jobs where you just put your head down for years and try to learn as much as you can and push yourself every day.
Then you get to a place where you start to be recognized for that and it's fantastic to have someone else look at what I make with my hands and my silly ideas and funny drink names and say 'huh, this is pretty good, I'll give you money for this'.



Photo: Andrew Cebulka
As a successful mixologist, what tips do you have for someone who's just starting out with mixology?
All modern mixology is built out of classics, so I would say start with your classics. Learn your base. Take a Negroni for example, it's one strong ingredient, one sweet ingredient, one bitter ingredient. You can find those three elements in almost all cocktails and there are thousands of modern versions of Negronis where people don't really realize it's a take on it.
So starting out, learn your classics. Make that your foundation. Then when your palette develops and start to taste things you're working on, you can use those reference points.
---
So how much of a role does tasting play when you're learning?
Lots. Your palette is very important. No matter what ingredient you use or how fancy the presentation is, if it doesn't taste good, people aren't going to drink it, come back for it or be excited about it.


"It's fantastic to have someone else look at what I make with my hands and my silly ideas and say 'huh, this is pretty good, I'll give you money for this'."

If I make a cocktail and after two or three sips I'm like 'I'm done with that', then it's not a finished drink and it doesn't go on the menu. You really have to want to go back for more.
It's a skill you learn and develop over time. If you taste more things, you kind of build a catalogue of flavor profile. You get to a place after years where you can taste something and know what's missing based on what you've catalogued from experience.
---
Can you share some advice for bartenders who are looking to move into a management position?
More than anything, it comes from really wanting to lead a team and be serious about what you're doing as a profession, and not just as a job. There's kind of a fork in the road in bartending and the service industry as a whole. For some people, it's just a job and a fun way to make money and they live their life separate from that with very little commitment.
The decision to move into management is to say: this is my career and I'm serious about this so I'm going to put in the extra hours, I want to learn and know more and make more decisions and ultimately improve the place you work. It's a commitment to being serious about your career and not just having a job.


---
Recipe time! What is your favorite drink and how do you make it?
My favorite drink to make is an Old Fashioned, and one of the reasons I love making it is because it's universal. You can walk into most bars in the world and order an Old Fashioned and they'll give you some version of it. Mine is a fairly classic version. I'm a big believer that classics are classics for a reason and they don't need me to change them too much.
I make it with a raw unbleached sugar cube. It's got a little more flavor, a little more molasses and caramel notes. Place it on a beverage napkin on top of the glass. Angostura Bitters into the sugar cube until it absorbs them. It's a neat way of controlling the amount of bitters you get in your glass and helping it break down.
You dash the sugar cube until it absorbs it and breaks that down. That gets dropped into the glass. One dash of orange bitters goes on top of that. Just enough soda water for the sugar to dissolve, normally a bar spoon or 1/8 of an ounce. Muddle that into the soda water to make a syrup. You're making a spiced sugar syrup basically.
Then add two and a half ounces of your favorite bourbon or rye whiskey. Ice cubes just stirred to combine. It's not a drink you want ice cold, you want it to be whiskey forward with enough sugar and bitters to create some balance. Then express an orange peel over the top as a wonderful aromatic.
That's how I've made it for years, and everywhere I work I end up making a lot of Old Fashioneds.
Get Typsy updates straight in your inbox! Sign up to our newsletter now.