In the year since his ground-breaking manual Water for Coffee was published, Maxwell Colonna-Dashwood has really noticed radical shifts in the coffee industry and how it is talking about the chemistry behind water.
"People in coffee have recognised that water's an important element for a long time," he says. "But the problem with water is it all looks the same. It's all empty clear liquid. It unnerves a lot of people in the industry. If it has such a big impact on how the coffee tastes, then what is the real character of any coffee? How should any coffee really taste?"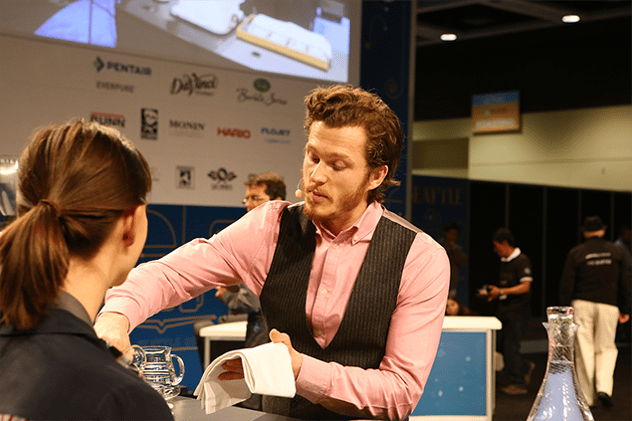 Photo: Sprudge
Beginning From Curiosity
Maxwell Colonna-Dashwood is an iconic name in the coffee industry. Besides owning two highly acclaimed coffee shops – Colonna & Small's Speciality Coffee and Colonna & Hunter – he's the UK Barista Champion and was a world finalist in 2012, 2014 and 2015. He's one of the world's most decorated and praised baristas. His latest project, exploring the role of water in coffee, is one of many innovative ventures he's conducted.
Maxwell explains to us how making coffee is all about the sum of parts working together. "It's easy to just focus on one of those parts but actually it's a composite of all of them," he says. "The water is a huge part of that composite. Until recent times, I think it hasn't been recognized for how important it is in terms of how it impacts the flavor."
These were the considerations that sparked the beginning of this project for Maxwell. Understanding that many baristas don't possess an in-depth understanding of chemistry and physics, he knew he should team up with people in the scientific community for this type of project.
He met his co-author Christopher Hendon at his café in the University of Bath and they began talking about where their interests overlapped. Maxwell's passion for coffee mixed with Christopher's scientific skills and curiosity pushed the project off the ground.
The whole goal of the book was to figure out exactly how water impacts coffee, and whether you could predict the way that any water from around the world would impact coffee taste.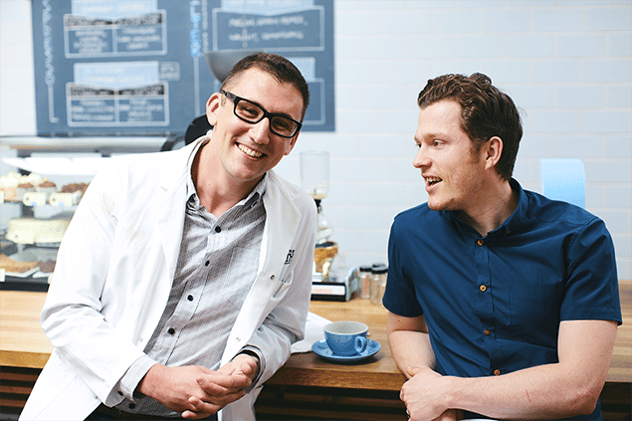 Maxwell with his co-author Christopher H. Hendon. Photo: Tom Smith Photography
Is It Good, Bad, Hard or Soft Water?
"Before this point," Maxwell says, "the community told us what bad water was and we a rough idea what good water was. However, you have two 'good' waters with the same amount of minerals in it, and they taste very different."
"Somewhere like Melbourne, if you were to buy a coffee then go home and brew it in your flat or house, it's not going to be that different to what it was like in the café, because the cafés aren't doing much to their water because the water's quite soft," Maxwell explains. "Whereas if you were in London, you have really hard water; all the shops heavily filter water to save their machine and make their coffee taste better. So the person at home has a coffee that tastes nothing like it did in the shop!"
The book takes an investigative approach to examining TBS (Tris-buffered saline), mineral contents of water, water acidity, Reverse Osmosis, and making your own mineral water at home, among many other things. "That's why the book reads like a scientific manual. It's a running joke I have with people I meet who say they've read the book. I reply, 'ah, well done!'" Maxwell laughs.
"A wordy, expensive self-published book – without the global coffee community, I don't think you could make that work!" But it certainly has worked, selling at least 7,000 copies around the globe.
When Water's Not On Maxwell's Mind…
Maxwell's involvement in the coffee industry hardly stops at water quality. He's written previous academic articles, constantly conducts new experiments and competes at barista contests. He has also run a coffee shop in Bath University for seven years.
He dove into the coffee world somewhat unexpectedly years ago. While on a holiday to Melbourne with his wife, he was working in a café while gaining traction as an artist. He realized that he really preferred the hospitality work he was doing. A customer pointed him in the direction of Brother Budan on Little Bourke Street and acclaimed barista Taylor Brown served him a coffee.
"I remember at the time I had no reference point for where it came from or how it tasted," he tells us. It was one of those epiphany experiences – why have I never tasted something like this before? So I changed jobs, I went to every course I could do in Melbourne, I did some training with David Jamaican who was the barista championship at the time, visited roasteries and that was the beginning of the journey."
His coffee shop, Colonna & Smalls, was started around the idea of having a tasting space for different coffee, a multi-roaster as well as a place to conduct research and experiments. The New York Times picked up on their research regarding freezing coffee.
"Cold coffee breaks up differently from warm coffee. So in a café when its cold in the morning, and then warm in the afternoon, espresso does a completely different thing because the coffee's not grinding the same."
What's Next?
Maxwell's next quest is to revolutionize the capsule coffee. He's been making waves, particularly after news that he would be releasing Nespresso-compatible capsules.
"In one way, we're looking for this timeless idea of quality – what is good. But we're interested in innovation, disruptive work and people challenging the status quo. That makes sense because coffee has had to overturn the Italian traditions. It had to be quite disruptive and innovative to challenge all that stuff. So part of that is technology – coffee is deeply entwined with this idea of craft and this idea of it being an artisan beverage."
Maxwell's continuing this year to work with the evolutionary committee/advisory board at the world barista championship and his role as the National Coordinator of the UK Chapter.
Wherever he may be roasting, advising or experimenting, you can be sure to expect innovative and disruptive things from this coffee mastermind.


You Might Also Like
---

Related Courses