For many of you, the school year is still a month away, but you're probably already thinking about what you need to do to get ready. You'll have to buy textbooks and change your work schedule and potentially even find a new place to live. It's a big list!
So to take some of the stress off your plate, we've compiled this list of resources that we hope you'll come back to again and again throughout the year.
It includes tools you can use to record lectures, apps you can use to make studying easier, and websites you can lean on to improve your hospitality knowledge. Use it to get your year off to an awesome start!
---

For Attending Classes
---
Timetable is a personal organizer that syncs with your Android. You can input your class schedule, and create separate tabs to track assignment due dates and exams. It also automatically puts your phone on silent when you're in a class, which could spare you some embarrassment down the line! Class Timetable is a decent iOS alternative.


---
| | |
| --- | --- |
| | While many schools upload recordings of their lectures online now, SoundNote takes things a step further. As an iOS app, it tracks what you type and draw while also recording audio of the lecture. Then when you come back to your scrawls later, you can just tap a word on your notes and it will take you to the matching audio portion of that class. If you need a voice recorder option for Android, Cogi is a good one. |
---
If you have sit down classes on the business or marketing aspects of hospitality, then your teachers probably make a lot of whiteboard notes. You can use Office Lens to take a photo of the whiteboard and convert it into a PDF, Word or PowerPoint file, which saves you from having to copy down their complicated diagrams.


---
For Hitting the Books


---
It's a sad fact of life that hospitality textbooks can be really expensive, but going to the library to photocopy the sections you need isn't the most ideal solution either. Try Book Finder. It allows you to search for secondhand copies of rare books and textbooks around the world, and then compares the prices to help you get the best deal.


---
| | |
| --- | --- |
| | If you study really well in a café environment but you can't get a table at your favorite venue, then Coffivity is a perfect substitute. The app was created by people who believe that the chatter and clatter in coffee shops "allows our creative juices to start flowing". Just stick in your headphones and choose from a library of different café sounds that include light chatter, dinging cutlery and bustling crowds. |
---
Study breaks are equally as important as actual studying, because switching your brain off helps you come back to your work fresh and relaxed. Sometimes it's hard to wind down though, which is why an app like Calm can be so useful. It has a whole series of guided meditation programs to help you reduce your anxiety.



---
Stop yourself from checking Facebook during an important study session by setting yourself up on this tool. It blocks you out if you visit the site more than once in a set period of time. You can use it to block any other site as well, like Gmail, YouTube or Twitter.


---
Instead of relying on bookmarks to remember all of your study resources, which can get messy and out of control, sign up for Feedly (it's free), where you can store all of your favorite websites in different folders. Then if you have a Culinary folder, for example, you can just read all of the new material those websites have published in a single feed.


---
Oxford has put together a whole collection of dictionary and thesaurus apps, which you can use when drafting your assignments. If you speak English as a second language, there is also a series of bilingual dictionaries to choose from.



---
For Revising Your Skills
---
| | |
| --- | --- |
| | WSET is an internationally recognized organization that educates people about wine and spirits. The website includes comprehensive Q&As with industry professionals (so you can figure out which career path suits you best). One of their best resources is their How To Say It page, which contains a list of sound bites so you can find out exactly how wine terms are supposed to be pronounced. |
---
Jamie Oliver has a great collection of cooking tips and how-to videos on his YouTube channel. Take a look if you need to brush up on some basic techniques, like how to fillet fish or break down a chicken.


---
Speaking of cooking techniques, if you'd like to watch some more advanced cooking videos, the CIA YouTube page is a good place to start. There are demonstrations, cooking 101 style videos, and short videos to educate you about world cuisines.


---
| | |
| --- | --- |
| | Typsy courses are designed to help you with very specific situations in the hospitality world. Our instructors include World Barista Champions, award-winning service staff and restaurant educators, who cover topics like how to deal with angry customers. Our library also includes free mentor sessions (where we take you behind the scenes at famous venues around the world) to show you what you can achieve. |
---

For Keeping on Top of the Industry


---
If you plan to make a career out of hospitality in Australia, you should be reading Hospitality Magazine. No ifs ands or buts about it. They're completely across the latest news in food service, from regulation changes to new openings and menu trends.



---
Similarly, if you live in the US, Foodable is an important website to keep tabs on. It's full of insights about what's happening in food and wine, industry technology and food service. It's also a hotbed for tips on opening your own venue.



---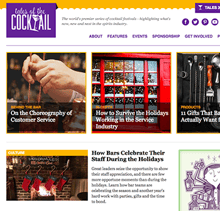 Tales of the Cocktail is a major cocktail festival held in New Orleans every year. If you're studying mixology, then you'll want to bookmark it and read it regularly. It's updated daily with creative drink recipes, interviews with successful bar professionals from around the world, and tips on working in or managing a bar.


---
Imbibe is your ultimate guide to liquid culture. Keep on top of cocktail trends, take an inside look at bars around the US, and learn about the subtleties of different garnishes. There's also a whole section on non-alcoholic drinks, which is a rising area of popularity.



---
If you're looking for something a little more local, Australian Bartender shines a light on the home bar scene. Again, it features plenty of interviews, news updates, and behind the scenes looks at popular venues.



---
The Barista Magazine blog is written for an international audience, which makes it perfect for educating yourself about the worldwide coffee scene. We particularly like their series called Lesser Known Coffee Regions, and another one called Secrets of a Barista Competitor.



---
Sprudge is the ultimate guide to coffee news. The entire website is an unabashed lovefest for coffee nerds. Find out about innovative new products in the industry, admire beautiful new coffee packaging, and hear from people who have won the latest barista competitions.
---
For Finding a Job


---
Scout is a hospitality and retail focused jobs board that was created by the same team who publish Broadsheet. If you live in Australia (particularly Melbourne or Sydney) and you're looking for a front of house, back of house or management role, then this website should be your first port of call.



---
Though The Muse is geared more towards office related jobs, their articles about getting a job and taking care of yourself once you have a job are no less relevant to hospitality workers. Go here for tips on writing a proper cover letter, answering difficult interview questions, and avoiding burnout when you're stressed, among other things.


---
If you're searching for a hospitality job, Instagram can be one of the best places to look. All good restaurants and cafes have an Instagram account. A lot of them will publish a job there without even publishing it anywhere else, because they know they're going to get a good response. You just have to search for the right hashtags.
Check #restaurantjobs #hospitalityjobs #coffeejobs and #baristajobs to start with. A city specific search will also help you narrow things down. Try #MelbourneJobs if you live in Melbourne, #LAJobs if you live in Los Angeles, and so on, and so on. Kitchen jobs will be rife, we promise!


---
For Staying Inspired
---
It can be incredibly motivating to hear about how other people got their start in the restaurant industry, especially if they followed an unconventional path. Eric Cacciatore, the host of the Restaurant Unstoppable podcast, gives industry professionals a platform to share their stories. His guests include chefs, restaurateurs and educators. Take a listen.


---
You're always guaranteed to hear some powerful and inspiring ideas when you watch a TED talk, no matter what the topic is. Toast have put together this very useful list of TED talks about the restaurant industry in particular, so you can hear from influencers who have achieved fascinating things.



---