Peter Vitolo is a beverage consultant in Las Vegas. After years gaining experience as a bartender and mixologist, he started training others on bar and beverage essentials. He now runs his own hospitality consultancy 4peteshake Industry Development.
We thought we'd call Peter for some advice about beverages, training, and bar etiquette.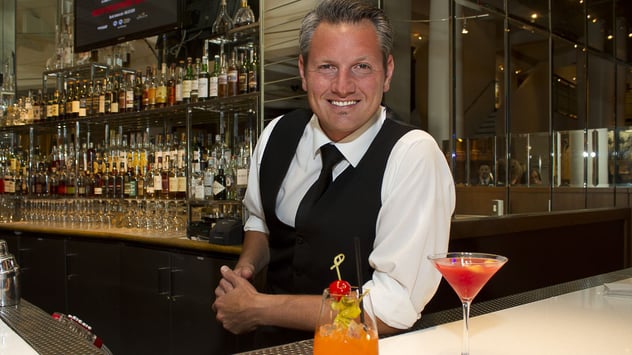 Tell us a little bit about yourself, Peter. What do you do as a consultant?
I have a background in fine dining, mixology, service and hospitality. Seven months ago I decided that I wanted to broaden my horizons and help more than just one restaurant. I'm currently working with a company that has a cold press juice bar and also a liquor license. So the owner asked me to put together a juice cocktail program for their cold pressed juices with their staff.
I'm kind of their beverage person, helping them cost their juice and liquor, helping them decide what alcohol to use, and that sort of thing. I also focus on creating a training program, covering things like which juices are higher in acid, which have a higher sugar content, which expire faster than others, which blend well, and things like that.
---
What kind of drink trends do you see in Vegas at the moment?
They are very classic cocktails and very whiskey driven at the moment. There's a lot of molecular mixology, a lot of deconstruction of old drinks being brought into new light.
Everyone is using different kinds of bitters and something called 'shrub'. A shrub is basically flavored vinegar. It can be fermented fruit juice, fermented bitters, fermented vegetable product… You can even make shrub out of fish sauce.
There are a lot of savory cocktails. And a lot of chefs are putting together cocktail programs to pair with their food menu. Mixologists really need to be in sync with the chef and pastry department, because the best way to make money in a restaurant is to successfully pair your food menu with your beverage menu. Your beverage menu really needs to have a purpose.


---
What are some things you feel bartenders tend to overlook when training new bartenders?
They definitely overlook the food and beverage pairing, and also guest interaction. The way people work together, the way they treat each other behind the bar – these things flow over to the guest. What's overlooked is how your personality can win people over and create an atmosphere where the guest feel comfortable.


"The best way to make money in a restaurant is to successfully pair your food menu with your beverage menu."

There is so much emphasis on grilling employees on food and beverage menus that the part about how to be a hospitality professional gets lost. Knowing the menu is important, because that is how you build confidence in selling, but you can't overlook building on someone's personality. A great personality can bring people back to the restaurant because they want to sit at the bar and have that pleasant experience.
At the end of the day, anyone can make a drink and follow a recipe, but if someone doesn't have the drive for wanting to be around people then it gets hard to train them.


---
What tips do you have for getting the measurements of ingredients right? How do you make sure drinks are perfected in that way?
I'm for the standardization of training. At Wolfgang [Puck] they stressed that you have your own personality and no one will take that away from you. But we follow standard recipes for drinks. If you stick to that, the drink is always going to look and taste the same, no matter what property you're at or who the bartender is.
One thing I like to use to also keep the costs in line and that a lot of restaurants have implemented is using a jigger. I've been using the jigger for probably over 10 years. At one of my first jobs at a night club in Hampton there was no such thing as a jigger. Now everyone is going back to the classics and using jiggers.
It's all about who's got the fanciest jigger. Whose jigger looks like an old wine chalice and is yours made out of steel or copper? It's out of control. If you go online and look up bar products, you'll see stuff that looks like it came out of mediaeval times.
---
Do you have dos and don'ts when it comes to bar etiquette?
The number one thing is always: be professional. Always answer questions with ma'am or sir. Never use slang. Never assume that the lady is with the gentleman. And never say no. And if you don't know the answer to something, don't bullshit your way through it, say: 'I'm not really sure, but I can definitely check it for you.'
I always say where you work is like your second home. If you had someone come into your home, how would you treat them? You would want things to be clean and organized, you want someone to be able to sit anywhere and the same thing goes for a restaurant.


"I always say where you work is like your second home. If you had someone come into your home, how would you treat them?"


Know the names of your regulars. If you have trouble remembering names, it's easy to remember certain people because certain people order the same drink all the time. If you remember that a certain person loves whiskey, you'll also remember that person's name more easily.


---
What is something a bartender could do pre-shift to set themselves off on the right foot?
The most important thing is making sure you have everything you need. Knowing your flow of traffic is also important. If you work on Monday if helps if you know how Mondays typically are.
You should think about things like: where are my menus? Do I have enough? Where is my glassware? Do I have enough of them and are they polished? Is everything presentable? Is the bar cleaned? Am I going to be folding napkins when people are sitting at the bar – something you shouldn't be doing.
I usually say to bartenders: what would you do if you did not have a bar back to support you? I think a lot of people have a sense of entitlement working at restaurants around a lot mixologists and they consider themselves a mixologist after a year. I disagree. I think you build your reputation, and you build the background behind the bar. If you're not prepared and don't do your homework to set yourself up for success, you are going to fail.
For bar tips and drinks news, you can follow Peter on Twitter @4peteshake.