In our mentor sessions, you can join hospitality industry leaders as they give a behind the scenes tour of their careers.
This week we are pleased to announce the release of John Lawson's mentor session - Focusing on food for health.
John has an extensive background and love of food. Originally from Essex, England, he started his training with world-renowned chef Raymond Blanc at Le Manoir aux Quat'Saisons. From there he cooked in two and three Michelin star restaurants around the world before opening No.8 at Crown Melbourne in 2013.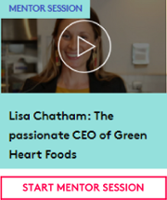 But then everything changed. In 2015, John suffered a seizure which saw his cooking career put on hold. Doctors found a tumor in his brain and, during a biopsy, suffered from brain damage and speech difficulties. John then spent six months in rehab before receiving surgery to remove the tumor. Even with all of this, John's love for food never faded.
After heading back to England, he took time to recuperate and found a healthier way of living – eating wholesome foods that help the mind, body, and soul. This endeavor saw him open FOOD by John Lawson in his hometown of Leigh-on-sea. The restaurant uses locally sourced food to focus on wellbeing while not skipping out on creativity or flavor.
In his mentor session, John discusses how you should always follow the things you love no matter what life throws at you. He also talks about how the produce you buy can make the difference between a good restaurant and a great one.
Plus, John shares some handy tips such as how important it is to choose a good mentor, why learning as much as possible in your early years will help you in the future and why you should always keep an eye out for great opportunities.
You might also like: