Unless you live under a rock, you know Pokémon Go has basically taken over the world. Maybe you're eager to learn more, so you can capitalize on it with your customers. Or maybe you're not convinced just yet, and the players converging on your restaurant are more of an annoyance than anything.
The hype won't last forever, but this is a cultural phenomenon that people will be talking about for years. There are plenty of restaurants already taking advantage of the game, and there's no reason you can't get in on the action too.
I'm going to explain the basics, so you can understand how the game works, and why your restaurant should get involved.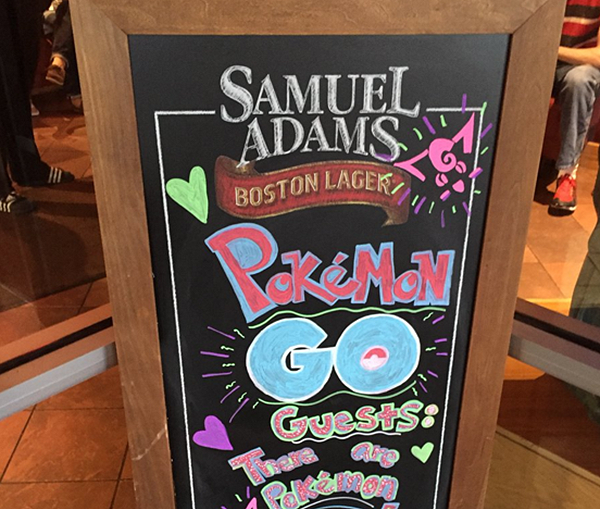 First off: What is Pokémon Go?

Pokémon Go is an augmented reality game. It connects to your phone's Google Maps and camera, so when you go walking around in the real world, Pokémon appear as if they're right in front of you.
Players have 151 Pokémon to collect, and some of them appear quite rarely, which is why you'll see players wandering around bizarre places at 4am.
---
How it can help your restaurant

There are locations in the game called Pokéstops, where players can collect valuable game items. Pokéstops are generally popular local areas like parks, schools, churches, shopping centres – and restaurants.
Pokéstops have been selected already, so it's random luck whether or not your restaurant happens to be one. But if your venue is a Pokéstop, or you're within range of a Pokéstop, then you should definitely be taking advantage of it. I can't emphasize this enough – players will go out of their way to visit your venue if it helps them in the game, which means you can attract customers you wouldn't normally see.
There's one other location type that attracts Pokémon players, and that's a Pokémon Gym. This is where players 'battle' other players alone or in teams – so again, if your restaurant happens to be a Gym, you'll want to promote it.
Now if your restaurant isn't a Pokéstop or Gym, there are still a few things you can do to attract these customers, which I'll go into below.
---
How to figure out if your venue is a Pokéstop or Gym

Download the Pokémon Go app on your phone (it's free). You'll need to create an avatar before you get started, but it doesn't take long. Once you're in the game, you'll see a blue circle around your game character. If that circle is within range of these items, you're near a Pokéstop or Gym: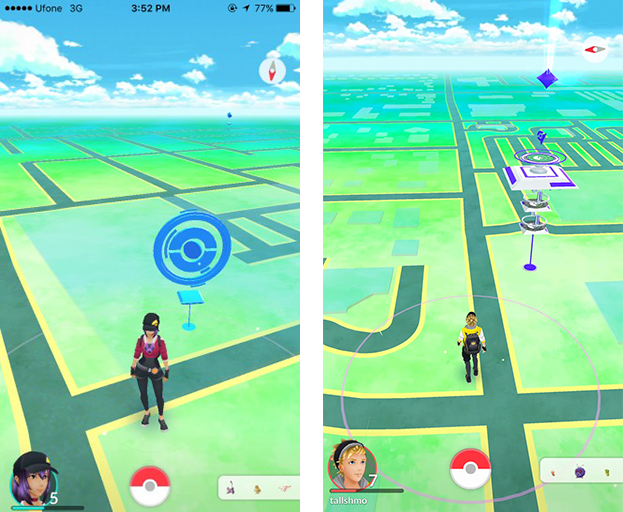 Left: A Pokéstop symbol. Right: A Pokémon Gym.


How to attract Pokémon players #1: Drop lures

Once you've established your proximity to a Pokéstop, you can start actually attracting Pokemon to that area.
Within the game, there are items called 'lures' that you can drop to attract Pokémon. Clever restaurants are buying lures and then promoting that fact to their customers, which is boosting business in a massive way.
You can purchase a pack of eight lures for $10. They last for half an hour each, and then you can drop a new one.
The Pancake Parlour in Melbourne ran several Pokémon nights recently. They dropped lures every half an hour for three hours, and charged a $12 entry fee, so players could hang around with their friends catching Pokémon. Players received a complimentary hot beverage and a stack of pancakes on entry. The deal attracted serious crowds on nights that would normally be quite slow, which was a clever strategy, because it didn't disrupt their non-Pokémon playing customers.
If you're unsure about how to purchase a lure, ask a younger friend or relative to do it for you (you will definitely know someone who knows how).
---
How to attract Pokémon players #2: Encourage people to share their Pokémon photos

There are plenty of opportunities to grow your social media following through Pokémon Go. Zoës Kitchen in New York asks people to share photos of Pokémon they have captured in the restaurant. In return, they go in the draw to win a gift card.


Going @Pokemon hunting today? If you catch one in our restaurant, snap a photo and tweet us to win a $25 gift card! #PokemonGO

— Zoës Kitchen (@ZoesKitchen) July 11, 2016

Not only are they encouraging people to come in and dine in the hopes of winning, but they're also spreading awareness of their venue with user-generated content.
---
How to attract Pokémon players #3: Reward people for finding rare Pokémon

Not near a Pokéstop? That doesn't have to stop you. Lost Heaven Restaurant offers players a 30% discount off their meal if they can show that they've caught a particularly rare Pokémon.
This is a great way to coax people into your venue without being directly involved in the game.
---
How to attract Pokémon players #4: Entice people with promises of rare Pokémon

Have you seen that viral video of people blocking traffic near Central Park on their hunt for a rare Pokémon? There are plenty of diehards who will go out of their way if they think they can catch one. If someone has found a rare Pokemon in or near your restaurant, you should definitely advertise it. When a Charmander was found at a restaurant in Manhattan, people were soon lining up outside the door.
It's also worth noting that some Pokémon have only been found near small towns so far. As you can see on this map, some players have reported sightings of a rare Pokémon called a Dragonite at a monastery near Warburton, a small town with a population of 2,000 people.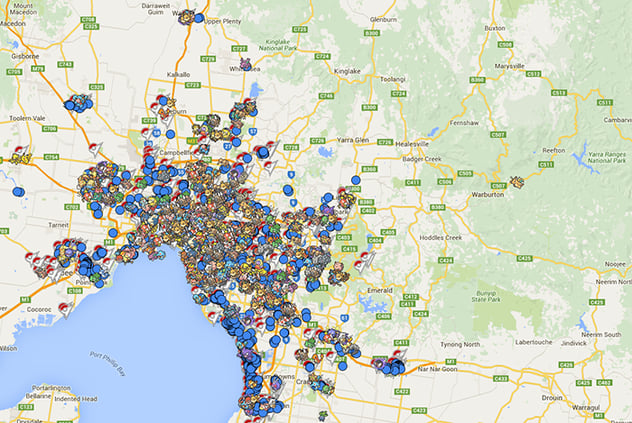 Pokémon fanatics may start taking day trips out here if they can't find this one in the city. If a restaurant in that area were to advertise a rumoured sighting (and there are so many opportunities for Loch Ness Monster jokes here), they could entice players to stop in for lunch with a special deal. It's likely no one else has thought to do that yet.
Take a look at this global Pokémon map to see if your restaurant or café is near anything noteworthy.


---

How to attract Pokémon players #5: Organize a meet-up

This is another great option for restaurants that aren't designated Pokéstops. If the closest Pokéstop is a park or landmark, then there's definitely the opportunity to lure tired players in for a meal after a gaming session.
You could even offer Pokémon themed treats or drinks on your menu. Bump N Grind has had a lot of fun renaming its coffees after Pokémon characters.


Now there's a #Pokemon themed menu @BmpNGrind (aka Silver Spring's hottest PokéGym). cc @bylinemjf @SoSilverSpring pic.twitter.com/EGsynawTAh

— Nevin Martell (@nevinmartell) July 12, 2016

Those are just a few of the ways you can jump on the Pokémon craze and bring new customers into your venue. Good luck, and let us know how you go!