'Plating up' is the finishing touch on any meal – and choosing the right plates is the finishing touch on your restaurant's design.
Have you thought about how easy the plates will be to clean? What's the deal with those big, flat, white dishes? How do you choose mugs that reflect your commitment to ethically farmed coffee? Read on to find out.
Have You Thought About The Basics?
Aside from the look, feel and ethics of your plates, there are practical things to consider first:
How long will your dishes last?
Will the designs date quickly?
Is everything machine-washable, or will you have to hire extra people to clean fragile items?
Do your fancy plates fit on your existing shelves, or will you need more storage space?
Do they hold heat well, so your meals don't cool down too quickly?
Think about your servers – are the plates too heavy, too wide, or too awkward to hold?
There are lots of resources online to help you with these questions. Once you know the practicalities of what you need, you can start thinking about designs.
Do You Want to be Traditional?
Tableware can incite furious feelings among the foodie class, so be careful how you tread when dealing with tradition. You'll find equal numbers of think-pieces for and against the Big White Plate, so consider both sides of the argument before you proceed.
Fans of white crockery say that food looks and even tastes better on these large, plain dishes. Apparently, against the blank canvas of the plate, the food's colour and texture pop making it look more appetising. And if food looks good, it's more likely to taste good. That's science!
Do You Have a Strong Aesthetic?
White plates might be great, but they're not exactly unique or memorable. If your eatery has worked hard to establish a strong aesthetic – vampy matte colours, thrift-shop chic, a seaside theme – then huge white plates would look odd.
Be confident. You don't necessarily need to make every single cup, spoon and platter precisely adherent to the theme. 'Statement' pieces for contrast – serving platters in bold patterns, handcrafted tea sets – can do enough to say "this is who we are."

Does the Tableware Match The Meal?
One fun way to play with your tableware is to focus solely on the food. Serving smashed avocado on rye? Why not use a pale green, or speckled brown plate?
This beautifully crafted 'seabed' inspired dish from Quay Restaurant in Sydney is served in a bowl that looks like the inside of an oyster shell.



Play with patterns, color and shape – how can your eclectic stash of crockery reflect your style of food, or specific ingredients? There are also some 'rules' that are worth considering – risotto is apparently best served in a shallow, rimmed dish, so you can eat from the outside in. Think about what you're making, then research expert advice for best service choices.

How Can Your Tableware Reflect Your Values?

Your restaurant may not be entirely about the food. What values draw your customers in and keep them coming back?
Ethical Production
If you source ethically farmed produce, then you can reflect this in your choice of crockery. Charity shops like Oxfam stock heaps of interesting, ethically sourced homewares.
Sustainability
Cook with environmentally responsible produce and think sustainably when it comes to tableware. You might use wooden items instead of plastic, or cloth napkins rather than disposable ones.
Your choice of sustainable crockery can extend to your takeaway range – there are lots of biodegradable options around now. Since sustainable choices are becoming more popular, you can get really beautiful items, like plantable menus or these gorgeously shaped dishes from Wasara.
Local
Your fruit and veg come from the local farmers' market – why not source your crockery in the same way? Find out who is making the sorts of designs you like, and see if you can commission a set. This can be expensive, and take a long time, because local makers are usually solo artisans who make their work by hand.
If the outlay is too much, start by commissioning statement items – teapots, large platters, even serving spoons! – and go from there. You may want to mix and match with a few other local creatives.
By working one on one with someone in your area, who knows your restaurant, your customers and your style, you're more likely to end up with crockery you really love and that really speaks to your aesthetic.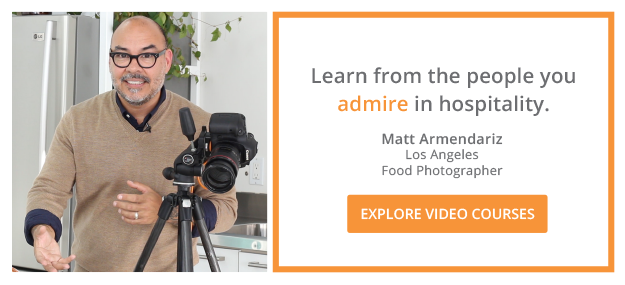 You Might Also Like
---

Related Courses