At Typsy we strive to bring you content that will not only benefit you but will benefit the business you work for. That's why we've gone ahead and made sure all of our current and future courses are globally recognized by the Institute of Hospitality.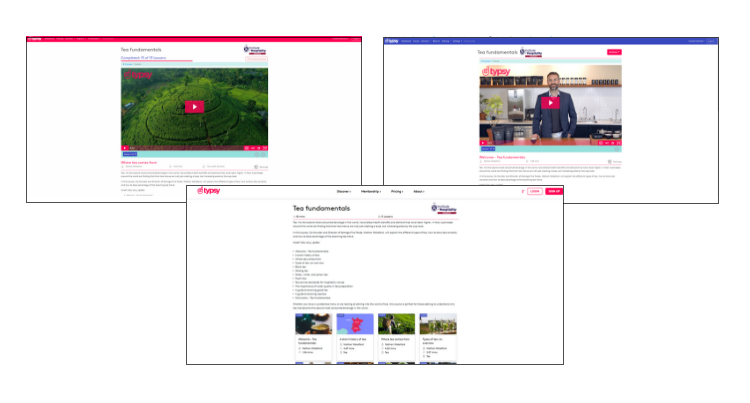 The Institute of Hospitality (IOH) is the professional body for managers and aspiring managers working and studying in the hospitality, leisure and tourism industry. By endorsing the Typsy course library all of our current and future courses now receive international recognition to employers and training providers for professional development training programmes and products.
"We're delighted that our courses have been internationally endorsed by the Institute of Hospitality. This recognition supports our mission to provide the world's best expert-led online video courses, created specifically for the hospitality industry," says Typsy founder and CEO, Jonathan Plowright.
On successful completion of a Typsy endorsed course members will now receive a Typsy certificate featuring the Institute of Hospitality endorsement logo. This then recognizes that the member has completed the course and is eligible for the Affiliate grade of membership with the Institute. For each course successfully complete the learner will receive one (1) Continuing Professional Development (CPD) recognition point.
"The scale of the skills and knowledge opportunities provided [by Typsy] is significant and covers a wide range of practical operational areas. The panel commends Typsy on the production quality of the material and the opportunities for a wider group of participants through the additional closed-captioned language options," says the IOH.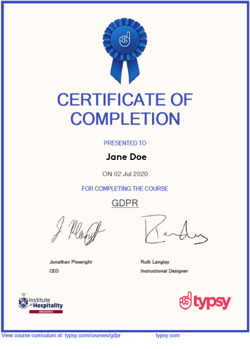 Example of a Typsy certificate
with IOH endorsement
Each Typsy course is intended for a wide group of potential learners, from individuals working in the hospitality industry with an interest in their own professional development, businesses for the upskilling of their staff, and educational institutions who use the video materials as learning support materials to their own programmes.
"The videos are particularly valuable as a method of delivering professional development material for both visual learners and those for whom English is not a first language. This "show and tell" approach has significant merit as an alternative to largely text-based materials for an international industry with a very diverse workforce," says the IOH.
Mr. Plowright adds that "it's empowering to be able to help people learn new skills and build their credentials. Online courses are unlocking career opportunities for learners all over the world so we thank the Institute for its endorsement and support of Typsy."

---

To view the full list of Typsy endorsed courses, please visit the Institute of Hospitality.