As 2016 nears its end, you can just about hear the collective sigh of relief – it hasn't been an easy ride. But if you squint past the dark cloud that hung over the world (and the restaurant industry) for most of this year, you will find stories that will convince you 2016 wasn't all bad.
We've compiled some of our favorite ventures from the last year by creative people in the hospitality industry.
These projects forged new paths in the industry, proving there is space in hospitality to discuss the big issues facing us today, and to take steps towards positive change.
Social Change
From Lagos
Tunde Wey didn't train to be a chef. He is self-taught and relatively new to the profession, but his love of the food and flavors of his home country, Nigeria, translates to superb meals. But Wey's work extends far beyond the dishes he serves up.
Wey helped set up (revolver) in Detroit, MI – a kind of concept restaurant that invites a revolving roster of chefs into the kitchen, creating the opportunity for many different dining experiences in the same restaurant while showcasing local, national, and sometimes international talent. He left (revolver), in his own words, "in part because I was unimpressed with contemporary food culture."


He decided to focus on sharing "real food" with Americans – and to spread the word about how food should be enjoyed – "just eat it!" But Wey also wanted to use his cooking to spark conversations that require critical self-analysis – a process he saw as lacking in our contemporary culture.

So now Wey is taking the meals of his childhood on the road with From Lagos. The traveling dinner parties bring together groups of strangers to enjoy good food and discuss the big issues that impact our lives – he says: "Now I cook to talk about some of the things we don't want to acknowledge."
The first dinner series discussed the topic of Blackness in America. He lists womanhood, racism, sexuality, xenophobia and capitalism as other topics that need to be explored. Through this project, Wey also seeks to address the underlying racism that still plagues the restaurant industry – employment in fine dining restaurants and the customer base of these establishments reflect race and class inequalities in America.
Freddie Bitsoie
Freddie Bitsoie is the executive chef at Mitsitam Native Foods Cafe. It's the leading Native American restaurant in the US, yet it took 12 years to hire a Native American chef.
Bitsoie, a member of the Navajo tribe, is hoping to change prevailing attitudes towards native cuisine, while also using his cooking as a means to celebrate and help preserve his culture. He has a big job to do – there are about 500 tribes preparing foods in different ways!
Newcomer Kitchen
As the crisis in Syria escalated this year, large numbers of Syrian refugees found themselves in far-flung places around the world, separated from community support and the rituals of daily life that create a sense of home.
In partnership with two Syrian refugees, the owner of Toronto eatery and community hub The Depanneur kicked off Newcomer Kitchen – after realizing that most Syrian refugees were being housed in hotels without access to kitchens from which to cook for their families.
Newcomer Kitchen emerged as a means of providing Syrian women in Toronto with economic, entrepreneurial and social opportunities. The women prepare food that is sold in pop-up locations, giving them the chance to earn a living while fostering a new community in their adopted country.
Sustainability
Food waste is a massive issue in many countries – each year about a third of all the food produced goes to waste... while nearly a billion people around the world don't have enough to eat. Food waste harms our planet in many ways – from overflowing landfills to harmful emissions to resource depletion.
The hospitality industry contributes to this problem in an unignorable way – but many of the initiatives combatting food waste also come from within the industry!
Toast Ale
Toast Ale is a beer made from surplus bread instead of grains! Bread is the biggest contributor to food waste in the UK, so Toast Ale founder Tristram Stuart decided to do something about it.

With help from Hackney Brewery and Belgium's Brussels Beer Project, Toast Ale came to life, brewing a great beer from bakery leftovers that would otherwise become rubbish! The profits from sales go towards Stuart's environmental organization Feedback, which works to fight food waste.
With plans to expand the operation, there could soon be regional bread beers brewing around the world!
Life Cykel
Coffee grounds in landfills have a massive impact on global warming, and Australians consume a lot of coffee – so the team behind Life Cykel found a very clever way to lessen this impact.
While coffee grounds may be bad for the environment when left to sit in landfills, they are very handy for growing vegetables. Life Cykel is recycling coffee grounds to grow mushrooms to sell to restaurants, cutting down on waste and growing delicious produce along the way. Individuals can also buy at-home mushroom growing kits!
Yume Hour
In 2015, Yume was founded to combat food waste in Australia. Given that an estimated 3.9 million tonnes of quality food goes to waste each year in Australia, it was a much needed initiative! Yume works to reduce food waste by enabling the donation and sale of surplus food.
Earlier this year the team organized Yume Hour by partnering up with restaurants and cafes in Melbourne to create $1 meals from food that would otherwise have been discarded. All proceeds were donated to food rescue charities. About 900 meals were sold in the hour, saving a whole lot of food from landfills and filling up tummies for next to nothing!

Steps in the Right Direction
Urban & Vertical Gardens
As farmable land becomes scarcer, the need to grow fresh produce in novel ways is increasing. The growing farm-to-table trend is demanding fresher, organic food, so restaurants in urban areas are turning to vertical and urban gardening to meet this need – which is also helping to reduce the over-farming of land.
Earlier this year, a supermarket in Berlin partnered up with urban farming company Infarm to grow herbs and vegetables inside the store using new technology developed by Infarm. Urban farming is increasing in numbers, adding greenery in clever ways to densely populated spaces with little room for conventional farming methods.
Renewable Energy
This year, more and more Australian hotels turned to renewable energy sources – for the benefit of the planet, as a means of attracting eco-tourists, and for practical reasons, especially for remote hotels that rely on expensive generators that emit all sorts of nasties into the atmosphere.
Hotels are increasingly turning to a variety of renewable energy sources, including solar panels and food composting and recycling, with demand for sustainable, eco-friendly accommodation on the rise.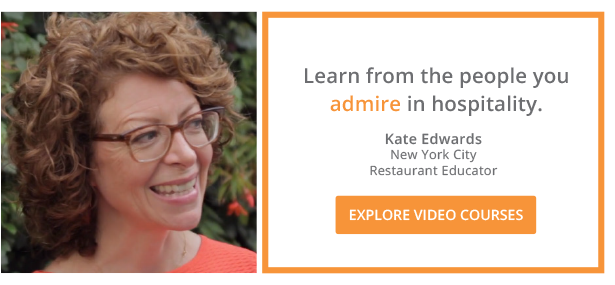 You Might Also Like
---

Related Courses