You might have noticed things are looking a bit different around here. After months of work, and a lot of late nights, we're very excited to announce the launch of our new training website! Not only is the design looking pretty swish (if we do say so ourselves), but it has over 70 new and improved features to help you learn about hospitality.
Throughout the redesign process, we've had one goal in mind – we want to make learning exciting, no matter who you are or what your role is in the hospitality industry.
Let us run you through the major features.

---
Courses and lessons

We've had a lot of feedback from customers who want to dive deeper into subjects. That's why we're now offering two learning options – lessons and courses.
Lessons are short five minute videos that help you master a single hospitality skill, like how to properly shake a cocktail or how to talk about whiskey flavor.
A course is made up of multiple lessons, so you can learn every aspect of a topic, like bartending for beginners or wine knowledge essentials.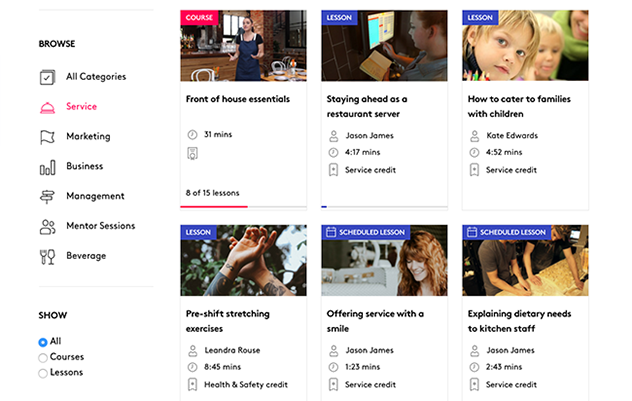 Where to find this: Discover


---
Skill credits

Every time you watch a lesson or a course, you earn a new skill credit. These accumulate over time, so you can see just how far you've come! This is a great feature for businesses that need help driving their staff training, because you can use it to run team competitions. For example, managers could award a prize to the first person who earns 20 credits in a week, ensuring everyone watches the content they need to.
Where to find this: On your profile once you're logged in


---
Certificates

Once you complete a course, you have the chance to earn a certificate, which you can then share with the world. You can use these certificates to show employers what you can do, and how committed you are to your hospitality education.

Where to find this: On your profile once you're logged in


---
Profiles

Our member profiles have been revamped, so it's easier than ever to see what you've achieved. This is where you can see how many skill credits and certificates you have earned, what courses you have in progress, and what courses have been scheduled to you by your manager (if you're under a business account).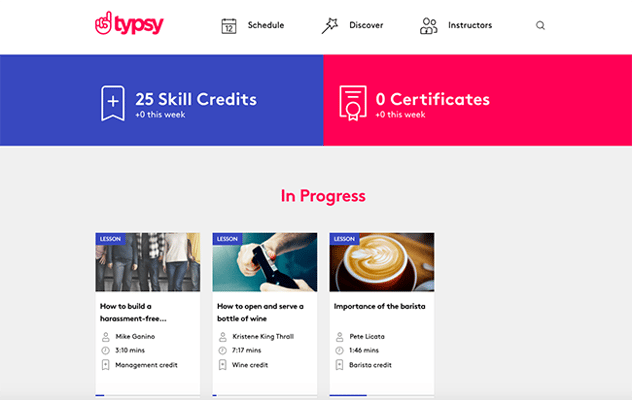 Where to find this: This is your home page once you're logged in


---
Students and groups

This feature is exclusive to businesses. You can upload your team members' email addresses into Typsy, and then quickly and easily sort them into groups (for example, your marketing team might be one group, and your front of house team another).
Where to find this: On your business dashboard


---
Schedules

Once you have your team arranged into groups, you can select the courses and lessons you want them to watch, and then set a due date. For example, if you want all of your servers to improve their table service skills, you could schedule our front of house essentials course, and they will receive an instant notification. You can create a schedule for a specific person, a select few in a group, or everyone at once.
Where to find this: On your business dashboard

---
Tracking and monitoring

After setting a schedule, business owners and managers can then log in and see how their team are progressing. You'll be able to see what videos they've watched, what videos they haven't completed, how many skills credits they've earned, and how many hours they've watched in total. You'll quickly be able to tell who your most committed staff members are – and who might need a helping hand.
Where to find this: On your business dashboard


---

If you want to see what all the fuss is about, you can try a free 10 day trial right now! Our team will be on standby to answer any questions you have.
Let us know what you think in the comments. We would love to hear your feedback.


Try a 10 day free trial on Typsy now.