Georgie Kay is the founder and creative director of Melbourne-based Georgeous and George, styling and events companies that specialize in weddings, private functions and corporate events. We talked to Georgie about her journey from studying and working in hospitality management, to offering fresh perspectives on special occasions with her events team.
Do you want to start by telling me about your background in the hospitality industry?
My passion and love for all things hospitality started at a young age – around 14, 15. I laugh at myself every time I say this out loud but I was transfixed by people even just folding napkins, pouring a g&t, cutting a slice of lemon. So I decided at the age of 15 that hospitality was what I wanted to do and I started working on weekends in a fine dining restaurant.
I chose my subjects for Years 11 and 12 so that I could get into hospitality college specifically, where I studied an Advanced Diploma in Hotel Management. During hospitality school I worked in a hotel and became the restaurant manager there, and was dabbling in events and catering as well.
Then the time came to travel. I went to London and worked in a hotel, traveled around Europe and then I ended up going to Zambia and living in a tent for about 8 months, helping my family friends run their safari camp! We would host small groups and take them around the Kafue National Park, take them on canoes down the Zambezi River, to the top of the Victoria Falls... it was just extraordinary.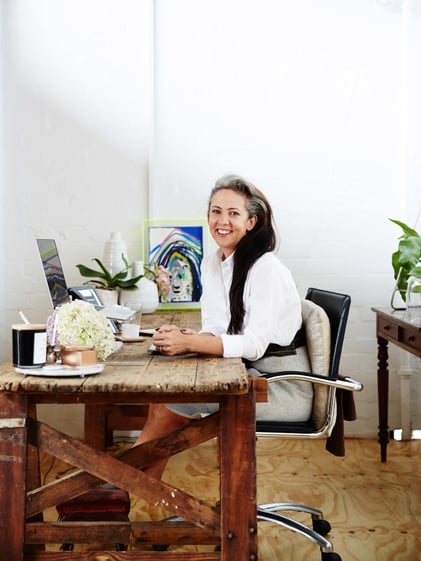 Then I moved back home and went to university. Academia was never really my thing so it petrified me, but I came out with a Bachelor of Business, majoring in Hospitality Management. I guess being 23 I was better equipped, more mature, and I had to work damn hard but I loved it.
During this time I was working in restaurants and bars as well, and I won a tourism fellowship which saw me research the seasonality of hospitality recruitment in Tasmania.
I got to present this to Tourism Tasmania and Tourism Australia, and got nominated for Young Tasmanian of the Year because of it!
After moving to Melbourne I couldn't get a job. I was thinking what more do I have to do – I've got a degree, a diploma, international experience, I've won a scholarship... that's how competitive it is. I was very fortunate to get a position in a catering company and that opened my eyes to the bigger picture – the world of events in hospitality in Melbourne. I got to work at the Spring Racing Carnival and the Grand Prix, and it was also an amazing opportunity to start establishing my network. From there I went to work with an events creative agency, learned a lot of front of house creative aspects – and then it was time to start something of my own.
And that's when you started Georgeous?
My father is an entrepreneur so I've always had that entrepreneurship blood running through me I guess. I was 31 or 32 and I thought – it's now or never. I was single and without kids so I wasn't held back by anything at the time.
We have loved and grown and learned a lot. You make mistakes but you can't get down about them because you learn from them. You constantly have to grow and evolve. It's bloody hard work and it does get to you at times but seeing the big smiles on your guests' faces when you've done a good job makes it all worthwhile.


"We find the right product for the right event."

Gorgeous is constantly evolving. We've got several arms of the business: a wedding arm, a corporate arm, and a hire arm. Because collecting stuff is the nature of our job, we've collected a lot over the years. We've got a warehouse full of stuff, so we have a hire arm of the business for that.
Because of the differences in wedding and corporate events we have to recruit different creatives with different skillsets. We're rebranding at the moment. Georgeous Corporate is turning into George because the feedback was that the Georgeous logo was too pretty – so we were talking the wrong language to the wrong people.


What would you say most drew you to events planning?
I love meeting and working with people. I see us as being project managers almost – we listen to the client's brief, budget, requirements, why they're doing what they're doing, what they want to achieve, what their expectations are on return of their investment.


"My hospitality training and knowledge has been invaluable to what I do now."


We find the right product for the right event. We might work with 10 or 15 different suppliers and artists for a single event. And we might use a secondhand chair or a piece of grandmother's linen for your bridal table because it's sentimental, or we might get something custom-made or designed for your event. That's what we love to do.
My hospitality training and knowledge has been invaluable to what I do now. For every event I've got a practical understanding of how much space is required behind a bar, where the ice tub is going to, where the glasses are going to go, that sort of thing. I think that's added a lot of value to our end result, because instead of just thinking about what sounds cool we're also asking if it's actually practical.


When you've got a new project, how do you start compiling a specific look for the event?
I used to waste a lot of my time and my clients' time by not asking the right questions. Over the years we have learned to ask a lot more questions before we've even accepted the opportunity to respond to a brief. It's really important creatively that we ensure we're on the same page before we get started.
We start by preparing an initial mood board and a two-page teaser presentation to show the client our interpretation, and if the client likes it then we move onto the next phase. That's when we turn the teaser into a 15-page presentation and from there it constantly evolves. Floor plans change, requirements change... we have to be very patient and empathetic.


If you've got a fairly low budget event to plan, do you have any favorite tricks or tools that you employ on a regular basis?
We try to use as much of our stock as possible. It's more cost effective and more flexible for translation than procuring somebody else's product. So if we were to hire a chair, that chair can't be changed. But if we've got a stool out the back and it's pink but the client needs it to be white, then we can paint it white.
We think cleverly about what we've already got and how can we put that into the context of a certain event. We might also ask shops to hire out goods, which they often do if you ask them, usually for about 20% of the retail cost.