If you follow Upside on Instagram, you may have seen some interesting pictures of our team on set shooting a little video. At Upside, we film stuff all the time, but this one was a bit special.
We have some exciting changes coming up, and we wanted to give everyone a look at what we do, so we decided to produce a video for our home page. I was assigned the role of behind-the-scenes lurker. I took photos and footage of our crew and kept general tabs on what was going on, so that I could give you a sneak peak at what happened during the shoot.

Filming Day 1
Our poor crew started their Sunday at 6AM for the first day of filming. We rustled up a few locations for our video shoot, but we kept the first one close to home: right next door to our office, in the space that actually used to be our previous workspace.
As I rolled in at a more decent hour, the office I knew was already transformed. Furniture had been moved, a dolly track had been laid out, and our crew was in serious on-set mode.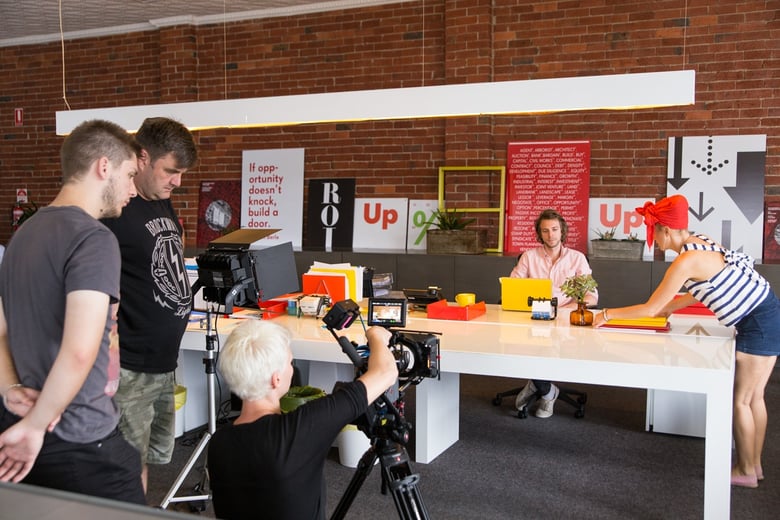 I quickly learned that to be in the video production biz you have to be a very patient person. Most of the morning (and indeed the entirety of the shoot) was spent moving things – props, lighting and extras – around to create the perfect image. It all worked out in the end, and after lunch we headed across the road to our friends at Willim café.
One of the things that made this shoot so much fun is that we'd asked a lot of our friends to be a part of it. Many came out on Sunday afternoon to be extras in a particularly crowded scene. You'll also see most of our team make on-screen appearances. At the café, our CEO had his acting debut and walked out pumped to kick-start his Hollywood career.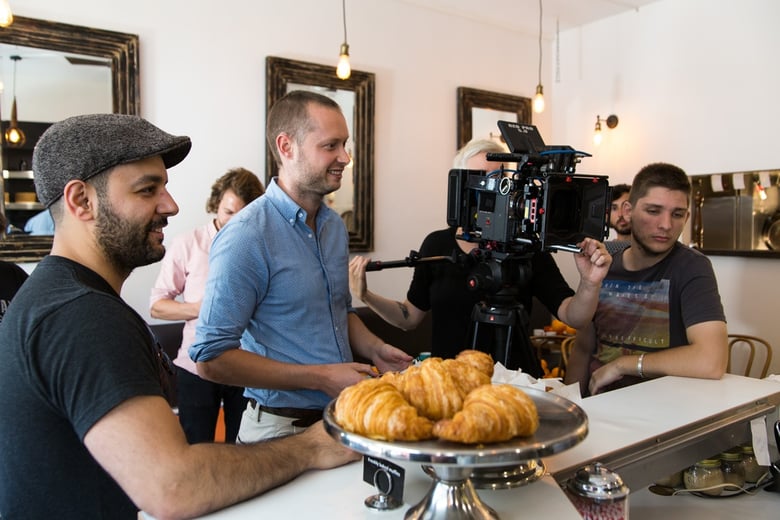 Our CEO Jon Plowright in the blue shirt getting ready for his grand scene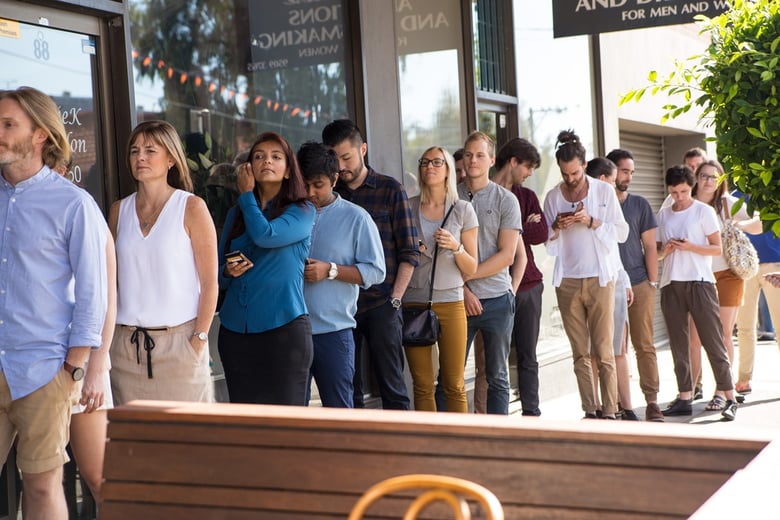 Our group of extras looking good


Filming Day 2
On Monday we shot at our local pasta bar for some restaurant scenes. I got called in to be an extra last minute – in two scenes. In the first I got to eat pasta, in the second I got to drink 'wine' (grape juice). It was a tough gig, but I think I pulled it off.

Anna (our art director) and Meysam (our director) talking scene setup
We got incredibly lucky with our locations, and I think they'll look fantastic in the final product. The restaurant looked awesomely bright and colorful, and our art director Anna did a phenomenal job throughout. For our next location she had quite a challenge on her hands: to make a bar look like a hotel reception.
Bar taps were hidden, liquor bottles were moved out, mirrors were covered up and flowers were placed, et voila, there we had our reception desk! Everyone helped out and it all came together beautifully. Another few team members got dressed up for their roles, and then the cameras were rolling again.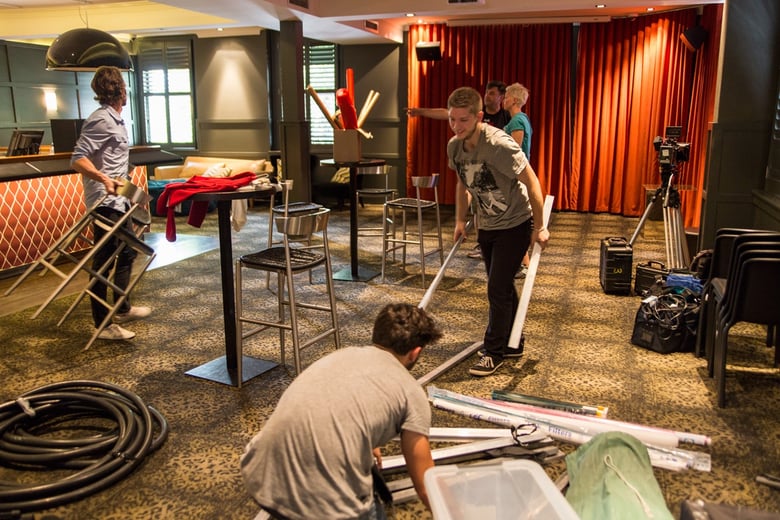 Hotel reception scene setup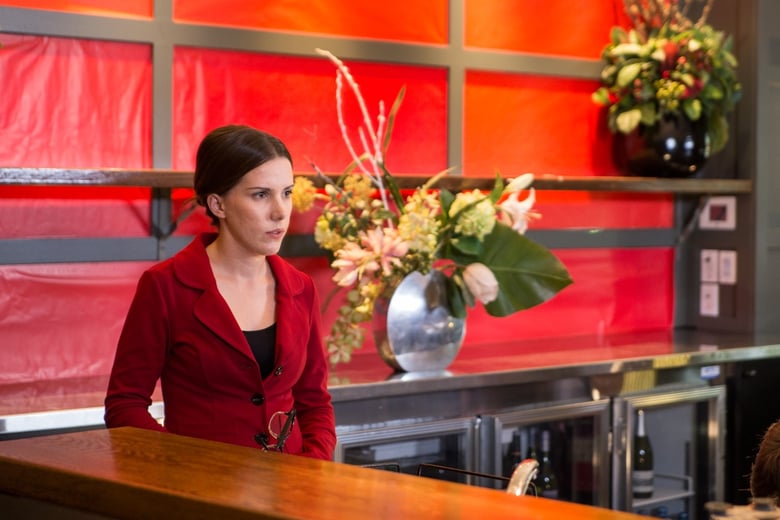 Our marketing manager Emily aka The Hotel Receptionist
Filming Day 3
Day 3, the final shoot day, was pretty cruisy compared to the previous days. We shot at a beautiful house in the fancy Melbourne suburb Toorak. We shot a scene inside in the morning, and then waited for the sun to be positioned perfectly for our pool scene.
Why is there a pool scene in a video for an online hospitality training platform? You'll know when you see it. All I can say is that it was a fun challenge to film, working with water reflections and natural sunlight. We couldn't have had a more perfect day to film, and our editor/sound guy Will didn't seem to mind having to get in the pool to keep our floating actor in place.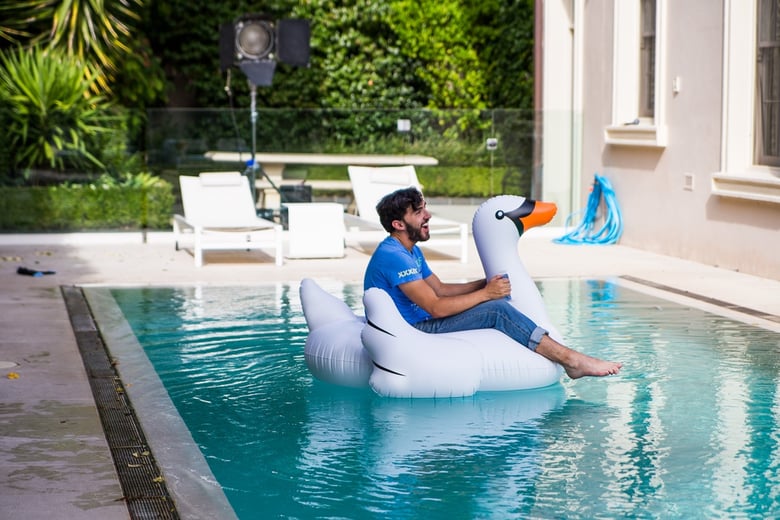 Typical day at the office for Will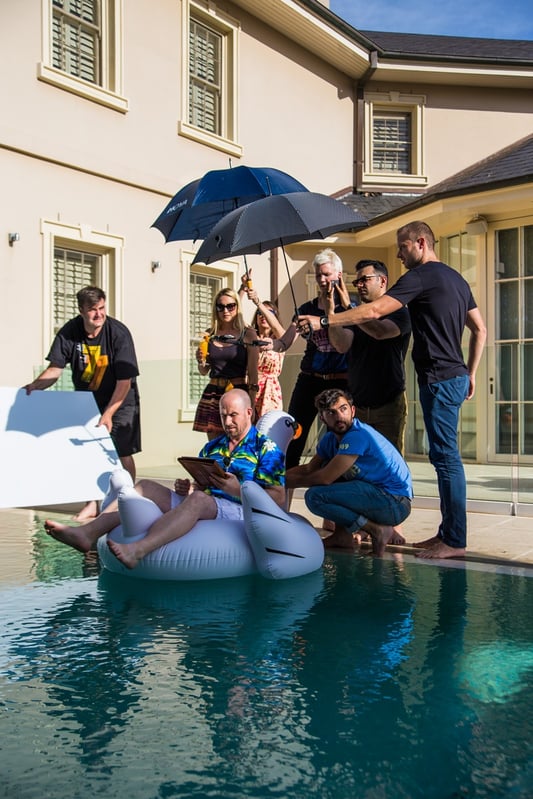 Our team in action for the pool scene
And then that's a wrap. I have to applaud everyone who worked on this little Upside feature film. Everyone who organized it, filmed it, played a part, worked long days and generally helped out. It was unlike anything we've done before, but it all worked out so well. I can't wait for you all to see the end result. We'll keep you posted!