It's not only small hotels that are fighting for direct bookings these days. Even Hilton and Hyatt are trying to lure customers away from online travel agencies like Booking.com.
That doesn't mean you shouldn't list your hotel with online travel agencies. Obviously they dominate Google search results, so it would be foolish to ignore them.
But you can work around them if you understand how people book their travel arrangements.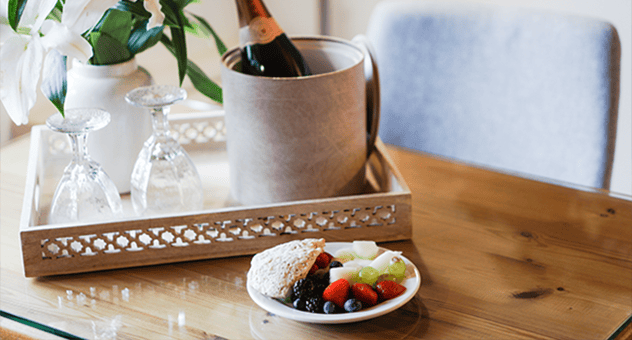 Typically, there are two kinds of bookers:
Frequent travelers
These bookers are online savvy. They know that OTAs charge commissions. They know that they will get a better deal if they book direct with the hotel. So they use OTAs as a directory tool. They go to a website like Booking.com to make a shortlist of the hotels they want to visit based on price, and then they open the individual hotel websites in different tabs on their browser so they can do a quick side-by-side comparison.
You will most often lose this booker if they arrive at your website and find the booking process too difficult. When I say 'difficult', I mean they have to call or email the hotel to make their booking – there is no direct booking engine. This type of booker doesn't want to do that. They want to book instantly and they don't want to talk to anyone about it first.
Infrequent travelers
This type of booker assumes that rates between OTAs and hotels are the same. They might browse your hotel website when they're in the decision-making stage, but they will still make their booking through the online travel agency.
Why?
It's hard to say this definitively, but Google's ranking plays a role. They might also believe that their booking is more secure with a large, well-known travel agency, especially one that communicates with them frequently.
So what can you do to encourage direct bookings from both kinds of bookers?


---
Tell them why they should book direct
This may seem presumptuous, but often your visitors don't understand why they should book direct. Infrequent travelers will think twice when they realize that they can get a better deal. And though frequent travelers know that a direct booking is cheaper and more secure, reminding them reinforces the message.
The Cullen Hotel in Melbourne has a separate page on its website outlining why it benefits the guest to book direct.
Their reasons are:
You get the best possible rates.
Their reservations team will have your back.
Bookings are completely flexible.
Their team can provide advice about local experiences.
You receive an on the spot confirmation.
You can bundle your accommodation with other amenities.
The copywriting on this page is also incredibly personable, which is something you just don't get with an online travel agency.


---
Give them incentives

Offering small but enticing incentives can be a cost-effective way of attracting direct bookings.
Tell them that if they book direct, they get a complimentary breakfast, late check out, 20% off cocktails in the hotel bar... you fill in the blank. Display this incentive somewhere prominent on your homepage (near the booking button is a good idea) so that users can't miss it.


The Dunstane in Edinburgh offers a range of incentives to direct bookers

You could also incorporate social media into this strategy. For example, offer your Facebook and Instagram followers an exclusive deal if they book direct. Integrate Facebook with your direct booking engine, so that users can book without even leaving the page. Most booking systems should allow you to do this, but SiteMinder and InnLink are good places to start if you're unsure.
If you want to get a little bit creative with your incentives (always a good idea for getting attention), try one of these ideas.
If guests book direct they can:
Choose what items go in the mini-bar
Get free room service
Get free Netflix access
Choose their exact room
Eat for free at a local restaurant
Get a free in-room massage
Enjoy free parking
Receive complimentary public transport tickets

---
Make your "book now" button prominent

The placement of your Book Now button can actually have a big impact on your conversion rates.
Make sure this button is prominent, in the top right corner of the page, on every page. Don't make your visitor backtrack to find it again. Psychologically, research has shown that our eye is drawn to the right hand side of the page, so that's where you want it to be.
The Lex Hotel in NYC has a prominent Book Now button

The color should be strong and eye-catching to make the button stand out, and the language should inspire action (e.g. Book Now or Make a Reservation). According to Kissmetrics, red increases your heart rate and creates urgency, blue creates a sense of trust and security, and orange appeals to impulse buyers. It's worth considering the kind of psychological effect you want to have on your visitor.


---
Start a VIP mailing list

Guests who enjoyed their stay at your hotel are obviously more likely to book with you again. But it's best not to assume that they will book direct – if they booked through an online travel agency the first time, they may decide to do it the second time, especially if they are receiving that OTA's emails.
Unfortunately, if your guests book through Booking.com, you don't have access to their email address, so you need a way of collecting it for future marketing purposes.
Ask your guests if you can add them onto your mailing list when they check out of your hotel. Let them know that they will be emailed about discounts, and that you run occasional giveaways. Online travel agencies stay in constant contact with their subscribers, so you need to do the same in order to compete.


---
Make sure your OTA listings match your website

If your amenities are described one way on an online travel agency and then another way on your website, then users are going to become frustrated and confused. That's why it's important to make your OTA listings as accurate and detailed as possible. You definitely don't want visitors to backtrack because they think your information is out of date.
While it may seem counterproductive to make your OTA listings attractive, research has shown that 52% of travelers only visit your hotel's website after seeing you on an OTA. This is known as the "Billboard Effect."
So make sure your listings stand out. Include a variety of photos, highlight your full list of amenities and take care with your copywriting. Be strategic and you could substantially reduce the commission fees you're forced to pay online travel agencies.