So, now you know the basics when it comes to vodka – how it's made, the different standard styles, and how much truth there is to that whole potato thing – it's time to learn about the brands that you will come across working in the hospitality industry.
It doesn't matter if you're just starting out as a bartender or you're a keen vodka connoisseur – we've got you. Below are 12 of the most popular vodka brands favored around the world, from the more affordable options, to the high-level premium vodkas.
---
The standards

Although there are hundreds of different vodka brands available around the world, and new products pop up each week, you can count on a few standard brands to be on the liquor shelf at any bar, club, hotel or restaurant.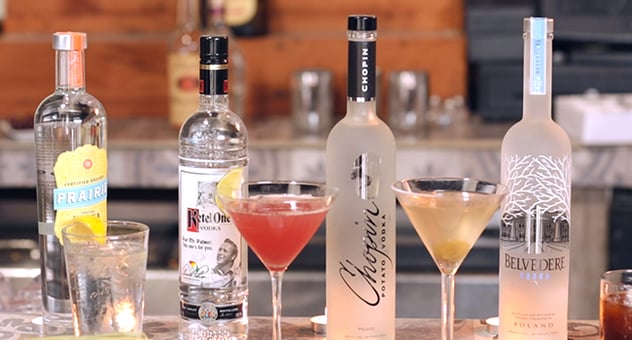 Smirnoff
One of the most widely drunk vodka brands in the world, Smirnoff produces a significant range of styles, from the straight-up original, to a number of flavored and special versions. The brand dates back to a distillery in Moscow in the 1800s, and is now produced in the UK – and distributed to over 130 countries.
Absolut
Another of the biggest brands in the spirits world, Absolut vodka is a stalwart on bar shelves. Made in Sweden, it's sold in over 120 countries and is known for its stocky bottle shape.
Grey Goose
Renowned for its distinct sleek bottles, Grey Goose is another incredibly popular brand that sits on the more expensive end of the scale. Made in France, Grey Goose is considered to be a luxury vodka due to the ingredients and distilling style. The brand sticks to a few original and flavored options, and hospitality venues tend to offer the brand as a level up to products like Smirnoff or Absolut.
Skyy
A popular brand for bars when it comes to cocktails or mixing up drinks, Skyy is an affordable brand sold worldwide. Made in America, it is known for its cobalt blue bottle and easy-to-drink finish. Alongside its original brew, Skyy has almost 20 fruity flavored options.
Finlandia
Produced and bottled in – surprise! – Finland, this vodka is made using vodka and water from a glacial spring. It is one of the highest selling brands in the world with a reasonable price tag, and it's available on the shelves and spirit lists of many hospitality venues.


---
Somewhere in the middle

These brands often have a slightly higher price tag, or are marketed to those who have a little bit of knowledge about the spirit. Customers who can pick up flavors and notes, or who enjoy drinking vodka neat.


Belvedere
Produced exclusively in Poland (one of the first homes of vodka), Belvedere is a rye vodka that is often marketed on the more exclusive scale. For those who work in hospitality, it isn't one of the spirits that you will throw in a regular cocktail – it's usually available for a higher price, or to be consumed straight.
Stolichnaya
A wheat and rye vodka, as its name suggests, Stolichnaya is produced in Russia. It was first made in 1901, and has a lengthy filtering process. Unlike the usual process of filtering only through charcoal, Stolichnaya is filtered through quartz, sand, charcoal, and woven cloth.
Russian Standard
A major Russian vodka brand founded in the late '90s, Russian Standard is sold in over 80 countries and is one of the biggest producers in the world. Its distinct bottles – with Russian wording – make it stand out on the shelf.
Ciroc
Made famous by a major promotion campaign headed up by P. Diddy Coombs (yes, really!) Ciroc is made in the south of France, and has become one of the highest-selling luxury vodkas in the world. Its key point of difference to other styles of vodka is that it is derived from grapes, and it is distilled five times before going through the filtration process.


---
A little more niche

These are the brands for drinkers who know their vodka. Those who want to try new styles and flavors, are used to drinking it neat, and maybe even know a little about the distilling process.


Zubrowka
A dry rye vodka, Zubrowka – made in Poland – is often referred to as Bison Grass Vodka in English. It is distilled with a tincture of bison grass, and it takes on a yellowish color, distinctly different from traditional clear vodka. It has been around since the 16th century, and seasoned drinkers of the spirit have noted almond, vanilla and coconut flavors.
Ketel One
Ketel One is a popular vodka amongst those in the know – and it's often relied upon in cocktail bars or on higher-end drink lists. The wheat spirit is created in the Netherlands, and distilled in copper pots. It was first introduced in the late 1600s.
Royal Dragon
As the name suggests, Royal Dragon is a premium-marketed vodka – not for the faint hearted. Distilled in Lithuania, it is one of the most expensive vodkas in the world. A craft vodka, it is produced in small batches and distilled five times, with gold leaf flakes infused. It's a spirit for the high rollers of the spirit-drinking world!
---
---


You might also like