It can be really hard to get journalists talking about your hotel when there are thousands of other properties out there.
That's why a lot of hotels are coming up with totally crazy amenities to generate press coverage. It's a risky move, but if you can hit on an idea that resonates with guests, it can definitely get some chatter happening.
Not even sure where you could start? Take a look at the unique and unusual amenities these hotels are offering!
A lobby slide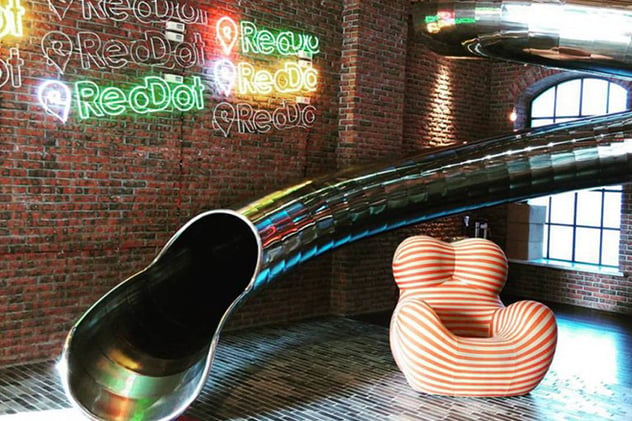 Photo: RedDot Hotel
RedDot Hotel in Taichung City, Taiwan
Stairs are so boring, aren't they? Sometimes you just want to do a mad dash down a two-storey slide.
At RedDot Hotel in Taiwan, guests who feel like getting in touch with their inner child can slide straight down to the lobby whenever they like. The stainless steel tube slide is outfitted with neon lights, so each trip is a little bit like taking a journey through space and time. There are also stairs and an elevator for the less adventurous sort, but who wants to be that guy?

---
Wake-up calls from country music singers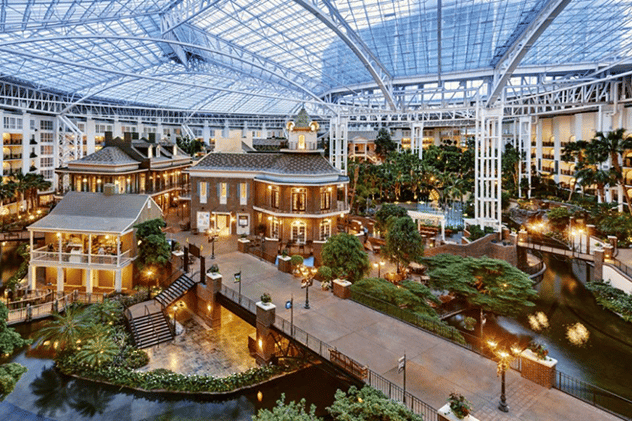 Photo: Gaylord Opryland Resort
Gaylord Opryland Resort & Convention Center in Nashville, USA
The Gaylord Opryland Resort & Convention Center is the largest non-casino hotel in America, outside of Vegas. And since it's in Nashville, it's naturally an institution for country music lovers. So it makes sense that they would capitalize on that by offering guests a "Rise and Shine" wake-up call from a famous country music singer, like Vince Gill or Wynonna Judd. They're recorded messages, so you're not actually speaking to them in person, but it's still pretty cool, right?


---
Dog surfing lessons

Loews Coronado Bay Resort in California, USA
Every Loews hotel property is pet-friendly, which they advertise through their Loews Loves Pets program. Guests can order from a special pet room service menu (prepared with the help of a veterinarian!) and request dog sitting services. But the Coronado Bay Resort takes things one step further by offering dog surfing lessons! As part of their Su'ruff Camp, canine surfing instructors teach dogs to sit on boards with special treats, while their owners also get a lesson. They even host a dog-surfing competition every year.

---
Family pillow fights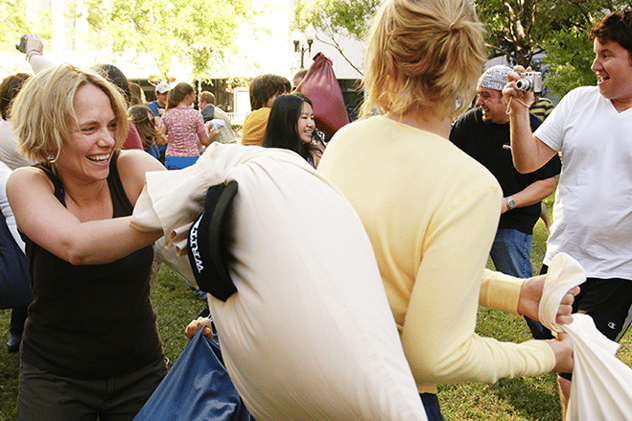 Photo: Matthew Simantov
The Ritz-Carlton at Palm Beach, USA
Have you ever looked at those fluffy pillows in your hotel room and thought, 'damn those would be perfect for a pillow fight'? The Ritz-Carlton in Palm Beach understands, nay, encourages this behavior, by offering guests a $60 Family Pillow Fight package. It includes a set of 30 pillows, satin boxing gloves, and a mood-setting CD to play in the background. Hit me with your best shot?

---
A sunshine butler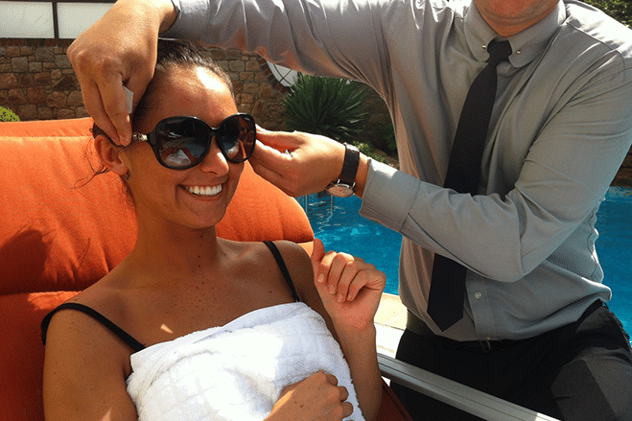 Photo: The Club Hotel & Spa
The Club Hotel & Spa in St Helier, Jersey
At the Club Hotel & Spa on Jersey, the largest of the Channel Islands, you don't have to worry about forgetting your sunscreen. A kindly Sunshine Butler wanders around the pool terrace with a selection of sunscreens, as well as mineral water face misters, chilled watermelon and a sunglasses polishing kit.
---
Adult toy boxes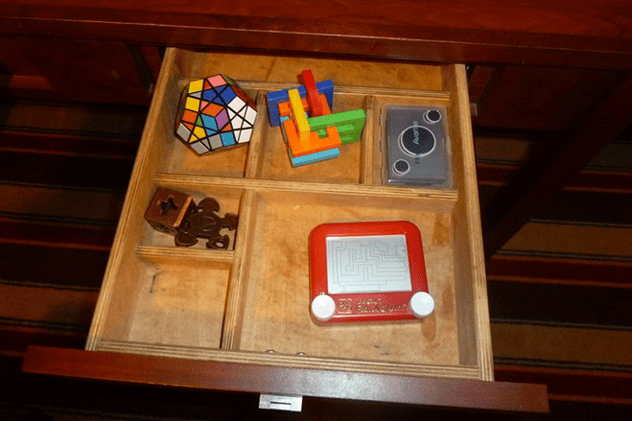 Photo: Yelp
Hotel Avante in Silicon Valley, USA
Look, I know what you're thinking and you can get your mind out of the gutter. This boutique hotel in Silicon Valley was designed as a creative refuge for business travelers. That's why rooms feature an Executive Toy Box full of old school toys and board games, like Slinkys, Rubik's Cubes and Pictionary. Guests working away in the middle of the night can keep their minds sharp without getting lost in online distractions.
Morgans Hotels Group did something similar to help guests stimulate creativity. They paired with the School of Life to create a Minibar for the Mind. Guests could raid the hotel minibar for thoughtful items like a Dreams & Fears notebook and a box set of 250 Conversation Starters. The concept received press coverage across the world in publications like The New York Times and Wall Street Journal.